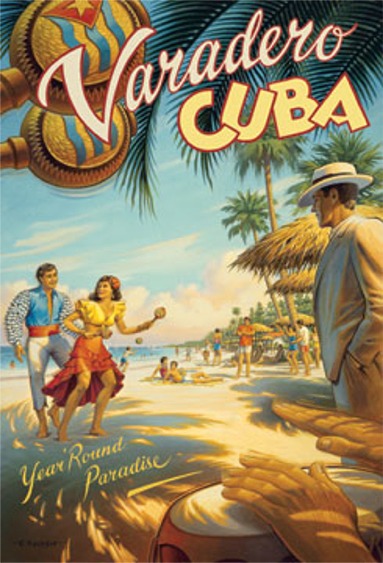 My black bean soup is inspired by the traditional Cuban black bean soup and a good excuse to post one of these gorgeous vintage posters!
Darlings! I can hear you saying it, "Diva, two soup posts in a row? What's up with that? It's not even COLD in your part of the world!"
I know, darlings, I know. Once again, La Diva is finding herself very busy settling into our new home and one pot meals are so convenient when I have a lot on my proverbial plate!
One of the challenges I am facing currently is finding the time to read the directions and learn how to utilize the new gadgets and things in our home beyond the basic capabilities. These include the remote for our new Smart TV (where ARE those shows I taped? and why does the Internet radio keep cutting out? grrrr…..), the new microwave (yep, I can reheat leftovers at least!) my new Iphone (so far, I know how to text, take photos and make calls, all I need for now!) and of all the silly things, how to use my new WaterPik that's been sitting in a box since July…. (It looks complicated!) We are also having major problems with our phones, phone lines and our new server. Yippee! I've been told these hiccups are normal when moving into a new home, but right now FRUSTRATION is something La Diva experiences daily.
So, while I spend precious time on the phone, again, with the cable company, Vonage, ATT, Plantronics and Apple, the soup is simmering away and smelling divine! Moi from Bite the Apple's comment from my last soup post of her fave "go to" soup of black bean with chile inspired me to make my own version.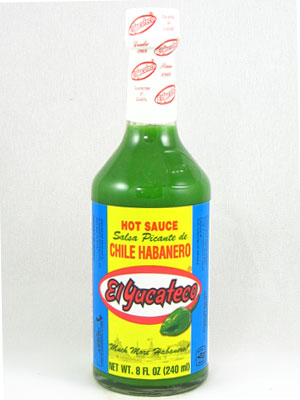 As if the soup isn't spicy enough already, La Diva just LOVES this habanero sauce from Mexico! It's hot but not CRAZY hot and delicious. I can only find it at the Mexican taqueria in Little Havana.
La Diva's Black Bean Soup with Roasted Chiles and Turkey
Time to prepare: days, hours, months, years…..Darlings, this is NOT the soup you can rush! This ain't no Rachel Ray 30 minute meal, it's a SLOW process and worth every minute. So, if you can just settle your ADD butt down for a minute, La Diva will walk you through it.
1 large bag dried black beans (over a pound, maybe even two!)
cooked white or brown rice, sour cream or Greek yogurt, green onions, shredded cheddar cheese, warm corn or flour tortillas, cilantro, crushed tortilla chips, avocado chunks or guacamole.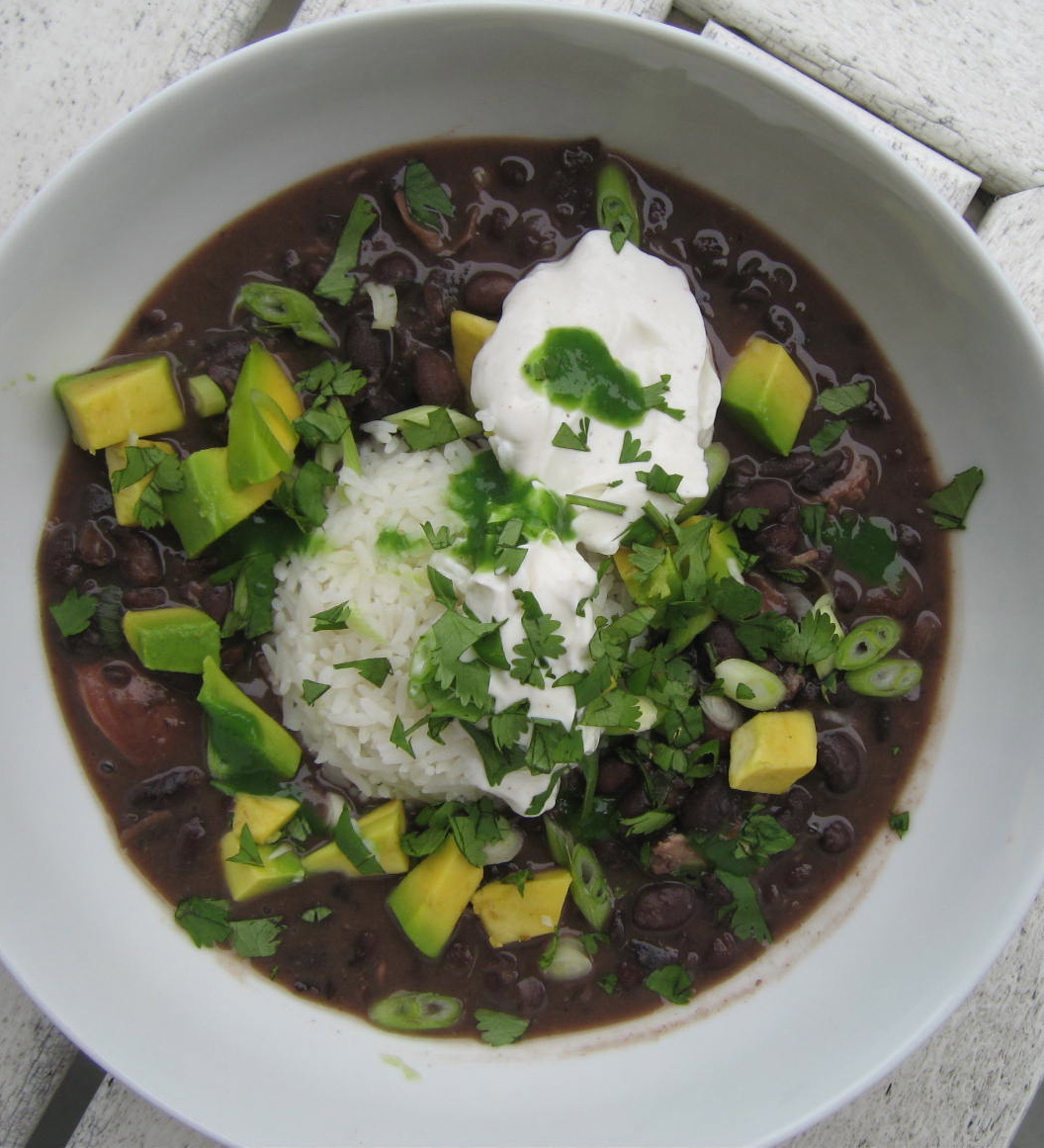 The morning before, soak the beans all day in cold water in a large bowl. That night, when the beans are all plump, drain the water and cook in a large pot with fresh water until the beans are tender, skimming the foam away from top every once in a while. Darlings, I really can't tell you how long it takes to cook the beans as I tend to move on to other tasks. In fact, it only seems that I remember I am actually cooking beans when I hear the pot sizzling and begin to smell burning beans, which means I've let the water boil away and I better get my Diva ass in the kitchen or I've scorched my expensive Calphalon stock pot. I tend to make it just in time to save both pot and beans, and it's a good thing too as nothing smells worse than scorched beans! Taste a few and if they are tender, drain and salt them thoroughly while still hot. Cool and refrigerate.
The next morning, heat up a stock pot with a bit of oil and brown turkey legs on all sides. Add onions and sweat, add a few bay leaves and salt. Meanwhile, heat the broiler up on your oven and add the whole, washed chiles to a foil-lined tray. Allow the skin to blister and then turn, making sure all sides are blackened. Remove from oven with tongs and put into a brown paper bag to cool.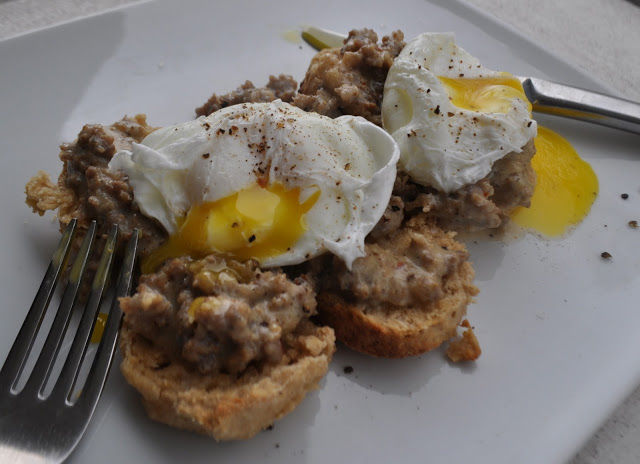 We interrupt your regularly scheduled post to bring you this kick ass breakfast La Diva made for the DJ. Home made whole wheat biscuits with sausage gravy and poached eggs! Yeah-uh! (I never made home made sausage gravy before….too dangerous for me to know how!)
Once the onions have cooked down a bit, add the chicken stock, at least a tablespoon of crushed, dried oregano and a teaspoon or two of ground cumin seed. Set aside. Wearing gloves, remove the skin, seeds and stems of the chiles and discard. Chop the chiles finely and add to the stock pot. Now, add the beans and bring to a boil. Once boiling, turn down heat to a simmer and SLOWLY cook for about two hours or so with the pot lid ajar and stir often making sure the beans aren't sticking to the bottom. Simmer until the beans cook down more, the soup has thickened and the turkey begins to fall away from the bone.
Using tongs, remove the turkey legs and allow to cool enough to handle. Then, remove all the meat from the bone and skin and break into bite size pieces. Discard the bones, skin and gristle and add the luscious turkey meat to the pot. Soup should be thick and beans cooked completely. Taste and season accordingly.
I like to serve mine with with a mound of white rice in the middle and the soup around it, Cuban style! I then garnish it with green onions and lashings of habanero sauce. Then to cool it all down a bit, I add some chunks of avocado and a big dollop of nice Greek yogurt mixed with cumin, salt and lime juice! (darlings, you won't even MISS the sour cream but your thighs will!!)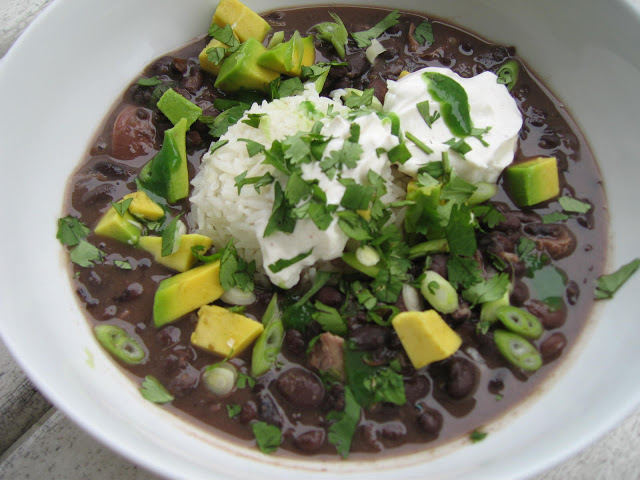 RESULT: Wow, damn good black bean soup with full flavor and a kick of spicy heat. Why turkey? Because I was making this for a friend who eats no red meat and still wanted a soup with great flavor. The turkey did the trick and I actually prefer it to ham or pork for a nice change of pace. (I sometimes add chorizo too!) Why roast the chilies? Well, think about it for a second, and remember how roasting vegetables brings out the sugars and flavor and you'll understand why this extra step adds depth of flavor as opposed to just putting the chiles in and, basically, boiling the hell out of them in the stock! The combination of the three chiles adds a nice, balanced heat but omit the serrano if you no likey spicy like La Diva does!
Darlings, do you have any favorite one pot meals for La Diva to try? DO TELL, I need all the time I can get right now! And a "muchas gracias, amiga" to Mizz Moi for inspiring me to make this soup! Ciao for now, darlings! (PS: Our place is almost unpacked…kitchen shots to come! FABU!)
Originally posted 2011-10-17 19:40:00.