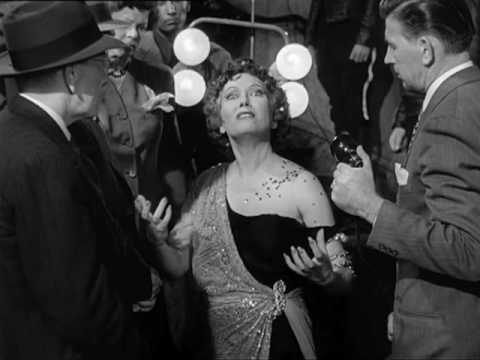 "I'm ready for my close up, Mr. Demille!"
Darlings! Well, you knew it was bound to happen, didn't you? It was just a matter of time before La Diva hit the small screen. After all, I'd been going on auditions as a "character" actor for a little over a year now. The call from my agent came two weeks ago when I was frantically trying to finish and send out an email for a marketing campaign for Valentine's Day.
Agent: "They are looking for a chef, no lines."
Diva: "Ok, but you know Diva don't wear no chef's coat! How will they know I'm a chef?"
Agent: "It's ok, I don't care if you have a whisk in your hand, bring props."
La Diva hemmed. And hawed. "I'm so freakin' busy today of all days!" I hated the thought of stopping what I was doing, getting dressed, putting on make ups and getting over to the casting studio when I had so much to finish. I called the DJ for advice, hoping he'd tell me to stay at home and work on my business instead.
"DJ, I am SOOO busy, should I go to this audition? I never get a call back! You know it's going to be a waste of time!"
The DJ said, "Now, Diva, you just KNOW that if you don't go to this audition, this will be the one you would've gotten, it's just how it works. Skedaddle and get to steppin'."
Ticked, frazzled and highly annoyed, I went to my closet and donned a black pencil skirt and a tight, sleeveless top with some knee high black cat boots, grabbed my black flouncy apron and a pink spatula and giant meat cleaver. I headed up to the casting office.
The room was swimming with actors and models and I saw a few greasy looking guys in chef's coats that obviously had just come from lunch service at a nearby restaurant. I put my info on the call sheet and sat down, trying hard to be patient.
The casting agent called me into a room with about 20 young men. He looked me up and down. "Are you a chef for real?" "That I am," and handed him a new head shot sheet of myself that didn't include my measurements. Then the casting agent says: "Diva, what's your bust size?"
HUH?! No, he DI'INT!!!! Dat casting boy DID NOT JUST ASK ME what size my bust was in a room full of young men?!
He did indeed! Diva didn't miss a beat and said, "Well, honey, you sure know how to embarrass a gal. My bust size is ________." I said it proud and out loud. Hmpf.
Then, I did my Diva thang, told the camera about my culinary business and what I like to cook and drink. The boys chuckled as Diva was a sight with that giant cleaver and pink spatula in her kitten heels. And then it was over. That's it, Diva was done, out the door, that wasn't so bad.
And then I forgot about it. (cuz if you dwell, you'll drive yourself crazy!)
A few days later my agent called me and and told me I was to "hold the date" for three days at the beginning of February. It didn't mean that I got the part, but they wanted to make sure I was available if I did. Naturally, I got a call to do a corporate party of five on one of the days, but had to turn it down.
A few more days went by and I got the call: "You got the part, honey!" Yippee! And they wanted me for all three days!
I was told to send exact measurements and wait for my call time, which ended up being 6 am in a shopping center parking lot in Ft. Lauderdale. Naturally, the night before, I was up at 3 am. And could NOT get back to sleep. When the alarm went off at 4:30 am, I wondered how I'd get through the long day.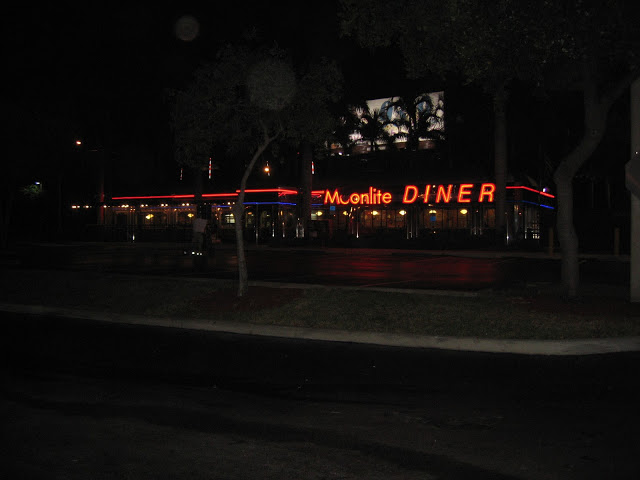 This is diner where we were shooting at 6 am!
We were shooting for a German clothing company called
C & A
that had cute clothes similar to Old Navy. We would be shooting for three days and doing a number of commercials at once. The theme of the commercial was "1950's Americana," hence the old school diner location. The director, the wardrobe stylist and a number of people were German but mostly everyone from the production crew, actors and models were all from Miami. Yay! Naturally, they are shooting the commercial for their summer clothes now as Miami winters are so warm, sunny and mild.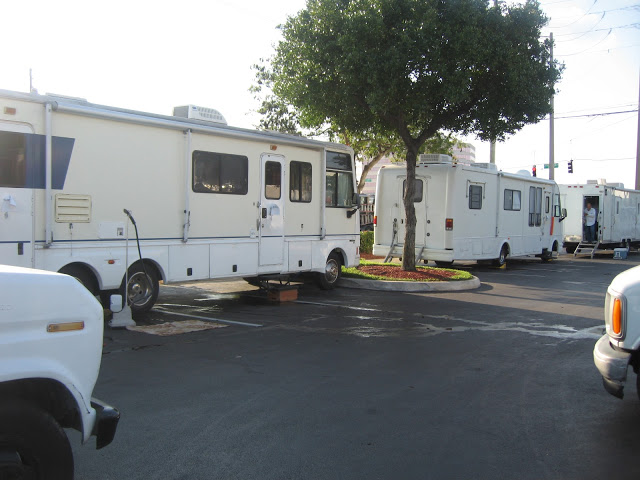 Wardrobe, make up and hair and production trailers in the shopping center parking lot.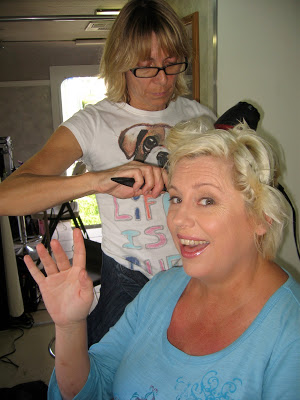 The lovely Ericka from Germany (but lives in Miami) does Diva's hair to prepare for the shoot.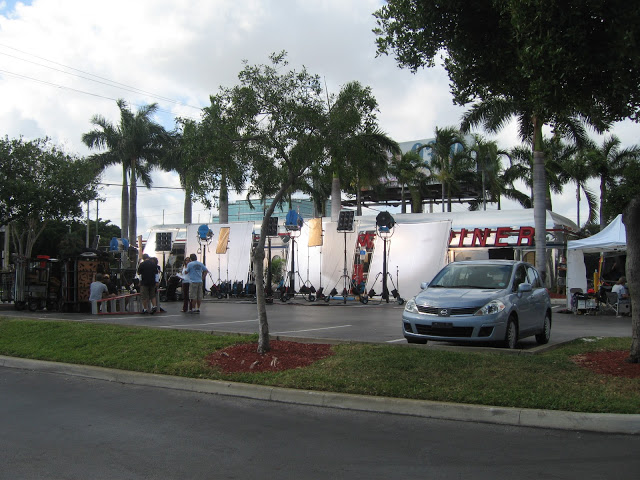 The crew are setting up the first shots of the day inside of the diner. It didn't matter if it got dark out because all of those lights make the inside sunshiney bright! All of the equipment, lights, etc. used has to be broken down, put into trucks and taken to storage each night and then brought back and set up again each morning. The crew work really hard.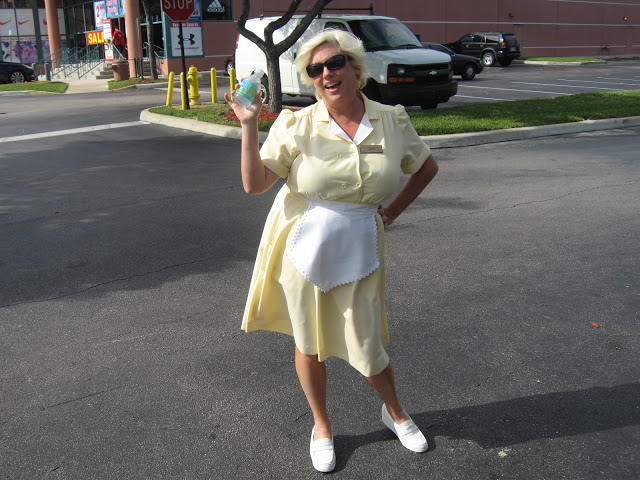 La Diva as the waitress Nola and a featured extra.
Dontcha just LOVE those shoes?! They were one and a half sizes too big and the toes were stuffed with ripped tee shirts! I was not allowed to sit after the wardrobe gal ironed my costume.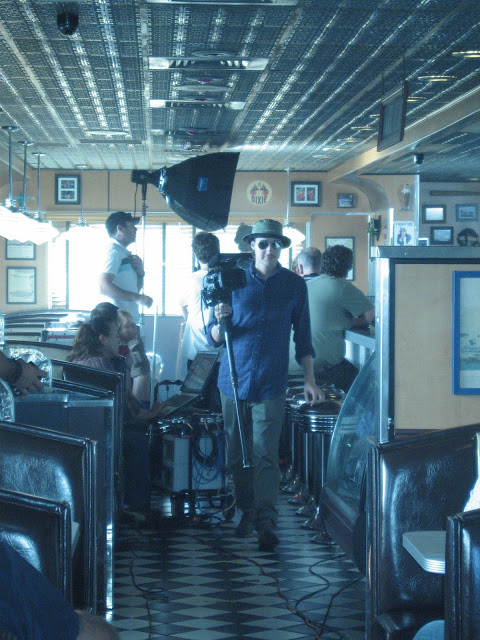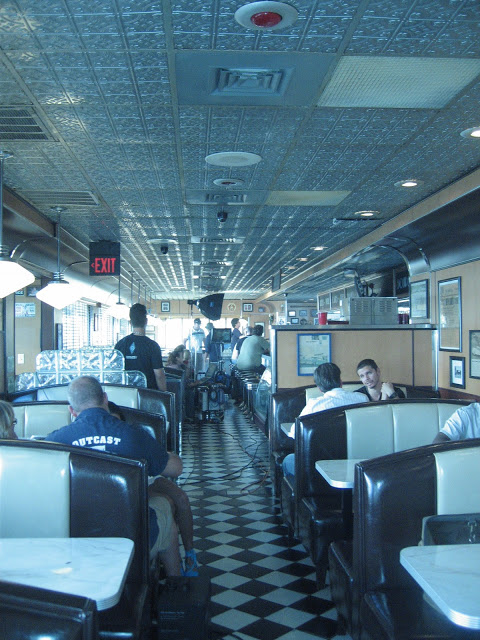 My first scene was inside of the diner on the first day. Can you tell how hazy it looks? They did that with a smoke machine! I only took these two photos inside between takes so I would not look like an amateur wanker that never did this before!
In the booth on the left, four girls (models) come in and sit down and I walk from the other side of the restaurant to their table and then take their order. I do this at least 20 times. Even though their is no dialogue, we are talking to each other but you will not hear our voices, nor will there be any voice overs in German, just music. I was happy to be doing the scene so early as it meant the day went by quicker.
This shot is mostly actors as the director, producer, assistant director, cameramen, art director, prop master, script supervisor and the myriad other people that make this happen were outside! All in all, there must have been at least 60 people working on this production!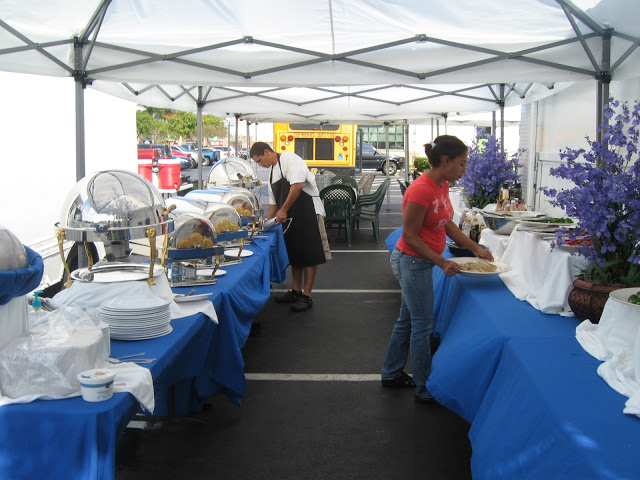 The caterers come super early and put out a hot breakfast of eggs, sausage and bacon plus bagels and bread for toast, smoked salmon, coffee, tea, fruit, cereal and even oatmeal. Here, the caterers begin to put the food out for lunch. The crew eat first, as it states in their union contract. I don't mind, those guys work really hard!
Once we are called for lunch, anyone in wardrobe must change back into street clothes and give them to the wardrobe stylist. She presses them again to prepare for after lunch and back into make up and wardrobe we go! The food was pretty good and La Diva made a point of not having any of the sweets on offer, I'd rather fill up on the hot food to keep me going through the long day. And the day was looooong.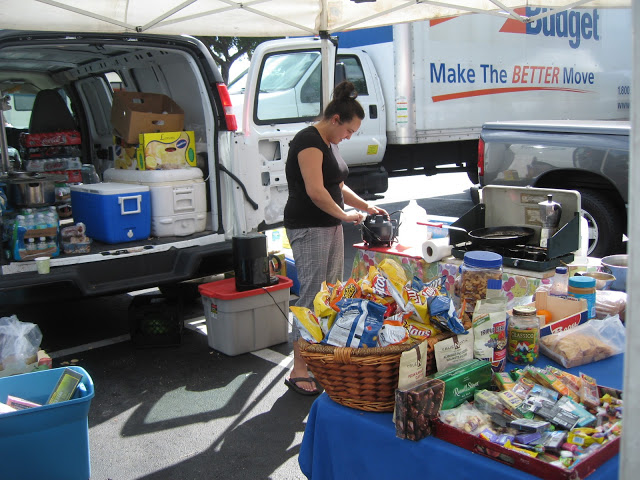 If one gets hungry (or bored) between meals, you can always go and see the snack lady. She is constantly making smoothies, fruit platters and snacks and bringing them into the directing team (as they can't stop or leave the shoot.) She also would bring around my first Cuban coffee of the day, the turbo charged
colada thimble
!

(and believe me, Sweet Jesus, did I need it!) And at the end of day one, she came 'round with these killer bbq pulled chicken sliders. All of us ate like we worked in a coal mine every day! I was "wrapped" by 6:30 pm and given my "call sheet" for the next day. This time, a 6:30 am start! Woo hoo! I could sleep in an extra half hour!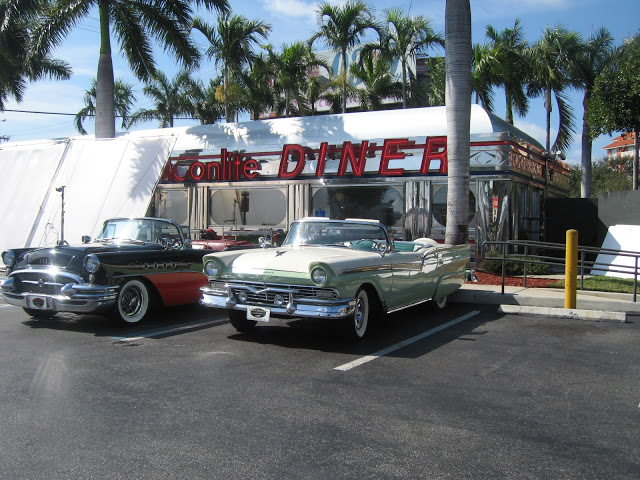 On day two we would be using the vintage cars! Even though I was ready to go and went to hair and make up three times for a touch up, I was not used in one scene this day.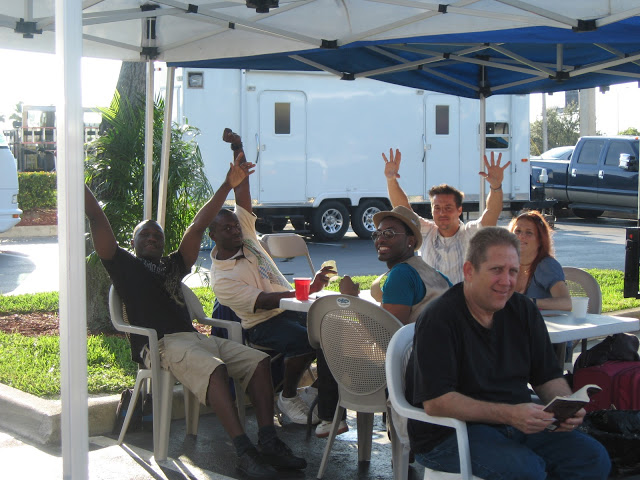 So, I spent the time here, my home away from home, under a tent in the parking lot with these shy actors. I got really tired of listening to model-actor-speak, so I mostly read.
Oh. You don't know what model-actor-speak is? Let Diva 'splain.
Well, when La Diva met the models on the first morning, (not the extra actors seen here), I heard them talking like this: "Really? You like that club? Well, THE club in Italy to go to is The Hollywood, it looks just like someone's basement"…which then morphed into…."Really? I think the exchange rate is MUCH better in Shanghai than Tokyo. When I was in Bejing last year"…….which then morphed into…."Really? You gain weight there? I gain it in my face. Yeah, I hate when that happens."
Diva couldn't take it any longer! Addressing the very tall, gangly and chiseled "fat-faced" boy I said: "What the f*ck? Am I on the set of Zoolander? Who the hell gains weight only in their face? C'mon, let's see your Blue Steel look!" Laughter erupts from all of the models with the exception of the boy, a male model named Miccale (pronounced Michelle) who was sitting next to a girl model named Dallas. (of course.) He instantly shuts his trap and throws me a sulky look. Now you know why La Diva sat by herself and read a book! (Although later in the day, the male models just would not leave La Diva alone….like annoying little puppies.)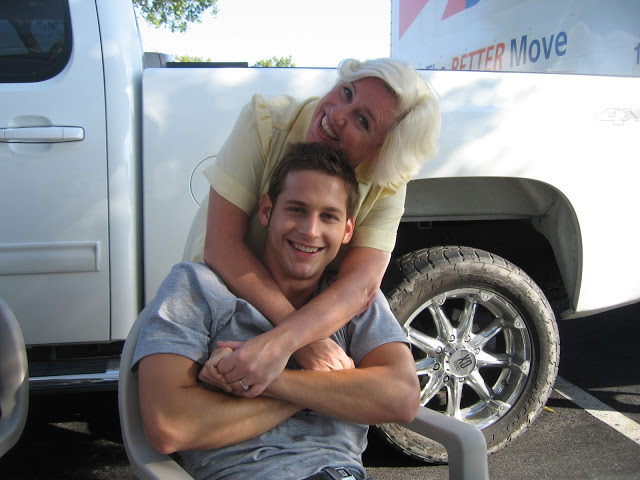 One of the puppies, but not Blue Steel! When you are spending 12 hour days with people and most of that time is spent waiting around, you get to know people, whether you want to or not!
And these actors and models LOVE to talk. And talk. And talk, mostly about themselves, naturally!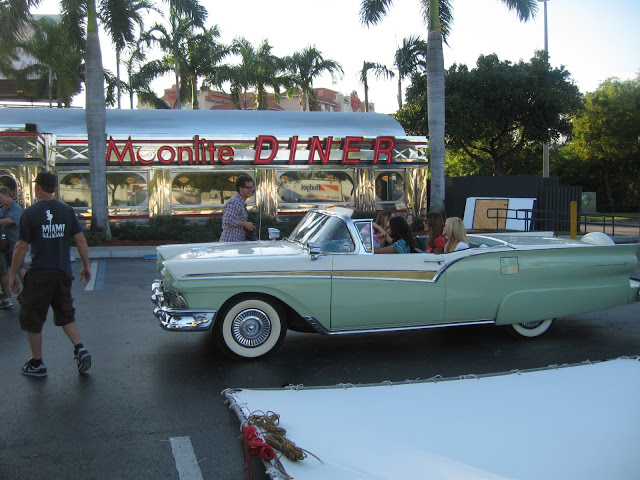 The girl models driving the vintage car…..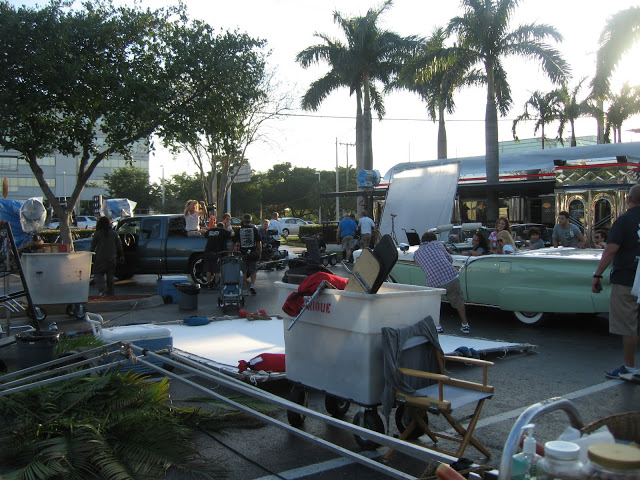 And what you don't see, the crew filming from the flatbed of a pick up driving in front of them!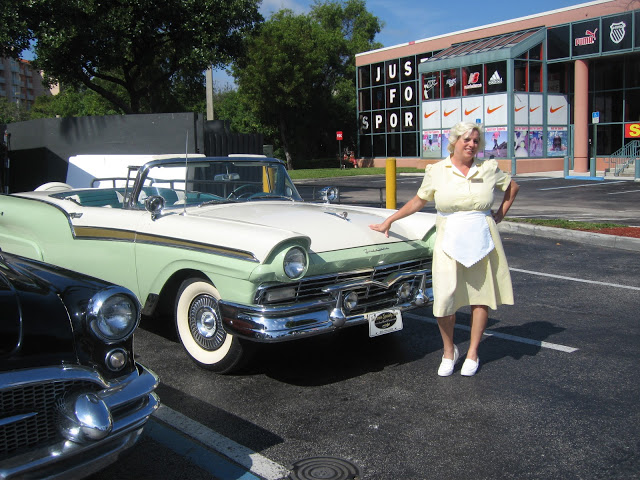 "Whatchoo want, Sug?" Just call me Flo!
Day three I was in scenes in the diner again and this time, I tortured children by serving them sundaes they were not allowed to eat or touch! The look on their faces was funny and sad at once, I felt bad for the kids! I worked on that scene for about three or four hours and then sat around the rest of the day until I was wrapped at four o'clock!
What a great experience it was but also a LOT of hard work. The drive, the hours, the waiting around between scenes, the constant repeating of scene shots again and again and all the hours on your feet, in itchy make up and clothes that don't fit properly. Still, I love it. And word from the German director to the German stylist about me was that I was great and they'd love to do a movie with me! And lucky for them, La Diva is available!
Ciao for now, darlings!
Get close to fame and have a ball by coming to one of La Diva's DELISH and DIVINE cooking and cocktail classes!
Next class VALENTINE'S DAY: Love YOURSELF First! (And you might even learn something!)
Click HERE for more details!
Originally posted 2011-02-08 23:47:00.