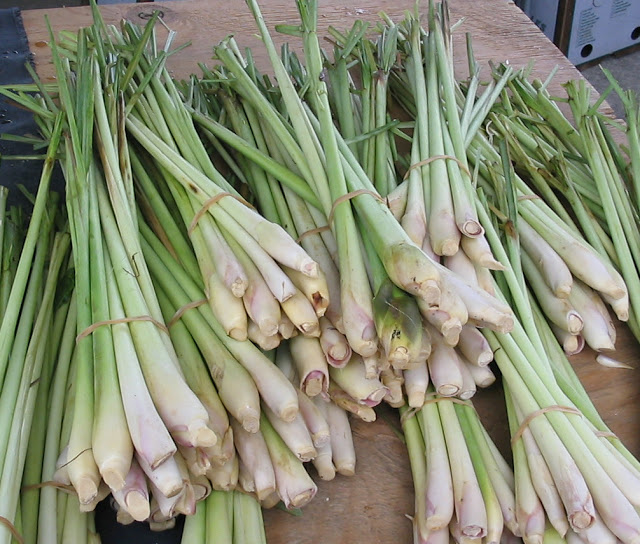 Lemongrass is usually sold fresh in bunches but you can get it frozen or in paste form as well.
Darlings! La Diva is
on a lemongrass kick
and lately, I just can't get enough of it! Since I am always getting questions about what lemongrass looks like, along with how to buy it, store it and use it, I've decided to post about this unique and divine herb.
Lemongrass is originally from India but you are probably most familiar with it when eating Thai or Vietnamese dishes. The herb imparts a strong lemony smell and taste but without the acidity of regular lemon juice. I usually ALWAYS have lemongrass on hand in my freezer or in a tube but now that the Southern Florida farmer's markets are open again, I've been able to get it fresh from the farm and have been using it as often as possible.
The lemony flavor imparted from fresh lemongrass is the best, and also quite strong, but frozen or from the tube can work just as well, depending on what you are making. You can also dry lemongrass, though I have never done it, and make a tea out of it. I've had lemongrass tea and it is soothing and tasty.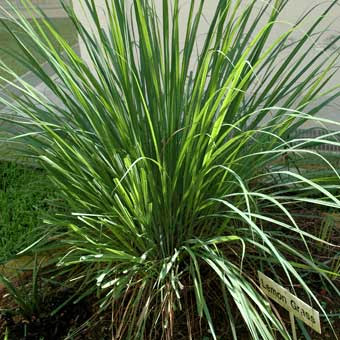 Lemongrass stalks grow in a bushy bunch, is very easy to grow and is quite an attractive plant. It's a perennial and grows to a height of two to three feet and needs very little maintenance.
Lemongrass was part of my herb garden in my backyard in Sydney and I remembered it liked to be kept wet (but not soggy!) I loved that I could simply chop off a stalk as I needed it. You can learn more about growing it by clicking
HERE.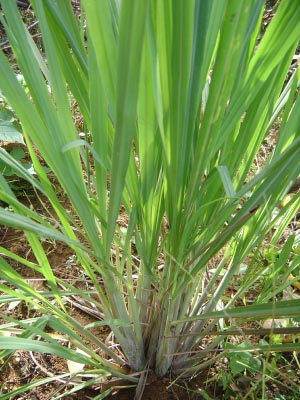 Here you can see how the lemongrass separates into stalks near the roots. The outer leaves of the grass are quite fibrous, so peel a few layers away before chopping. You will

only use the white part of the lemongrass,

the rest is too tough to eat. (see Farmer Margie's comment in the comment box.) If using fresh lemongrass, you may first "bruise" it with the bottom of your chef's knife and then chop as finely as possible, this will help break down the tough fibrous husk. Alternatively, you may leave the lemongrass in large chunks and then make superficial cuts to release the flavor. Once the dish is cooked, you can simply remove the pieces.
So, now that we know a little more about lemongrass, what does one DO with it? Here's what La Diva's been doing with it!
EASY and FLAVORFUL
Flank steak marinated in lemongrass:
In a food processor add 1 chopped lemongrass stalk, 2 cloves garlic, about an inch of fresh ginger, roughly chopped, 1 tablespoon dried chile paste, 2 tablespoons sugar and process with a bit of water until it forms a smooth paste. Slather on steak and marinate overnight. Before grilling, scrape paste off and salt meat and cook until steak is just at medium. You will LOVE the tangy flavor! (La Diva doesn't see any reason why you couldn't do this with chicken or pork either!)
An EXOTIC TWIST to ITALIAN
The other day, I was going to make a stir fry with eggplant and Thai basil leaves but decided that on that night, I really needed something a bit more substantial and required the satiety of meat. I didn't have anything on hand but a quick freezer search produced some spicy Italian pork sausage. I decided to fuse Italian with Thai flavors and came up with lemongrass linguine with Italian sausage using stir fried eggplant, crumbled and browned sausage out of the casing and finely chopped lemongrass, chiles and garlic. After sauteing all together, I added the al dente linquine, a bit of chicken stock and then tossed the fresh Thai basil leaves through it. DJ Nevah L8 was addicted and ate the entire lot!
And then there is the dish I've made a few times in the last month, Sydney chef and restaurateur Luke Nguyen's lemongrass chilli chicken recipe (ga xao xa ot) and LA DIVA IS COMPLETELY ADDICTED. I mean it, it's DAMN good!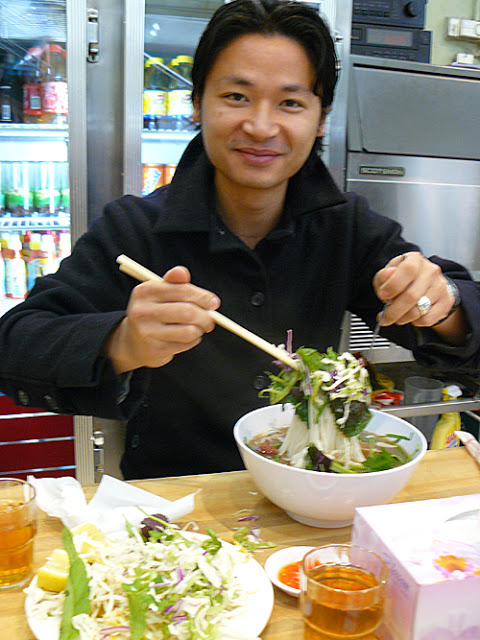 Chef Luke Nguyen is my new fave chef these days! Not only did I have one of the best modern Vietnamese dinners at his Sydney restaurant the
Red Lantern,
but I really enjoy how he demystifies Vietnamese cooking and ingredients on his show on the Cooking Channel. The show is called "Luke's Vietnam" and is filmed throughout Vietnam with beautiful photography and scenery. You can learn more about it by clicking
HERE.
Okay, now back to this divine chicken! Let me tell you something, we LOVE this dish. It is super easy to make and is delicious. Also, DON'T be tempted to use chicken breasts instead of the thigh, as you will be sacrificing flavor. To be honest, I don't usually even LIKE chicken thigh meat but once you try this recipe, you'll be a convert for sure! If you can't find the young coconut juice, not to worry, La Diva just used water and found the dish to be no less flavorful!
You can see a step by step video from his show and view the recipe by clicking
HERE.
Watch the video before making the recipe as he will give you plenty of tips not included in the recipe!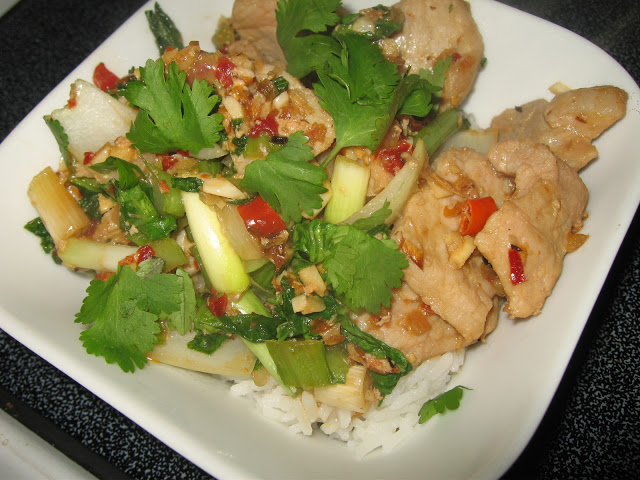 Okay, darlings, La Diva found pork chops on sale so I made Luke's dish with "poke chop" instead of the chicken thighs. (Just to show you how you can diversify these recipes and ideas!) I also added some sliced baby bok choy to make it a home run meal in one! DIVINE, darlings! (Go on and click on the image for extra-DIVINE-NESS!)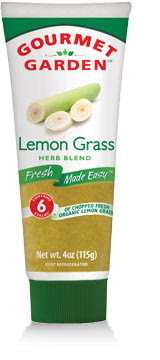 CONVENIENT and HASSLE FREE
La Diva LOVES this handy, pre-chopped lemongrass in a tube! While I don't think this works for every dish in lieu of fresh lemongrass, it sure is handy, especially when La Diva needs a superfine texture and for this reason, I much prefer to use it in my
Thai red curry pork meatballs
over freshly chopped lemongrass.
It keeps in the refrigerator for a long time, is made from all natural ingredients, and best of all, you don't have to worry about finely chopping the lemongrass or getting any bits of the rough stalk in your dish! This product is actually from Australia and is found in the produce department of the local grocery store. You can get more recipes, including a fabulous idea for making
lemongrass garlic aioli,
by clicking
HERE.
IT DOESN'T HAVE to be SAVORY
Finally, I also like using lemongrass in a sweet way besides just in savory dishes! I make
lemongrass ginger sugar syrup
which is the main flavor component to my lemongrass ginger martinis taught at my
small bites, BIG DRINKS cooking class!
Of course, I pair the cocktail with the Thai red curry pork meatballs. I use the syrup for fruit smoothies as well as to flavor iced tea and am thinking it sure would be nice in a sorbet or perhaps a panna cotta as well!
EASY PEASY FREEZER STORAGE
When lemongrass is in season or I find it at a good price, I buy more than I will use and then store the rest of it in the freezer, clean, dried and whole, in double freezer bags! It will last for months without any diminished flavor and is ready for me whenever I get my lemongrass cravings! (and just like frozen ginger, is very easy to chop frozen.) HINT: It is significantly cheaper to buy at the Asian grocery.
Well, darlings, I DO hope you enjoyed my little lemongrass lesson! And I DO hope you will experiment with lemongrass and then tell Diva ALL ABOUT IT!
Ciao for now, darlings!
If you like Asian food and would like to learn more about it, why not do my "small bites, BIG DRINKS Asian cooking and cocktail class?! Click here for more info!
Originally posted 2010-11-16 00:10:00.