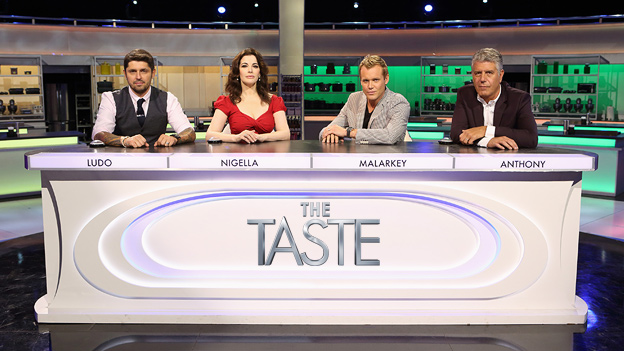 ABC's "The Taste" with mentor judges Ludo Lefebvre, Nigella Lawson, Brian Malarkey and Anthony Bourdain
Darlings!  You heard it right, your La Diva is going to be on national television!    While it won't be the first time I've actually been on tv (I DID do a live segment for NBC's local news variety show Live Miami at 11 back in August, 2011) it will be the first time I've been on national television.  The show is supposed to be viewed in over 22,000,000 homes.  Dat's a lot of people, my friends.
I've now been approached a number of times to be in reality and/or cooking shows:
1.  After being flown to The Food Network's Chelsea studios in New York city in November 2010 for The Next Food Network Star, I found I didn't make the cut.  Me thinks the platinum blond hair was too close to Anne Burrell and Guy Fieri's.  (can't have THREE platinum blonds on The Food Network, after all!)
2.  MasterChef:  I stood in line and auditioned, fed them my famous Thai meatballs and the local food judges loved them and loved me.  I went on to do more camera interviews until I was called back only to find out that I was disqualified.  Apparently the producers didn't know the rules themselves and one cannot compete as a home cook if their main source of income comes from preparing food.  Boo.  I was disappointed and would have LOVED to work with Chef Gordon Ramsay.
3.  The third show??? I can't remember the name but it was going to be for a competition for TV pitchmen, a la Billy Mays, and I was the only woman to try out.  I actually did quite well at the audition but they only picked one person from each city and it wasn't me.  Ah, well.
4.  Hell's Kitchen:  They called me and I said HELLS NO.  I'm not putting myself through that nonsense for any amount of money.
5.  The Next Food Network Star:  NO.  Been there, done that.  (La Diva ain't desperate, after all!)
6.  The Taste:  By this time, casting agents and culinary producers have heard of La Diva and approached me to be on the show.  Since I couldn't make it to the casting calls in New York or Chicago, I filled out an online application and submitted a 10 minute video of who La Diva is and why I would make a great contestant for the show.  I submitted it on July 5, 2012 and the producer called me the next day.  "I LOVE your video, I couldn't stop watching it and wanted to see more!  You are moving on to the next level!"
After a medical check, resumes submitted and background checks, I finally found out, only a few days before the actual filming began, that I was a contestant on The Taste!  La Diva was one of 60 contestants picked from over 7000 people who auditioned!  ABC, here I come!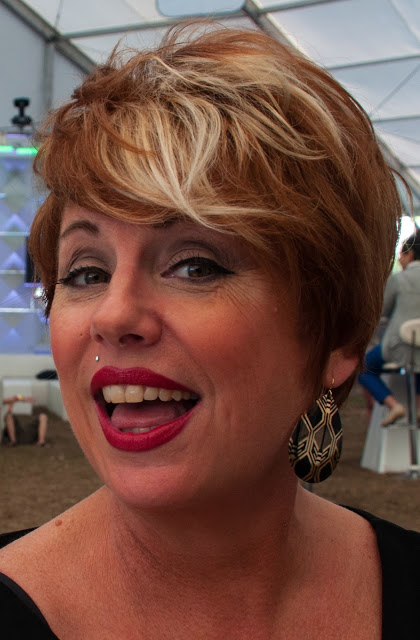 I'm ready for my close up, Mr. DeMille.  Actually, I was pretty funny when I was filming for the show.  I was "kind of" a HAM and was scolded by one of the producers for talking directly into the camera (like I'm used to doing when shooting my own videos!) and I was told to NEVER do that!  A few re-takes later…..a subdued Diva complied.  Only just though.
So, in September on Labor Day weekend, I was flown out to Los Angeles to compete.  I sussed out my competition and recognized some faces from tv, my Facebook friends and also a local chef that I'd met once.  All super talented and good looking, I knew the competition was going to be FIERCE.
The premise of the show is for all cooks, home cooks, professional chefs, etc. to submit a BLIND taste on a spoon to the judges.  Everything you want to convey to them has to be in one very tasty bite.  If one judge only likes YOUR bite, they will put you on their team and you continue on to compete on the show.  If none of them like your bite, you get booted off, end of story, sent home, boo-hoo.
If you get picked, the judge that picks you becomes your mentor and you are on his/her team.  Each judge got to pick only four cooks/chefs each.  Thirty contestants auditioned on day one and La Diva was first to go as part of a group of four for the second 30 on day two.
A day before we competed, we were taken to Whole Foods to purchase our food.  The next day at the filmed audition, we were given a limited amount of time to gather all of our ingredients and equipment and to complete our dish.  I had to make four one bite spoons for each judge and then two extra plus a sample plate to be photographed, all while being filmed and questioned while three other contestants did the same thing.  Like other culinary reality shows, once time is called, you must stop, put your hands up and you are DONE.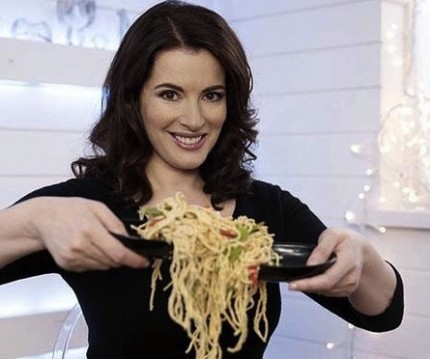 Mmmmmmm….darlings, would you like some of my Marmite spaghetti?  Nigella Lawson's take on The Taste can be read HERE.
SO, WHAT DID YOU MAKE FOR YOUR ONE BITE LA DIVA?
DID YOU COMPETE?
DID YOU WIN?
WERE YOU A SNARKY BITCH?
DO TELL!
While I'm not allowed to tell you WHAT HAPPENS until after the show airs, I CAN tell you that the set was incredible.  I took some set photos and impressed my event producer husband with the lighting, rigging and hydraulic judging platform.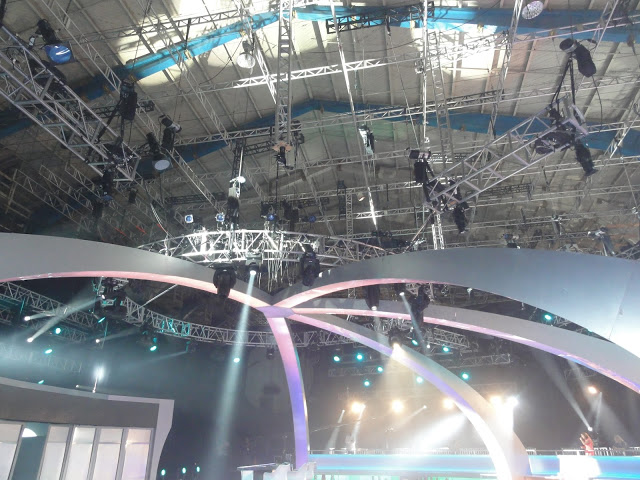 The rigging on this show was an event producer's wet dream.  
Additionally, there were multiple cooking stations with state of the art equipment, fully stocked pantry and myriad pots, pans, cooking equipment and utensils to choose from to aid in preparing our dish.
All in all, I had a wonderful time and met some very cool people.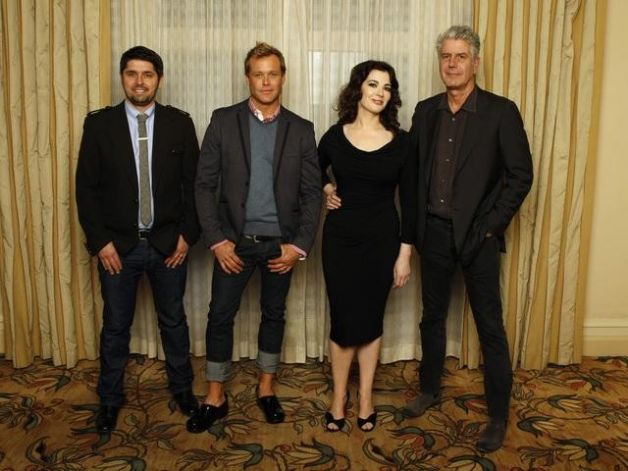 Malarkey by name, full of Malarkey by nature.
Well, truth be told, at least the ex-Top Cheftestant Brian Malarkey is actually wearing proper shoes here.  When he was on set with me, he only sported flip flops with his cutesy, rolled up skinny jeans.  Not sure what to think of this cabana boy Ken doll.  Well, I DO know what I think of him but we'll leave that for the next post on "The Taste" after the show airs, won't we?  heheh…..
So take a look at a few teaser clips HERE and don't forget to watch La Diva on
ABC TV TUESDAY, JANUARY 22ND
And then we'll meet back here again to discuss the results at a later date, m'kay?  Ciao for now, darlings!
Originally posted 2013-01-16 20:53:00.