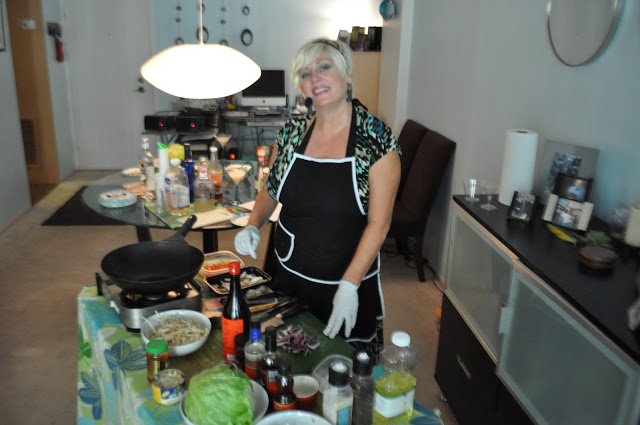 Darlings! Have you ever wondered what exactly La Diva does? What IS a culinary entertainer? How does La Diva differ from other chefs teaching? And what makes La Diva's demonstrations and classes SO FUN AND UNIQUE?
Well, honeybunny, let La Diva fill you in!
La Diva has had dual careers in hospitality and advertising, sales and marketing. I have worked as a cocktail bartender for years and am a self-taught chef that has been cooking since I was 8 years old. I've also performed improv comedy at TheatreSports in Sydney, Australia and at Second City in Chicago, Illinois. My combined experience allows me to be able to present cooking classes and demos in a way that many chefs aren't able to.
La Diva can SELL IT!
I am able to present the class in an easy to understand style making it entertaining and accessible for all levels of cooks.
La Diva shows you not just how to cook but everything you need to know to throw a fabulous cocktail party!
And finally, with her sassy sense of humor, LA DIVA MAKES IT FUN!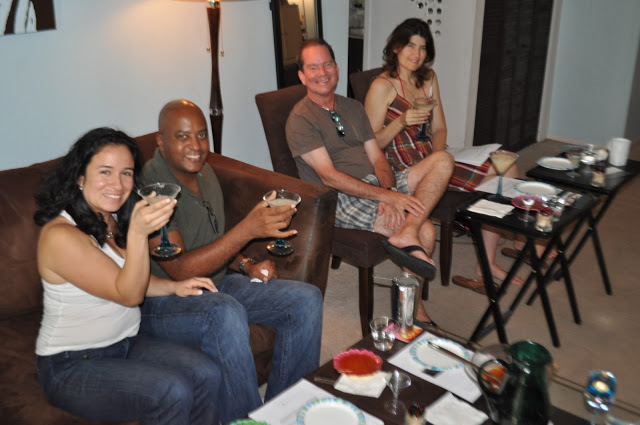 One of the ways I make the class fun is by offering instruction on how to make fabulous cocktails! Every class starts off with a delicious, original La Diva cocktail that will then be paired with an appetizer. La Diva will teach you bartending secrets and tricks of the trade; my small bites, BIG DRINKS class is the only cooking class that will teach you how to make cocktails!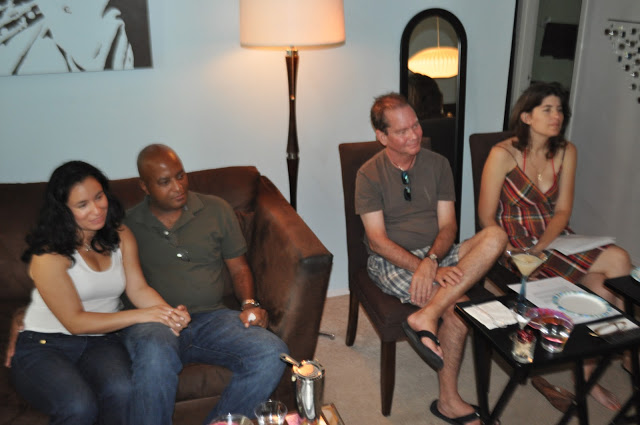 I conduct the classes at various locations including a designer kitchen, private homes, event spaces, hotels and my home in South Beach, Miami Beach, Florida. Having a variety of options provides myriad entertainment choices for my clients. By holding small, intimate classes at my home, I can offer more personalized instruction at times convenient to my clients. Also, quite often my students love to keep the party going by heading out to the clubs conveniently located in my neighborhood after class!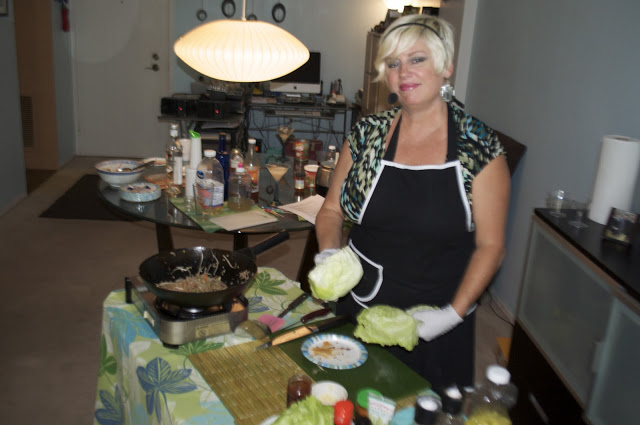 Living in some of the most vibrant cities in the world has allowed me to form a very unique culinary point of view! I love to cook and teach Asian, Italian and Mediterranean foods but my repertoire is highly globalized. So, due to popular demand, I have initiated themed cooking classes including: Asian, Mediterranean, Vegetarian as well as my
regular small bites, BIG DRINKS cooking class.
Soon I will be introducing: Old School (think Madmen!), North African and Tropical cooking and cocktail classes! You can check out all the themes by going to my website by clicking
HERE.
Take a quick look at a sample of my class where I demonstrate how to make lettuce cups! SO EASY, darlings!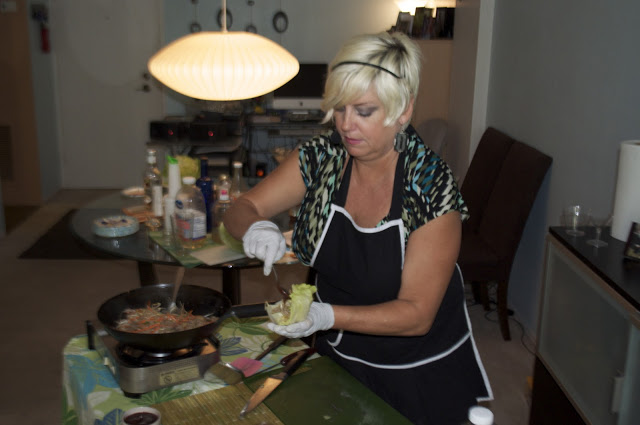 In the previous photo, I am showing how to cut iceberg lettuce into cups for the sang choi bao (Chinese lettuce wraps with pork and vegetables) Here I am showing how to fill and wrap them into parcels for eating.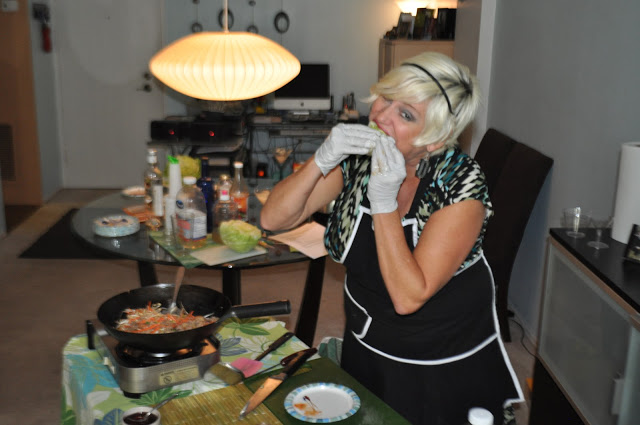 As all of you Top Chef crack monkeys know, a good chef ALWAYS tastes the food before serving! (of course they are delicious!)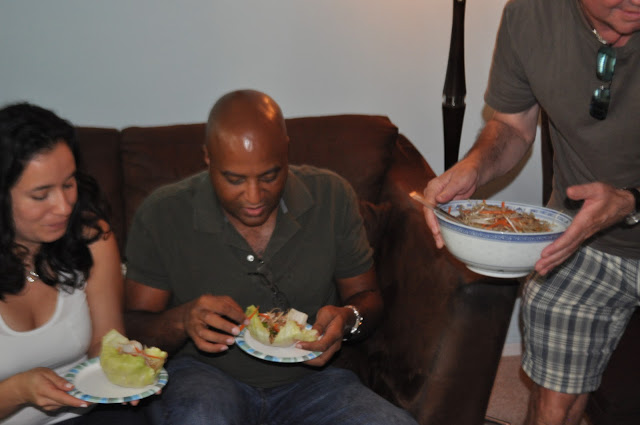 Classes are fun and social and La Diva encourages interaction between attendees! When you attend one of my classes, you can sit back and enjoy or jump in and participate! (Do you expect me to cook AND make all of your drinks, darlings?!)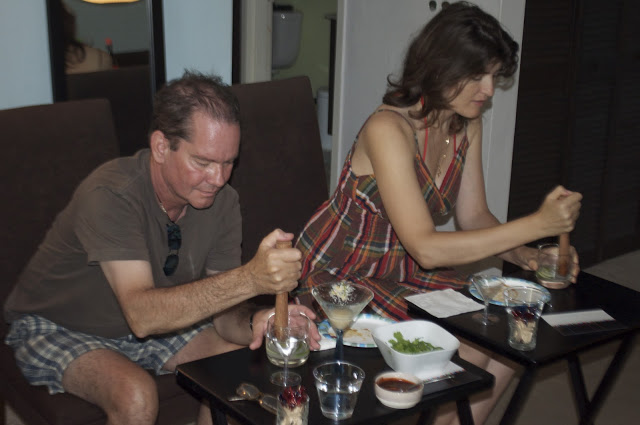 La Diva's students muddle together lime, sugar and Bacardi coconut rum for decadent coconut mojitos!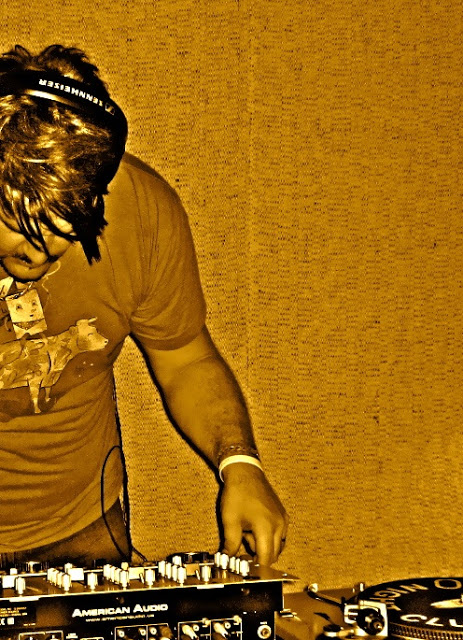 Another aspect to my classes that is unique and fun is the addition of my sidekick and personal deejay, DJ Nevah L8 (4 dinnah!) He plays cool, downtempo beats adding to the hip, party vibe!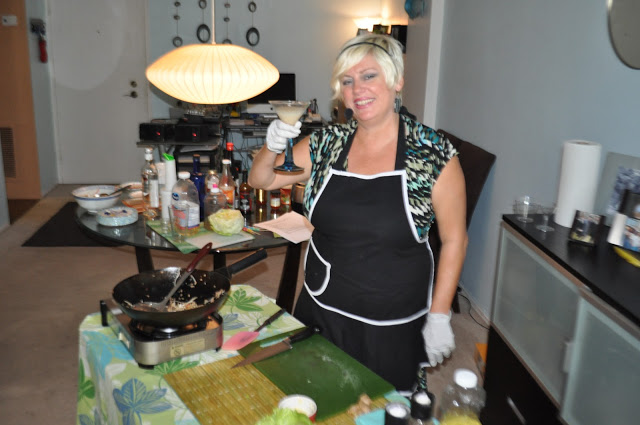 Some events that are perfect for La Diva Cucina entertainment are:
bachelorette parties
bridal showers
family reunions
birthday parties

any event that requires fun and sassy entertainment combined with delicious food and drinks!
Have a more serious crowd? Let La Diva entertain your corporate clients or staff with my
"COMMUNICATIONS WITH LIBATIONS"
cooking and networking class! Instead of the tired, ol' hotel bar networkers, let La Diva break the ice and get people talking!
Contact Laura Lafata at
email
or call 305 297 8121!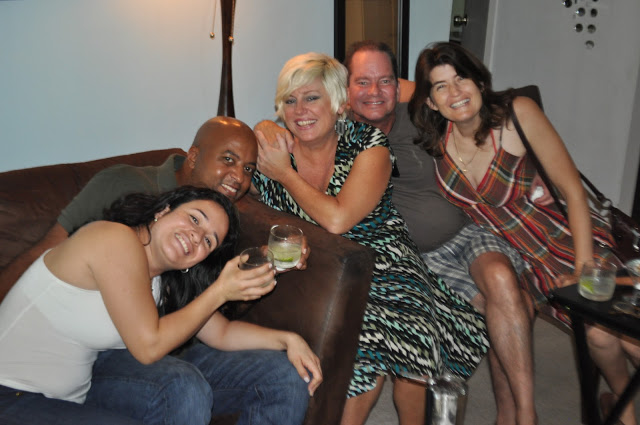 After a few cocktails, nibblies and laughs, friends are made and fun is had by all! Don't believe me? Check out my testimonials pages by clicking HERE or take a look at past event photos by clicking HERE!
La Diva Cucina is available to entertain at YOUR PARTY OR EVENT! Click
HERE
for more info!
NEXT small bites, BIG DRINKS cooking and cocktail class* is OCTOBER 23, 2010. 1pm in South Beach! Click
HERE
to pay online!
*You must be 21 or over to attend this class, thanks!

cooking class, cocktails, parties, cocktail party, Miami, coral gables, events, bartending class, cocktail class, Laura Lafata, Miami Beach, miami cooking classes, bachelorette parties, bachelorette party, personal chef, corporate events, catering, personal chef, party entertainment, www.ladivacucina.com, top chef, next food network star

Originally posted 2010-10-11 19:15:00.