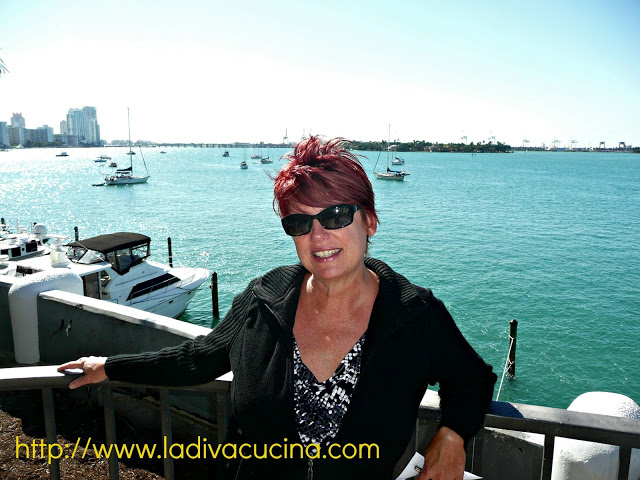 Photo courtesy of BillyCam.
My name is Laura Lafata and I'm a PROFESSIONAL PICNICKER.
Darlings, coming from Michigan, a harsh, Siberian like land where the winters are long and gray and the summers are short and intense, our family made the most of outdoor living and dining when I was growing up.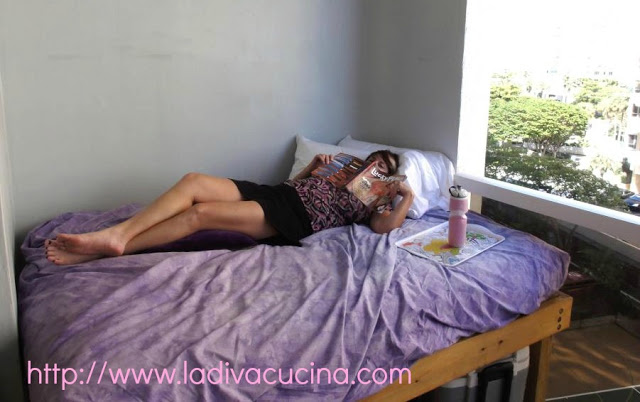 My customized bed on my balcony, a place so popular to hang out at that I gave it it's own Facebook page and many a friend who visits from up north beg me to let them spend the night on it!
In 1993 after living 30 years in the Midwest, the opportunity came up for me to move to Sydney, Australia.  I moved without hesitation, grateful for the well-timed life change, and I never looked back.  Generally speaking, I LOATHE being indoors and would live my entire life outside if I could (for the most part!)  So, naturally, eating and enjoying the outdoors is a large part of my life.  In fact, I camped for SEVEN MONTHS around Australia and ate and cooked almost all of our meals out of doors.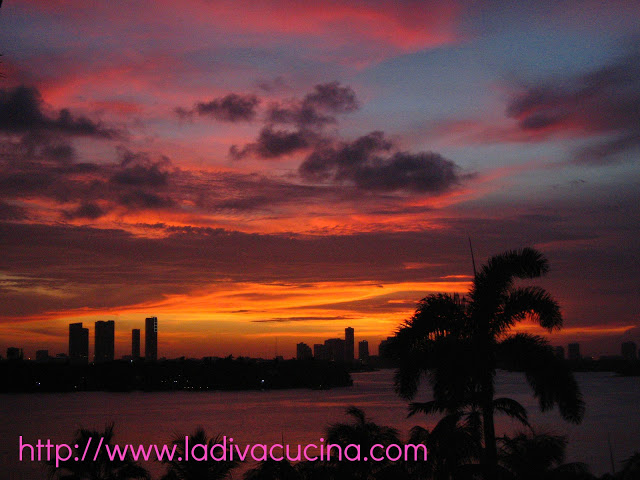 One of the many gorgeous sunsets we've seen while eating dinner on our pool deck of downtown Miami on Biscayne Bay, Miami Beach, Florida.
Likewise, I've packed many a gourmet dinner for outdoor concerts at the Hollywood Bowl, or hosted luscious poolside parties or prepared healthy and satisfying lunches for our times hiking through the canyons in Southern California, bush walks in the Blue Mountains outside of Sydney or kayaking, cycling or boating in Southern Florida….YES, I AM THE PROFESSIONAL when it comes to eating outdoors.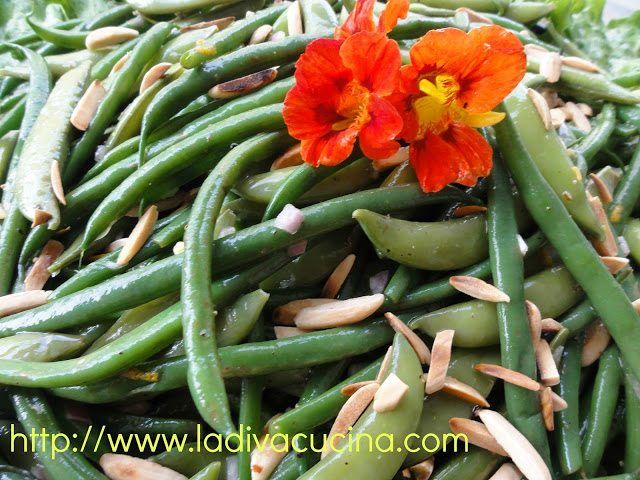 This green bean and sugar snap pea salad with almonds and an orange dressing is perfect picnic food.  The vegetables hold well and stay crunchy and there is no mayonnaise to worry about.
So, the talented Joan Nova of our Creative Cooking Crew has decided that May's challenge would be a picnic theme and everyone must bring something to the table with the idea of giving y'all ideas for Memorial Day!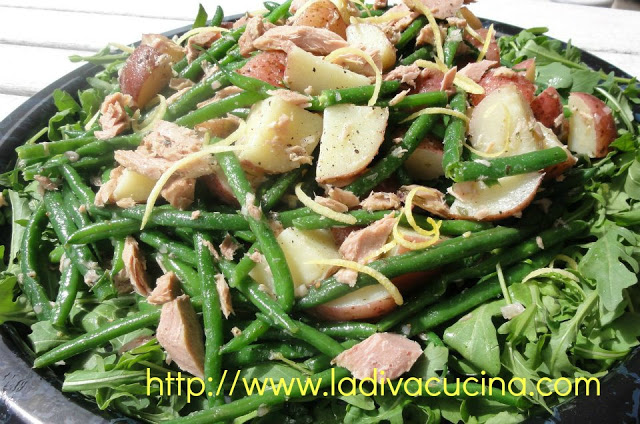 A hearty meal in one comes in the form of my tuna potato salad.  High quality line-caught tuna packed in olive oil is flaked over tender, red-skinned potatoes and blanched green beans on a bed of arugula with a lemon thyme vinaigrette.
But first, let's talk about what makes good, no GREAT picnic food!
The less utensils you need the better.  Finger food is always a good choice but if a fork is required, try to make a dish that won't require a knife as well.  It's hard to cut food on your lap, unless you find a nice picnic table!
Pick food that doesn't fall apart and create a mess.  You wouldn't want to get stains on your new white pants now, would you?
Choose food that can be kept at room temperature without spoilage, a change in flavor or texture.  Will the food become soggy?  Discolored?
Choose dishes that are easy to pack and will transport well.  For example, I tend to prefer vegetable salads over green salads, which can wilt and are delicate and need to be dressed on the spot, thus creating another container to bring.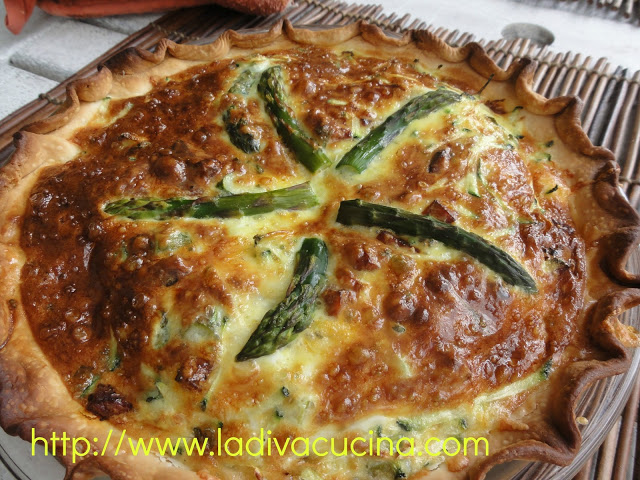 An asparagus quiche is a perfect picnic food!
I'll never forget watching The Food Network's Claire Robinson creating a food for an outdoor concert.  What a disaster.  She started off with a goopy, white bean dip with celery in glass jars.  GLASS JARS.  For the Hollywood Bowl.  Which is made of cement.  Kick one of those suckers over and you've got a mess, injuries and possibly a lawsuit!  Besides, glass isn't allowed by pools and is heavy to carry, which is why I prefer plastic at picnics.  I like the snap lids on plastic containers that will seal in liquids even when they are turned on their side.  White bean dip in glass jar for picnic:  FAIL.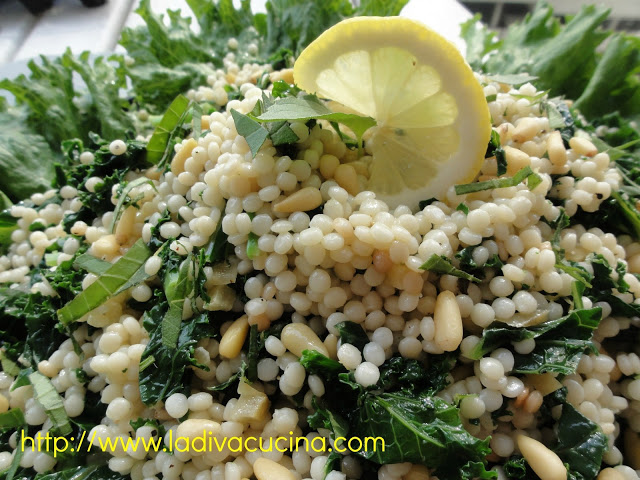 Forget about those old fashioned sickly sweet macaroni salads from when you were growing up!  This modern pasta salad includes Israeli couscous, steamed kale, toasted pine nuts, preserved lemon, lemon basil and extra virgin olive oil.  Delicious and healthy!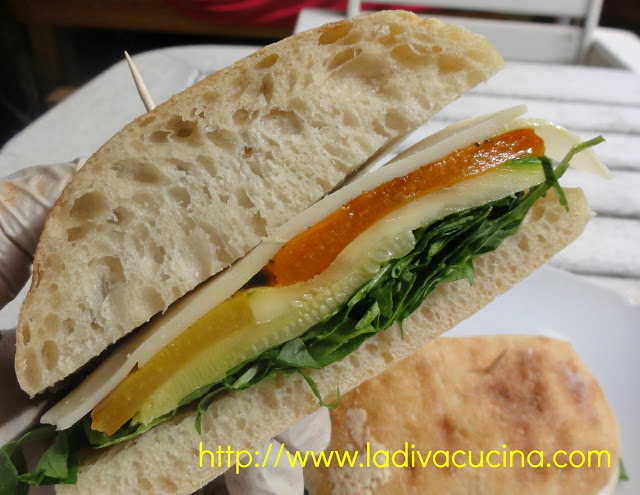 These grilled red pepper, zucchini, fontina cheese and fresh spinach sammies on ciabiatta kept their crunch at room temperature.  I wrapped each half in deli paper and secured with a pic for easy transport and handling.
Make sure sandwiches are wrapped well or secured with a pick.  There is NOTHING worse than eating something that falls apart in your lap!  Another Claire Robinson gaffe from the same show were her flank steak pinwheels.  The poor lamb, they didn't even make it off the set and were already falling apart.  I was embarrassed for her and wondering how the heck people get their own cooking shows….You can buy deli paper from restaurant supplies like GFS is your grocery doesn't carry it.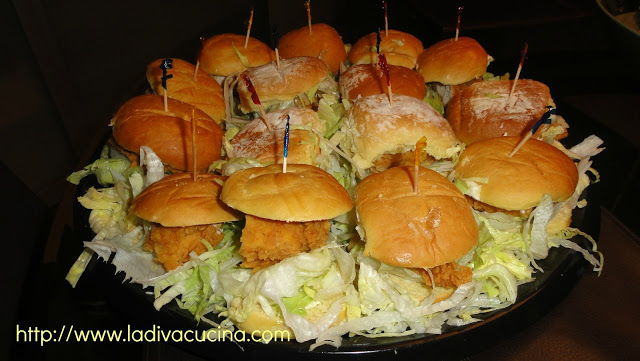 These chicken tender sliders have been a huge hit for picnics and parties alike.  Cook the tenders yourself or buy them pre-made for a quick, convenient party platter.  The tenders are cut in half and put into buttered potato rolls with a shmear of mayo and shredded, crunchy iceberg lettuce.  These will fly off the platter!  HANDY HINT:  after making the sliders or sandwiches, pack them right back into the bread bag!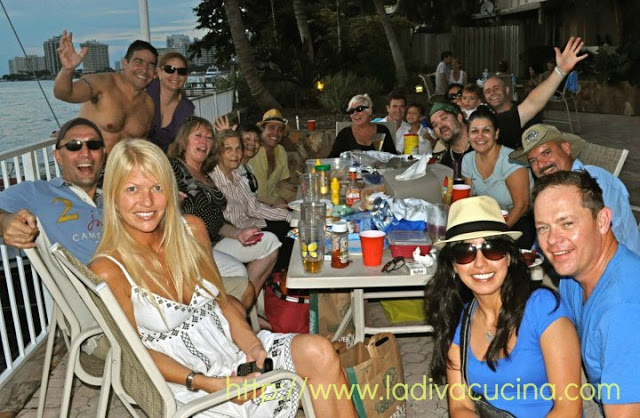 "The Gang" of neighbors and friends that would gather most weekend nights down by the pool to picnic and party with!  
Well these are some great picnic ideas, Diva.  But what, pray tell, are YOU bringing to the picnic?  
I'm bringing something I've been making since I was a little girl.  Something that can be made the day of or day ahead.  Something that is not expensive to make but most people will love.  It can be made vegetarian or with meat, can be eaten room temperature and keeps well.  It can also be eaten without utensils: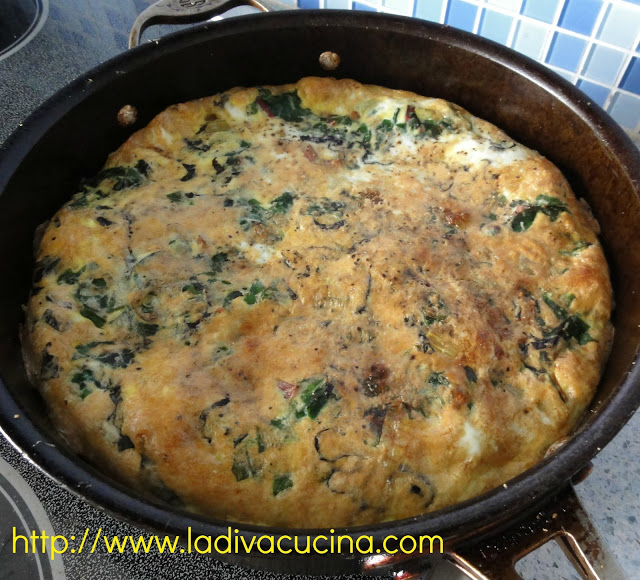 The frittata is made with fried potatoes, steamed rainbow chard and parmigiano cheese, much like a Spanish tortilla!  I cook it on the stove to begin with and then finish it in the oven to get it nice and brown on top.  I cut it into slices and it's ready to be served!  Enjoy, darlings!  What is YOUR favorite picnic food?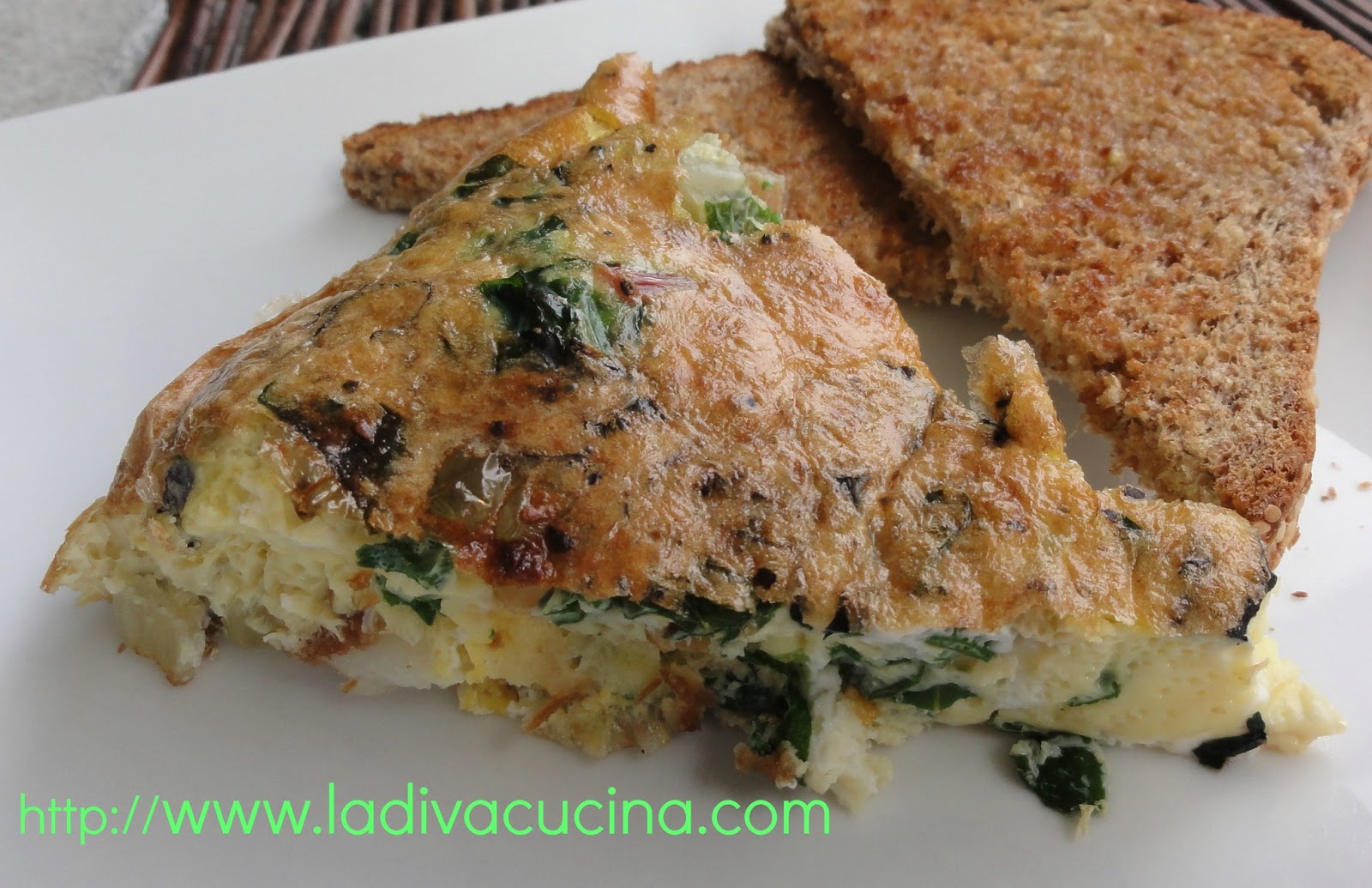 Originally posted 2013-05-13 20:43:00.