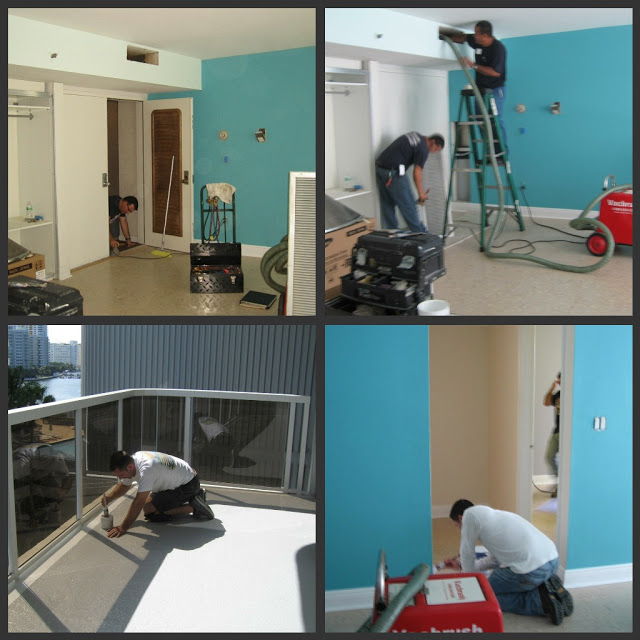 Darlings! This is what La Diva LOVES to see, men on their knees doing my bidding! La Diva was
born
to be a project manager, fo sho.
We are pretty much finished with our new condo refurbishments and in spite of a few hiccups along the way, I'd say it went very well. La Diva was very lucky to get reliable , honest and professional contractors. Here's what we did:
Put in cork flooring, baseboards and shoe molding throughout the entire place (except for the bathrooms.)
Smoothed down, plastered and painted the ceiling. The previous owners had attempted to scrape the popcorn off but there were still lines and bumps, now it's smooth as a baby's bum!
Patched up all the holes in the walls from the previous owner's multiple audio visual touch panels.
Painted the living room, master bedroom and office.
We took advantage of the extensive and expensive media wiring throughout the house and updated equipment with smart tv, speakers, Apple TV, Sonos sound system, etc.
Had cupboard made for kitchen and installed under counter microwave.
Installed melamine covered wood over dining room built in and secured properly.
Air con vents were cleaned and unit serviced.
Electrical units serviced throughout the house.
Washing machine transmission replaced.
Water heater electrical problem repaired.
Replaced plumbing parts for two toilets.
Repair, level and waterproof balcony floor.
Ka-Ching.
I'm tired just writing this! It's dizzying to think of all we've accomplished in six weeks.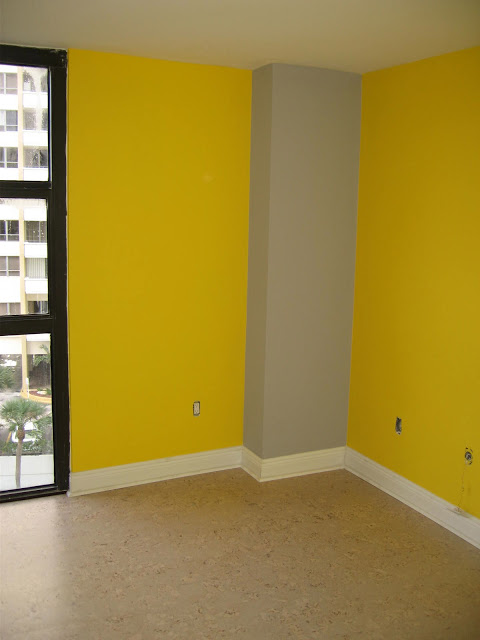 La Diva is lovin' the colours of the new La Diva Cucina World Headquarters more than I even imagined! Bright, yes, but stimulation is just what I need to keep me going while working from home. The cork floors and white baseboards throughout the house offer a clean, fresh and uniform design.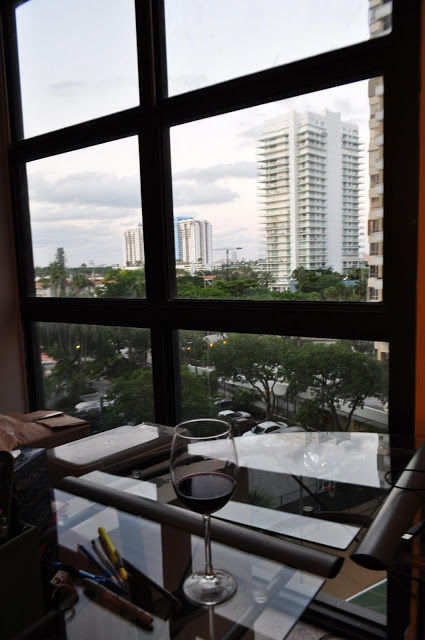 I think I might not put the curtains up in my office for a while…I am really digging the view from the floor to ceiling windows in the corner! Under the crane, I can just see the historic Eden Roc and Fontainebleu hotels, playgrounds to the Rat Pack, Jackie Gleason, Lucille Ball, Ricky Ricardo and more back "in the day!" (Both hotels are still fabulous, actually!)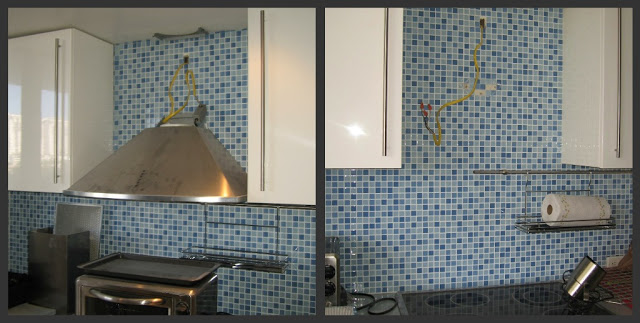 My new kitchen is fabu. And it's no Ikea kitchen, sweetpea, these cupboards are lacquered and come from Italy. I know this because I decided to remove the very expensive exhaust hood to have another cupboard put in along with a microwave to save precious counter space. I looked up the hood online and it was a pretty penny…but it really would be wasted in the space as it was too big and powerful to be used only to recirculate. So, I knew I made the right decision to "downgrade" to a more practical microwave.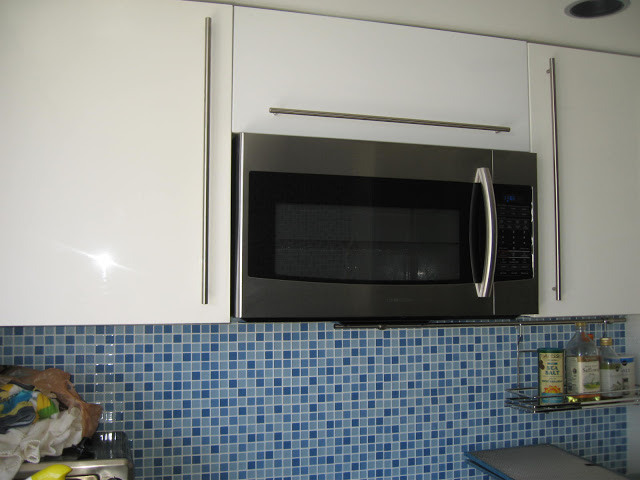 If I used the Italian kitchen company to supply me with the cabinet, it would take six weeks to be shipped from Italy and cost me $1200. La Diva negotiated down to $880. Then, I thought, "Eureka! Why pay for the cabinet when we only need the door?" Cost for cabinet door only from Italy: $775. EEK! The lacquering process takes seven coats of lacquer into the oven to bake on seven times, hence the cost. My contractors were able to get a very similar finish and had the cupboard made locally at a fraction of the cost! I think they did a great job. Yay! Another cabinet and no wasted counter space!
All was fabulous, all was good and then there came moving day. And moving day was
HELL.
Don't get me wrong, darlings, I DO know what makes a move successful, having done it interstate and internationally several times now with nary a broken glass. However, this freakin' move merely 1.4 miles away cost me more than I bargained for.
Here's a quick rundown:
We start the morning off with the old building's engineer giving our movers a hard time and wants them to park and move from the South side of the building as they are doing work on the north side. Bull to the shit. We live right near the elevator on the north side and I knew someone who had moved from that side the day before. And even though we had booked the elevator a month in advance, nobody thought to let us know about any change. Felix puts up a stink, we get our way, but 20 minutes is wasted and we are not off to a good start.
When La Diva gets to the apartment, I find that the $100 a/c thermostat that was installed the day before is NOT working. It's our third thermostat. It's HOT and even though La Diva and the DJ both did some trouble shooting, we couldn't solve the issue and still had to move in with no a/c in the relentless heat. Yippee!
The morning is passing quickly and the movers are taking WAY longer than I budgeted for. At $90 an hour, the move has now gone from an estimated four hours to eight. Oh, and don't forget the $135 "fuel" charge and extra hour for travel time. RIPOFF. I'm so glad that we won't be doing this again for a looong time.
With a 9:30 am start, the movers have finally arrived at our new digs at three pm and now there is only two hours to move our stuff in until the receiving dock closes. We are all hustling.

And then, I hear, "Uh oh, Mizz Laura! Your glass table top done broke," exclaims Victor the mover. Yay! Funny, no one was near it or can figure out just how it broke! And there it lay, my cocktail table top, broken in a million pieces in a blanket.

As the other mover brought in the dining room table base with the special copper-coloured glaze finish, I notice there is a huge chip in it and several dents in the wood. La Diva, "Why is this chipped?! Didn't you wrap this with a blanket? " Mover: "Uh no, sorry." Now, I'm really ticked. I'm so glad I take such good care of my expensive belongings for years only to have a harried kid ruin them within a day. Time to write the claim form and be ripped off again. Sigh.
"Uh oh, Mizz Laura! The elevator is broke! We can't move nuthin'." Tick tock, tick tock….as I call the building's engineers, security and property manager, none of them pick up their phones. Another fifteen minutes goes by and finally the elevator is running again. It will stop working again later in the next hour.
Five o'clock comes and I weasel another hour of freight elevator time out from the property manager and agree to pay the movers "off the clock" in hand. Everyone is happy with the arrangement considering the overtime I would have been charged. The truck gets unloaded by 6pm. Bye, Mizz Laura!
Since we took the sheets off the bed before moving, La Diva thinks it's logical to simply wash them and put them back on the bed instead of digging through a box. However when the washing cycle begins, my machine sounds more like a chain saw. I trouble shoot on the appliance's website. YES, it IS supposed to sound like sawing! Yay! Wait, NO, it does NOT sound the same as in the video on the brand's website. Exhausted, I put the dirty sheets on the bed and make a note to call the repairman the next day.
Back to the old place to get another load! Yippee! The DJ, "Do you want to go for a final swim in the pool? "I'd love to but I am really looking forward to taking a nice hot bath at our new place." We head back. Hot, dirty, stinky and bone-tired, La Diva draws a bath….and waits for the water to get hot. After running the water for 15 minutes, there is still no hot water. I check the sink. No hot water. Resigned to a stifling, grubby and smelly first night in our new place, we open the windows and collapse into bed and fall into a deep sleep, tomorrow is another big day.
But you know what? It's all OKAY because the HOUSE IS MINE, SNITCHES!!!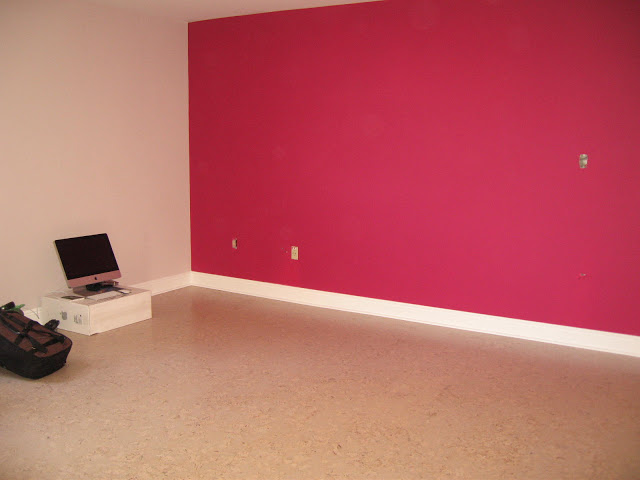 The creamy cork floor adds brightness and a fresh, clean look to each room no matter the colour scheme.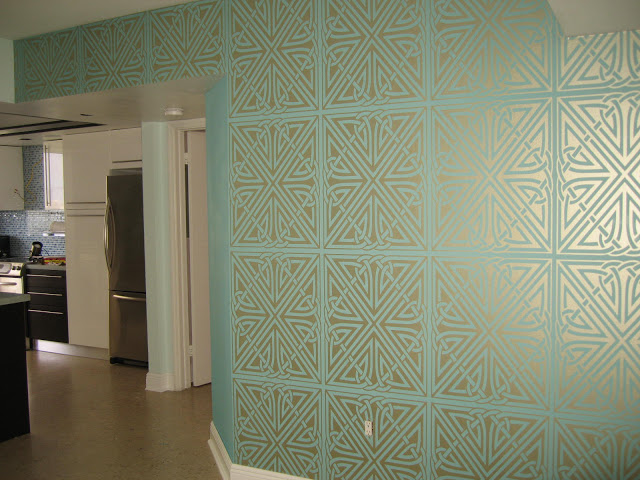 Juan did a great job on the wallpaper.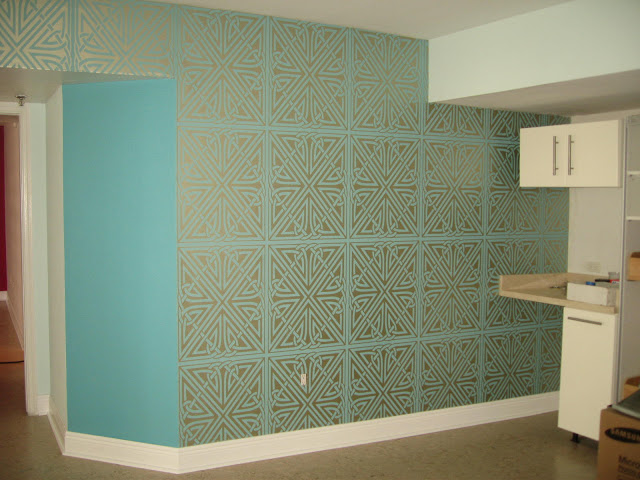 Doesn't it look FABU?!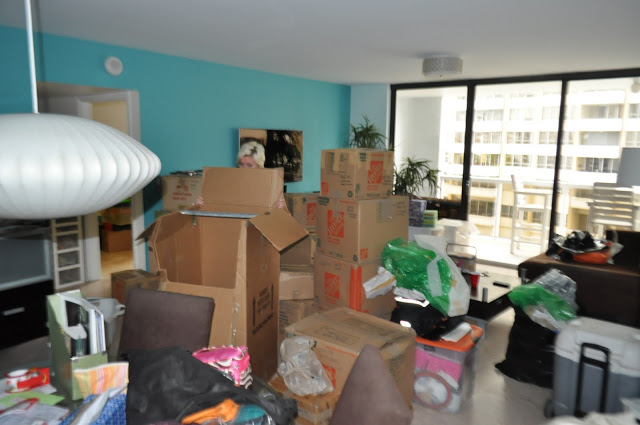 And now we are all moved in and unpacking. It's been so nice already here, so quiet and peaceful, such a change from all the noise from living on West Avenue! And I am so ready to get back to work on La Diva Cucina as well as into a regular routine of cooking and working out. After all, a gal can only eat so many take away burritos, Chinese food and grocery store salads, I am really craving some fresh veggies, fruit and home made dinners. When we are finished and you can actually see the floor, I'll post the final photos….and I'll see YOU real soon, darlings, I promise! Ciao for now!
Originally posted 2011-10-03 17:56:00.