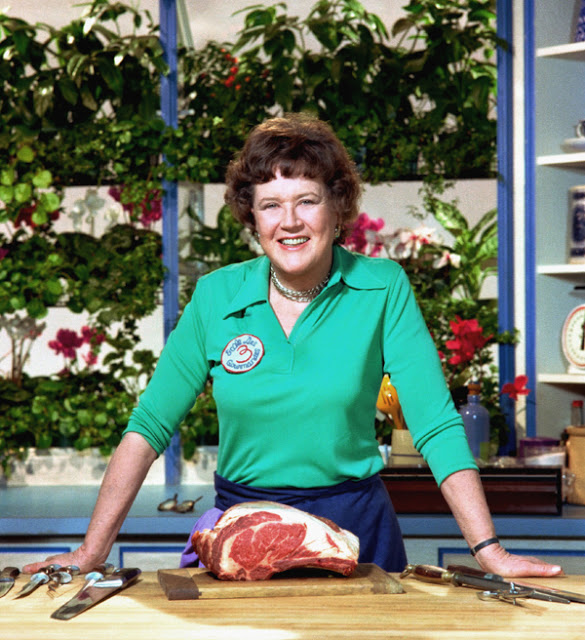 Darlings!  Twas the night before Thanksgiving and finally, La Diva had the time to do something I'd been wanting to for months:  Have a Julia Child night and immerse myself in cream, buttah and complicated recipes!
My buddy Corinna came by with the intention of imbibing fully in the Julia theme!  We would be making an entree and dessert from her cookbook, "Mastering the Art of French Cooking," and then watching foodie flick "Julie & Julia."
As one does when cooking with a friend (or alone), a cocktail was in order and the DJ handed us both a lovely old school drink, a 7 & 7, and I got to work on the chicken while the lovely Corinna began to peel apples for dessert.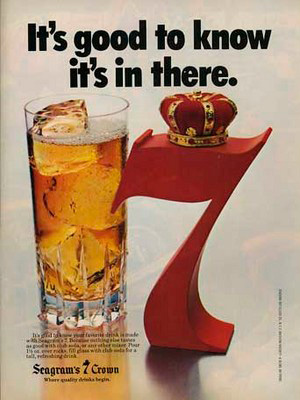 Looking through the intimidating tome a few days before, I had picked some fairly simple recipes for us to prepare, a chicken fricassee and an apple clafoutis.
And it all started with buttah.
Loads of it!   I began with the mirepoix aka chopped celery, onion and carrots and sauteed in the butter until the vegetables were translucent.  This would be a fine flavor base for my stew.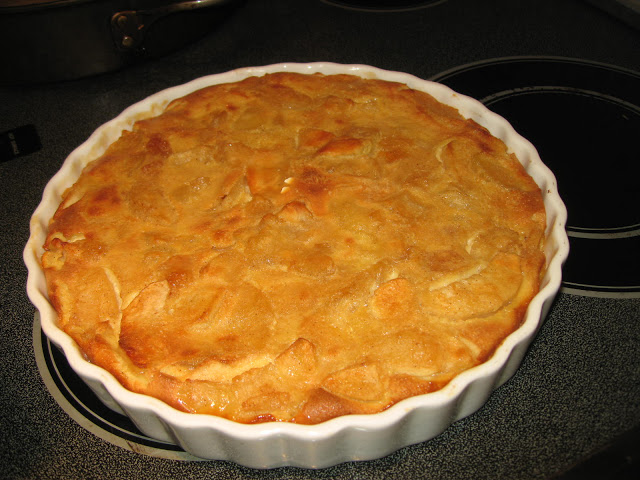 Corinna's beautiful apple clafoutis, a combination of fruit, pancake and tart!  Easy and delicious!
But wait.  I had to make a 'garnish' of mushrooms and pearl onions.  More buttah, more steps and not enough pans or burners!   Sheesh!  This is why I don't cook French food often, so many steps!  Meanwhile, Corinna is working on HER dessert, more buttah…..this was going to be one divinely decadent dinner!  (say that ten times fast after a few whiskies!)
Three hours and a few whiskies too many, we finally ate.  Drunk and starving, we inhaled the creamy, divine chicken in a mere 15 minutes!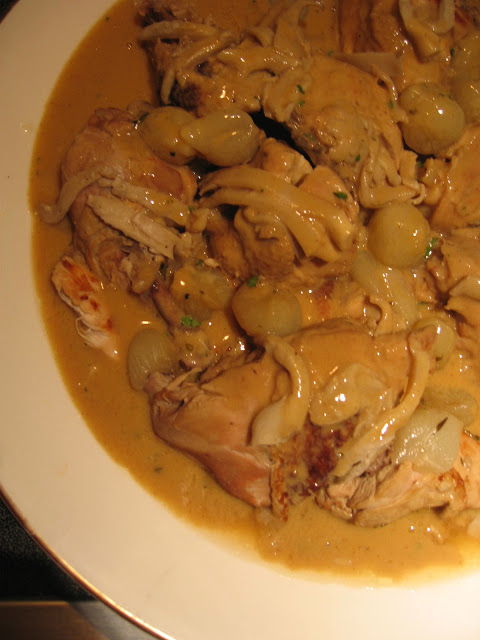 The fricasee was CREAMY DIVINITY packed with flavor (and loads of buttah, a few egg yolks and cream!)  Success!  (and worth every step, every ingredient, every pat of buttah!)
And then the next day was Thanksgiving…..
Friday we had leftovers from our fabulous dinner at a friend's but then Saturday offered another opportunity for La Diva to cook meals I hadn't had time for lately.   A recent purchase of grass fed beef osso bucco at the Farmer's Market inspired this comforting meal.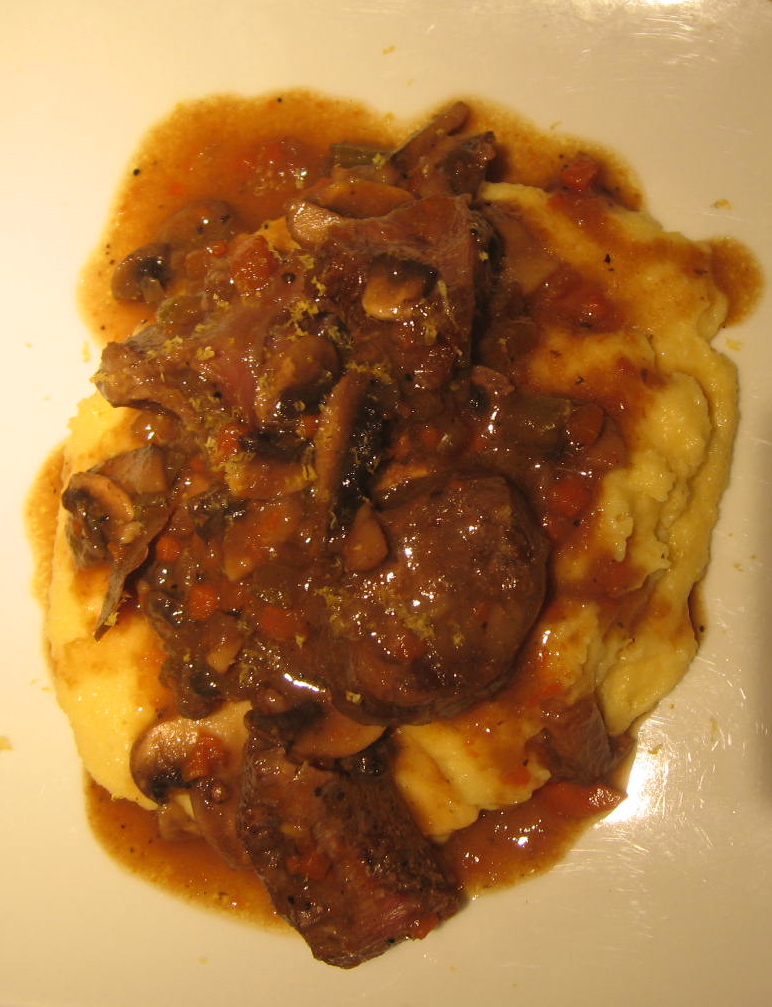 Osso bucco braised in red wine with carrots and mushrooms over creamy polenta.  Want to make your polenta REALLY DECADENTLY CREAMY?  Add one cup of whole milk along with chicken stock and then add a cube of fontina cheese along with buttah and parmigiano cheese.  Jessssss……!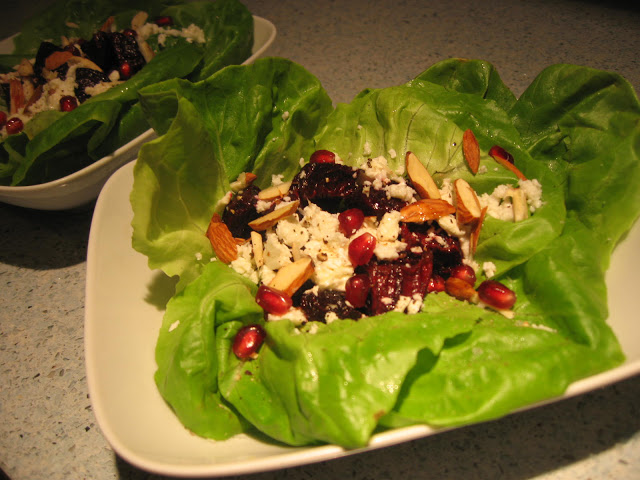 Finally, after four days of imbibing in creamy, buttery delicious dinners and desserts, La Diva was craving LIGHT and GREEN and HEALTHY!  So, we started  Sunday's dinner with a salad of butter lettuce (had to be buttah in there somewhere! ha!) with roasted organic baby beets, feta, almonds and pomegranate.  Crunchy, sweet, tart and tasty!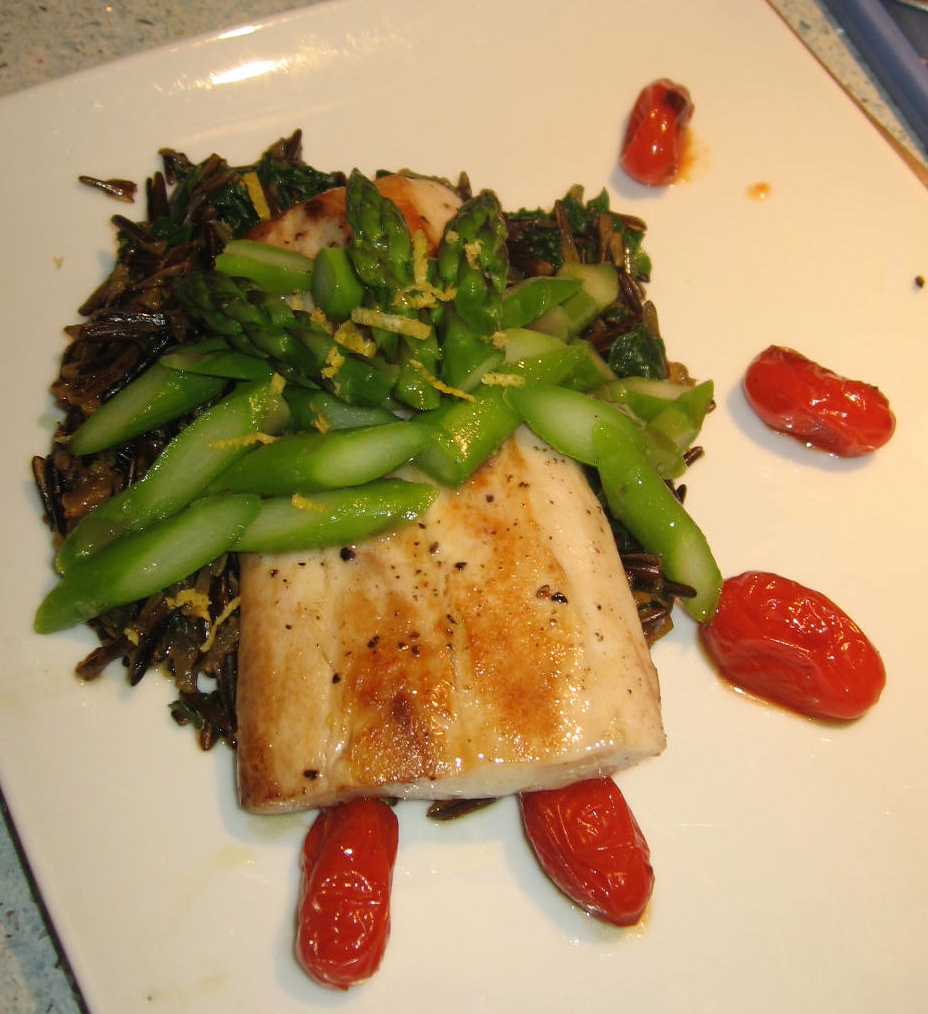 Followed by a seared mahi mahi steak with a fresh asparagus and roasted grape tomato garnish on a bed of saffron infused wild rice with spinach.  *sigh*  
Guilt gone and back to the gym on Monday!  
There really is NO POINT TO LIFE if one can't enjoy a few decadent meals with friends once in a while, right?  Darlings, what's YOUR fave decadent meal?  And have YOU ever prepared a Julia Child recipe?  DO tell, La Diva wants to hear all about it!
Ciao for now, darlings! x
Originally posted 2011-12-03 13:43:00.