Darlings! Ten years ago on October 27, 2001, the DJ and I exchanged vows (for the second time) in a proper ceremony in front of family and friends. It's cliche to say, but I truly can't believe ten years has flown by so quickly. It was such a fabulous day, so special and truly magical, that I wanted to share it with you. (I hope you don't mind!)
As a team, hubby and I have accomplished a LOT in a decade: moved from Sydney to L.A., L.A. to Miami and lived in three different homes before moving into our own condo October 1. Felix had three jobs, and I had seven before realizing I'd only be happy working for myself, so started my own business in 2008. Whew. Dat's a lot of moving about in ten years!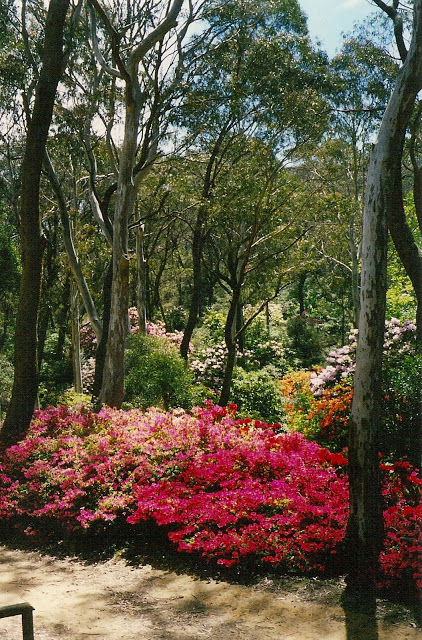 We got married in the Springtime in the Campbell Rhododendron Gardens in Blackheath, a village in the Blue Mountains a few hours outside of Sydney. I remember asking the ladies of the center's gardening society for the rental fee and was told "Oh, just give us a donation, dear. We'll rake up the path for you." Sigh…simpler times. Now the garden charges $200.
Every spring, a few villages in the Blue Mountains hold open houses and gardens for the rhododendron festival. The mountains enjoy a cooler climate due to the higher elevation so all the flora of my native Michigan thrives there: cherry trees, lilacs, apple trees, azaleas, forsythia and the rhododendrons grow as big as a house!
On one of our first dates, I asked the DJ to take me to the village of Leura for a garden tour in the Springtime. He went, albeit kicking and screaming, until….he stepped out into the peaceful gardens and inhaled the freshest most heavenly scented air he ever breathed. He was sold. From then on when The DJ sought respite from his mad world, he would whisk La Diva away up to the mountains for fresh air, serenity and a hike. The Blue Mountains became "our spot."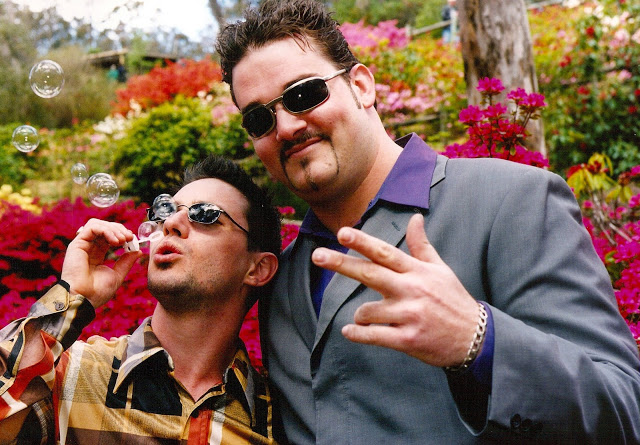 The best man, Liam and the DJ before the ceremony.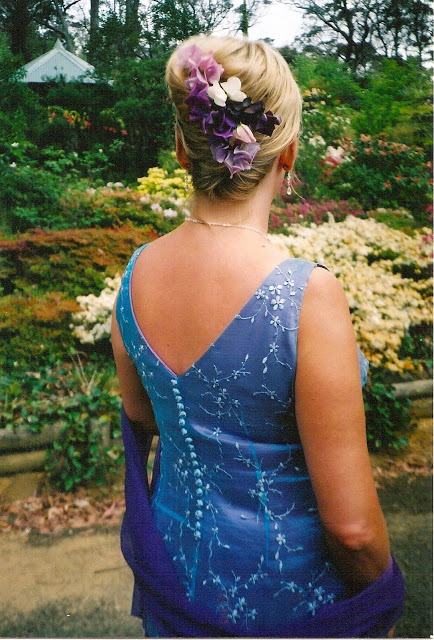 On my wedding day, I adorned my French twist hair style with fragrant sweetpeas from my own garden and wore a simple sheath dress of organza over purple silk satin, which I designed. My dear friend Racheal embellished the dress by adding hand made buttons with an embroidered flower on each one.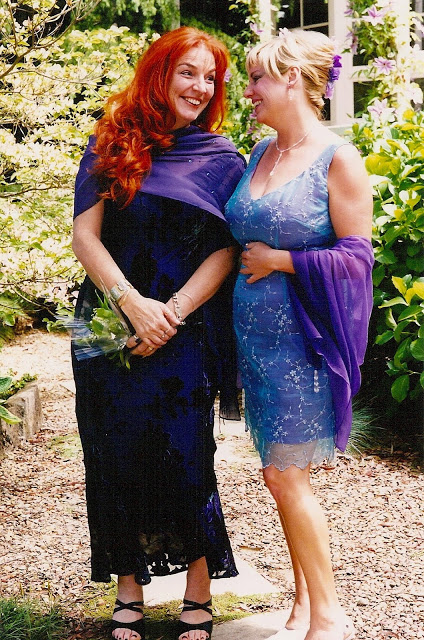 Friends through thick and thin, here's dear Fifi as my maid of honor with a small bouquet of lilies of the valley, telling me not to be nervous. I'm not and am all smiles. No bouquet for La Diva, I thought it would be overkill with all the garden flowers.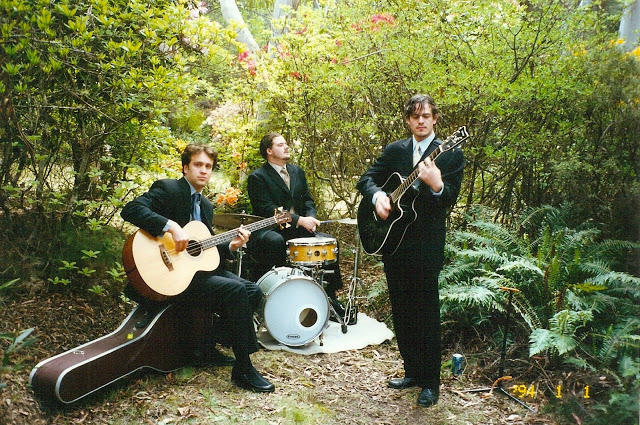 The DJ was managing musical artists at this time and his brothers' band, Kessel, performs an amazing acoustic set of jazz amongst the ferns!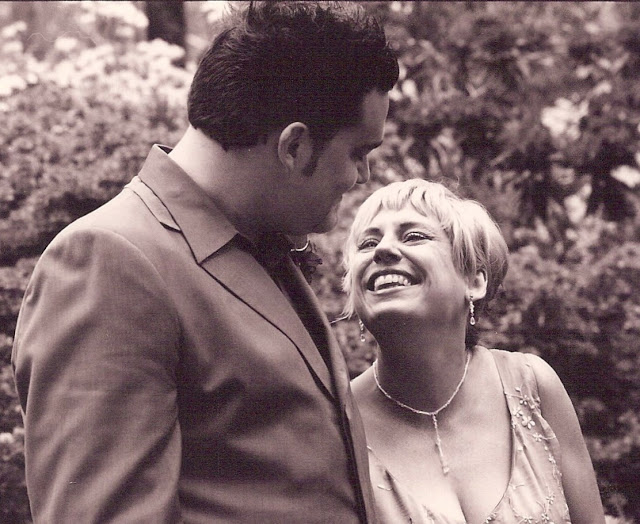 We dedicated the ceremony to my deceased mother and as the celebrant spoke of her, a sudden, strong wind blew through the gum trees, blowing out the candle that she had just lit and sending leaves and bark fluttering to the ground. There were gasps from our guests and a few tears were shed by the ladies. Mama made a point of letting everyone know that she was in attendance that day.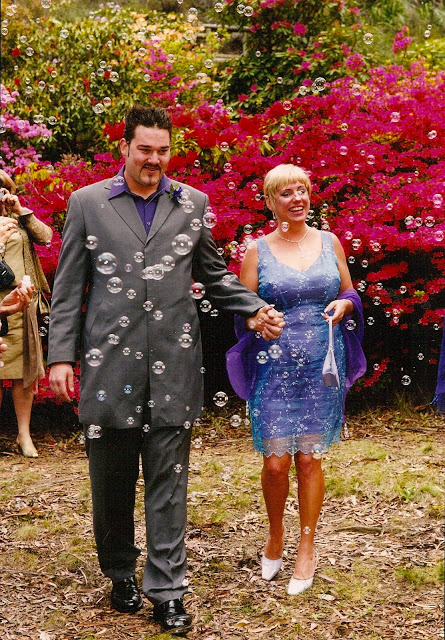 The ceremony was quick and heartfelt and our guests surrounded us, blowing celebratory bubbles while the band played "Every Little Thing She Does is Magic" by the Police. It was lovely.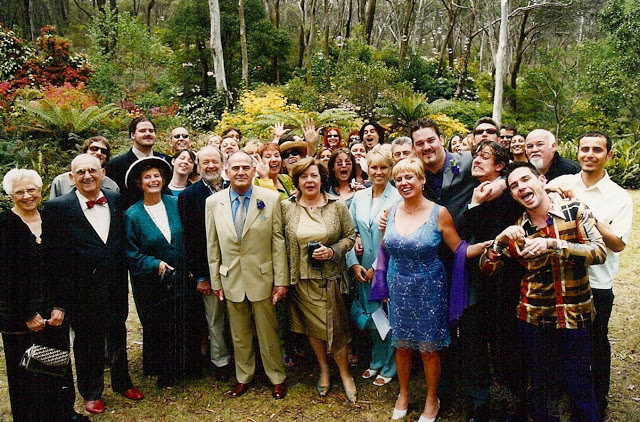 We only had 43 guests at our wedding, not too many, so we could enjoy everyone on our special day.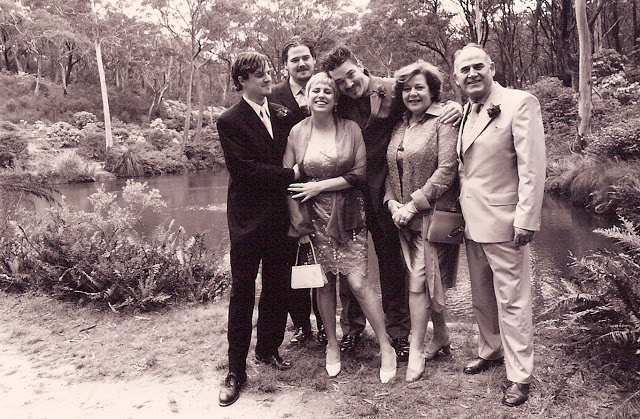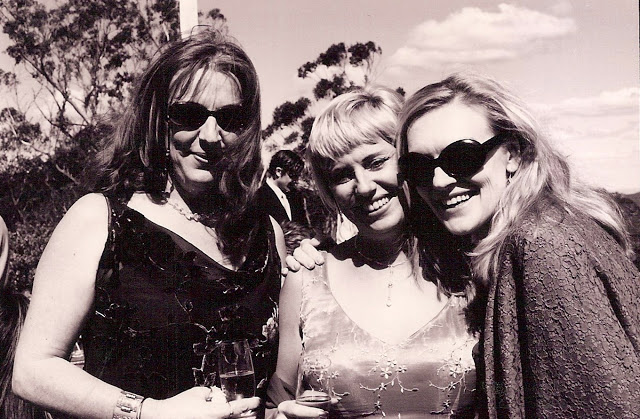 Two of my dearest friends, Fiona and Louie (Louise!)
The DJ's talented brother Richard (with guitar) wrote us a wedding song and it was performed by him and artists Drew and Caroline, a beautiful gift from the heart from all three.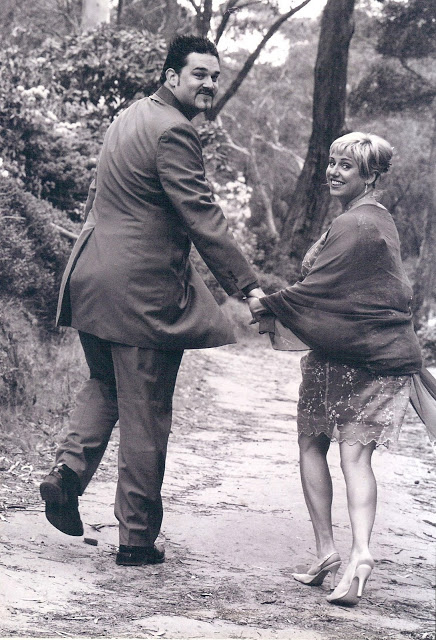 Off we go to start our new life together…..
Where will the next ten years take us?
I'll see you ALL on Monday for
Culinary SMACKDOWN: PUMPKIN
(Be afraid, be VERY afraid!)
Originally posted 2011-10-29 15:00:00.