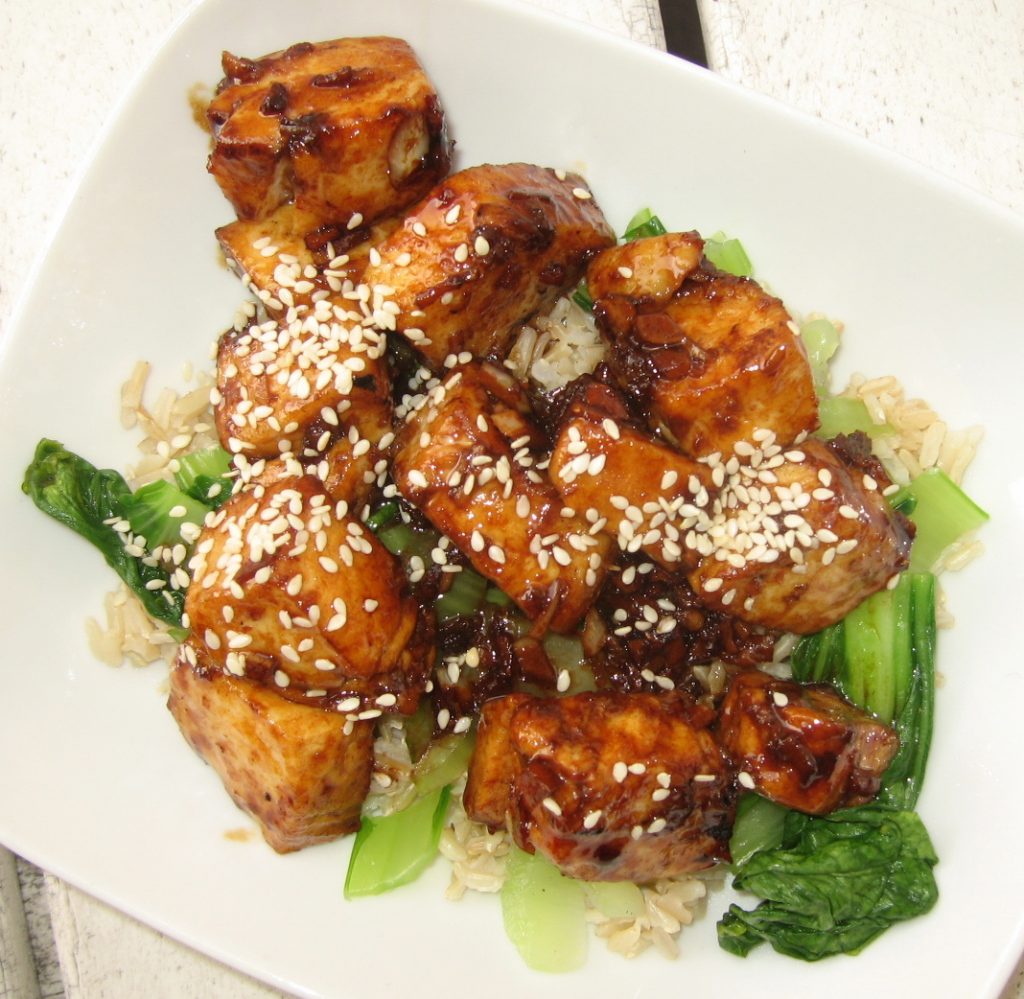 Garlic Ginger Sauce with Stir-fried Vegetables and Cashews
This spicy garlic sauce is as versatile as it is delicious!  Use it in a variety of stir fries or as a dipping sauce!
 10 oz. broccoli, cut into small florets
6 oz. carrots, sliced finely
15 oz. can baby corn, drained and cut into thirds
8 oz. fresh bean sprouts
4 oz. cashews, raw or salted
2 T peanut or safflower oil 
Garlic ginger sauce:
3/4 c vegetable or chicken stock
3 cloves garlic, minced
1 inch knob ginger, grated
3 T soy sauce
1 T Shaoxing wine* (Chinese rice wine or dry sherry)
1 T sugar
1 T vegetable oil
2 t cornstarch dissolved in 2 tablespoons water
1/2 t vinegar
1/2 t sesame oil
1/2 t dried chile flakes
 Make sauce first:
 Combine stock, soy sauce, wine (or sherry), sugar, cornstarch slurry, vinegar and sesame oil.  Stir to dissolve sugar.
 In medium saucepan, heat oil and add garlic, ginger and pepper flakes.  Stirring continuously, cook for a few minutes over medium heat, DO NOT BURN GARLIC!  Add stock mixture and boil over high heat until thickened, about a minute.  Take off heat and set aside.
 Heat about a cup of water in a wok or large, heavy-bottomed skillet over high heat.  Once boiling, add broccoli and a pinch of salt.  Cook until just tender, strain, set aside.  Repeat with carrots, set aside.  Drain baby corn, set aside.  Rinse bean sprouts and drain on paper towels.
 Heat wok (or large, heavy bottomed skillet) over high heat until smoking.  Add a few tablespoons of oil and swirl to coat the bottom and sides of the wok.  Add the broccoli and stir, picking up from the bottom so it doesn't burn.  Add the carrots, stir through, baby corn, repeat process and finally add the cashews.  Lower heat to medium high and add the garlic ginger sauce and stir to evenly coat the vegetables.  Turn off the heat and carefully mix through the bean sprouts.  Serve at once over brown rice.
Variations:  Add mushrooms, baby bok choi, zucchini, red peppers!  You may also add chicken, tofu or mahi mahi chunks.  Dust the chicken and fish lightly in corn starch and then stir fry first then add vegetables.
*prounounced Shou (like OW!) and Shing (like SING!) = Showshing
 This garlic ginger sauce is modified from a recipe from Food & Wine by Grace Parisi
Originally posted 2013-09-01 21:01:53.