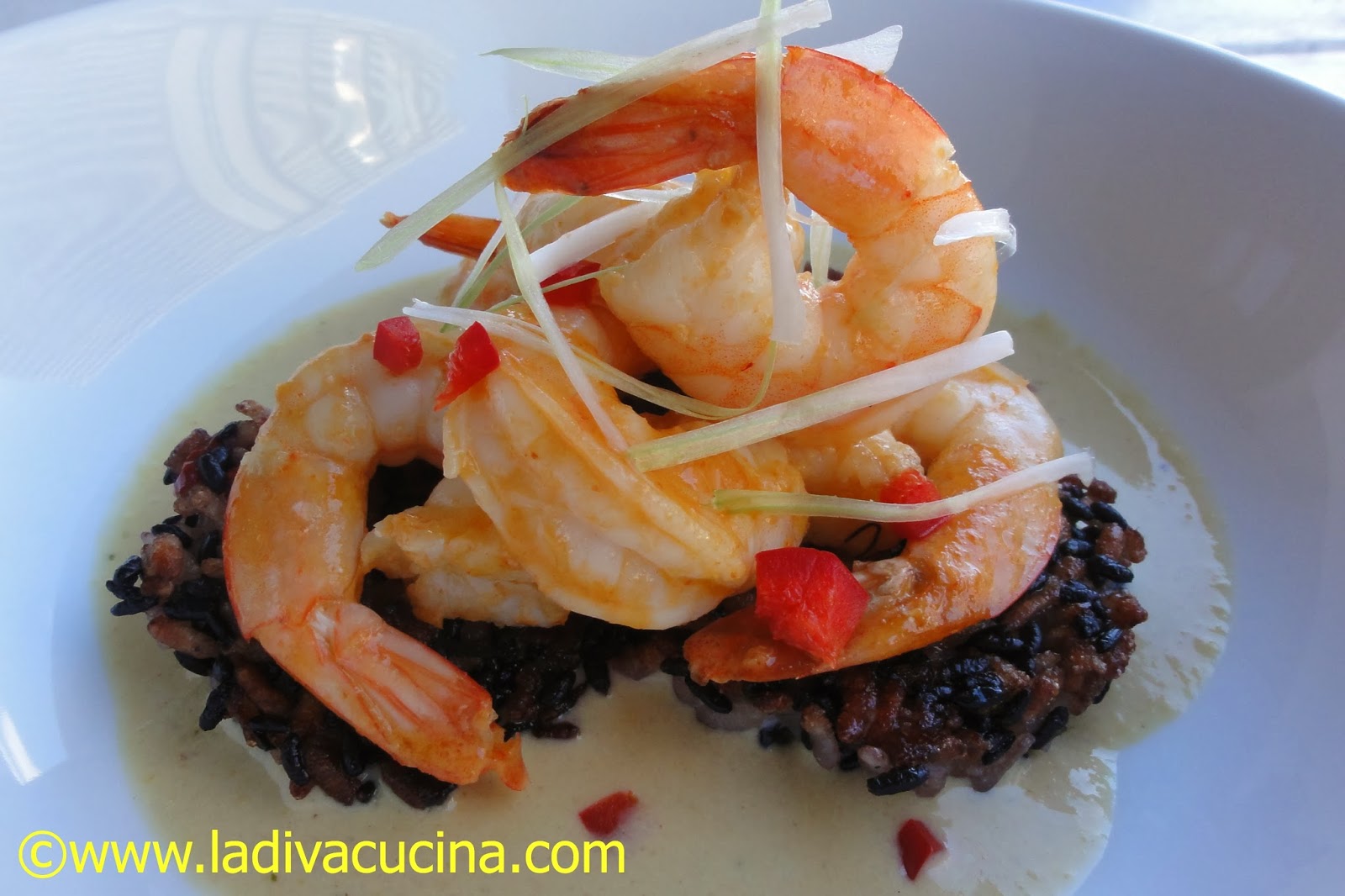 Shrimp sauteed with brandy and doused in sriracha cream sauce over black and aborrio rice cakes in a corn "bisque" with red pepper and green onion garnish!
Darlings, once again the Creative Cooking Crew has offered the challenge for the month and this time, it's RICE.  "Rice is a simple, ancient grain with a variety of applications in many cultures.  What can you do to transform, elevate, modernize or creatively spotlight it in a dish?  That's your challenge for February."
And so the RICE GAUNTLET HAD BEEN THROWN DOWN and even though I'd been sick forever, it didn't stop the wheels spinning in my head to come up with an original dish using rice as a featured component.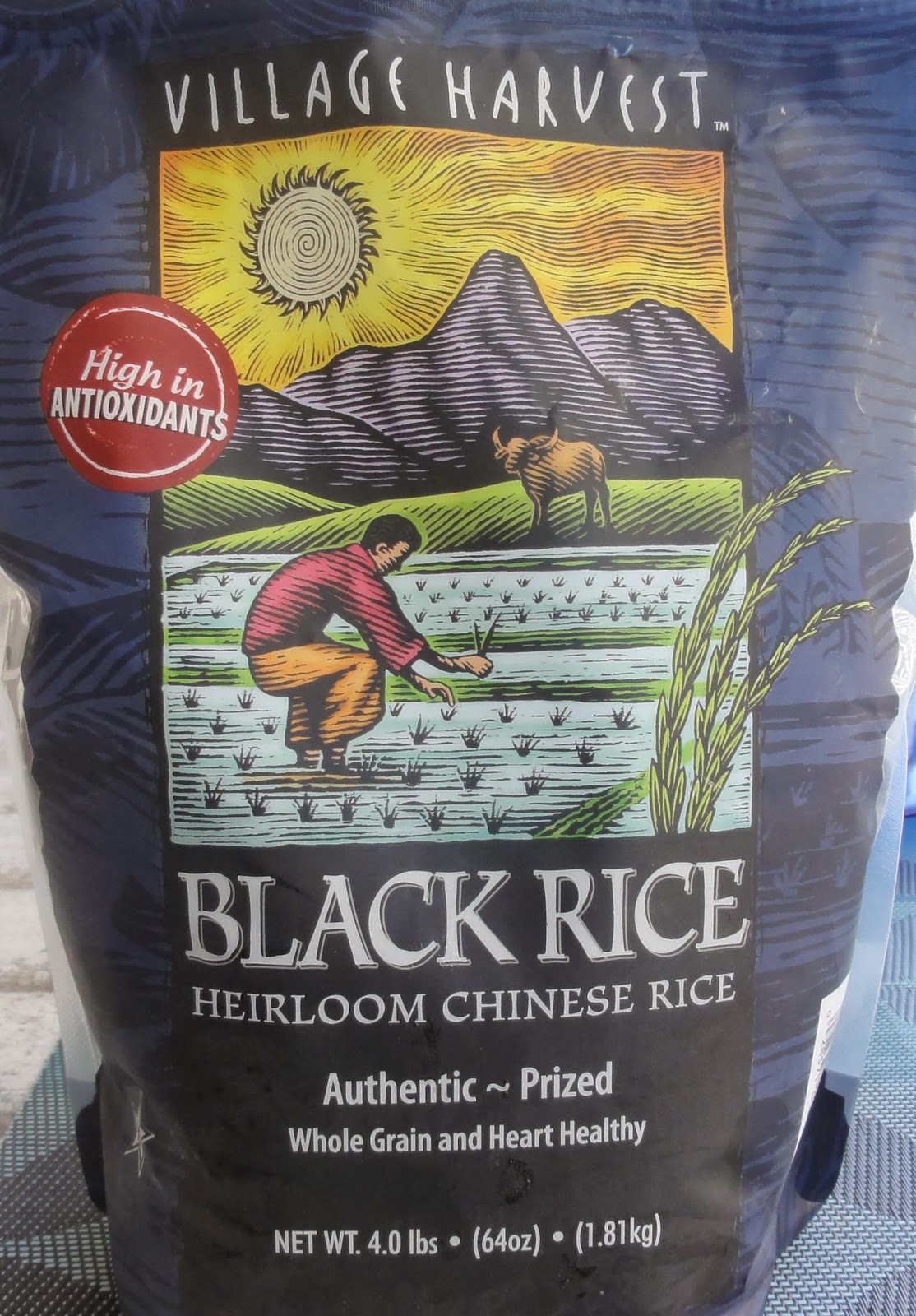 A few months ago, I noticed this black rice at Costco that was a whole grain and heirloom variety, curiosity piqued, I bought it and couldn't wait to try it.  Upon being cooked, the rice grains remained separated, it didn't have a high starch content.  The texture was slightly chewy, like a good quality pasta that had been cooked al dente, and the shiny, small black grains proved to be a lovely contrast to bright, stir fried vegetables of  orange carrot, yellow summer squash and green zucchini.
Because the color was so stunning, the grains so shiny and the texture chewy, I thought it'd be an unusual choice for the challenge.   As I pondered about how I'd like to eat it, I came up with the idea of using it in a cake and imagined a crunchy, black rice cake loaded with shrimp, red peppers, green onions and spices, perhaps like a black rice fritter!
Still under the weather, I trudged to the grocery store, determined to get all my ingredients in one place, the last thing I wanted to do was to make a special trip to Fresh Market to get sushi rice.  Luckily, they had it at Publix, but the large volume and $8 price tag put me off.  "When would I use it again," I wondered?  Knowing I wouldn't be making sushi anytime soon and remembering my pantry was already bursting with multiple grains, rices and pastas, I opted to buy another short grain rice, Valencia, which is used in paella and only $2.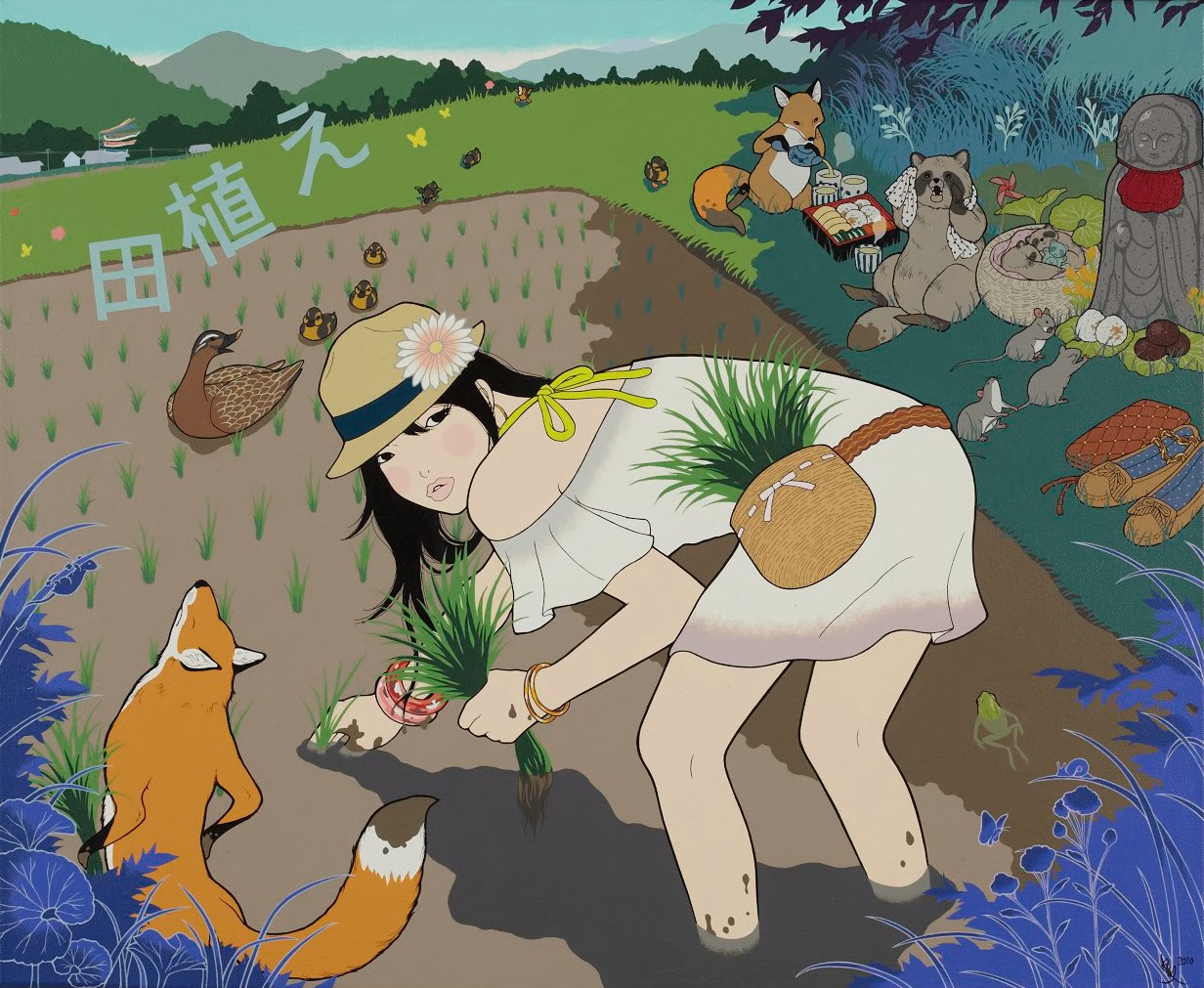 As I began to formulate my recipe and consider cooking the rice, I started to have doubts about the Valenica's ability to bind and at the last minute switched to aborrio rice instead.  I made both rices separately, allowed them to cool to on a tray while I sauteed diced red pepper to soften for the cakes.  Into the rice I mixed a sugary salty rice vinegar and wine mixture along with the red pepper, green onion, kaffir lime and Vietnamese coriander.
I mixed together all of the aborrio rice with half of of the black rice and began to form patties.  But, they were falling apart already.  Not using all of the high starch rice was proving to be frustrating.  I added two egg whites to the mixture, formed the patties quickly and then put them in the fridge to cool.  When I went to fry the cold patties, they fell apart in the pan.  Back to square one, I put the tray of patties in the freezer and waited 15 minutes and fried again, this time I saw success!  I fried up the patties, while I made the corn chowder which I would use as a base for the dish.
I love my recipe for corn chowder and have made it many times, but this time, I would puree the lot and strain the soup into a smooth, satiny vegetable bisque, a perfect complement for the spicy shrimp that would adorn the crunchy cakes.
With the chowder complete, I took large shrimp and sauteed them quickly adding a hefty swig of brandy and then doused them in a sriracha cream sauce invented by my 
talented friend Jill from Stella's Roar.
The sauce included wine, rice vinegar, lemon juice, shallots, cream and sriracha and the only modification I made was to add a dab of butter at the end to finish it!  It had a nice hit of heat but was not overpowering, the cream mellowing the spice.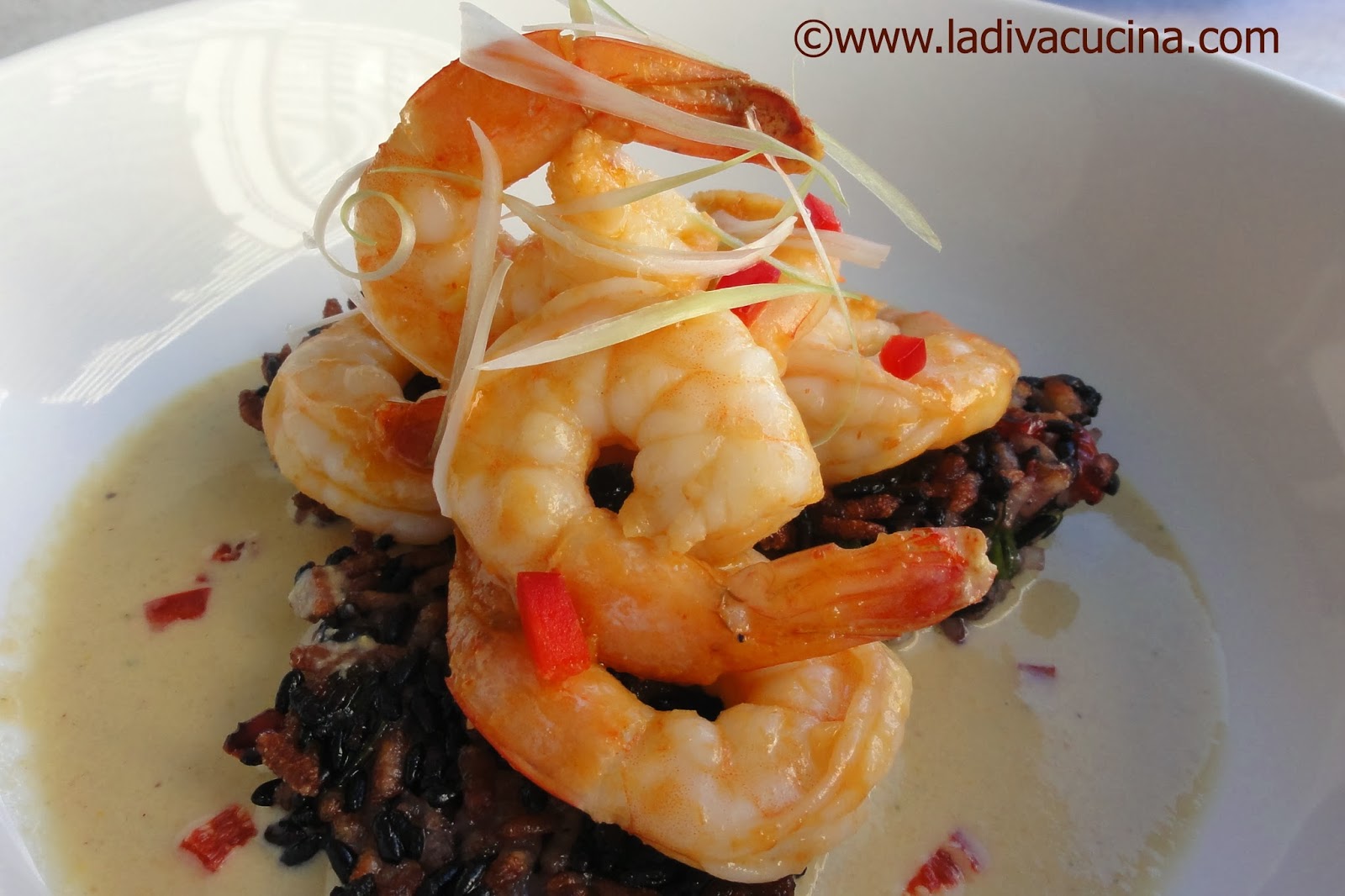 Regrets….I've had a few…..
Some food bloggers NEVER like to admit they make a mistake, their egos won't allow it.  But I've found over the years that many of my readers and fans really appreciate the realism of my posts, warts and all.  This humble admission helps my readers to identify with me, I'm only human too!  But I do it so that others can learn from mistakes that could be easily avoided.
First mistake:  Before I knew it, the onions that formed the base of the chowder were browned and caramelized, which changed the color of the soup from pure yellow to the ugly, darker yellow you see here.  Merely sweating the onions would have been enough.
Second mistake:  After pureeing the soup and straining it, I had the loveliest, silkiest soup!  Now all I had to do was to reduce it a bit and finish with cream.   But guess who walked away from the stove and into her office to get something, got distracted and forgot all about the soup on the stove?  La Diva did, dumbass!  When I got back to the stove, the the soup was boiling furiously and broken, the texture thick and horrible.  Unwilling to accept defeat, I strained it again, but the silky texture was gone now, though it still tasted good.  Do I go to the store, get more corn and start all over again?  NO.  The texture and color was not perfect but this was already a time consuming exercise!  I would press on!
Third mistake:  Mixing the black rice with the aborrio was a pain in the butt!   Though I liked the texture and contrast the black rice lent to the patties, the next time I'd have to use a better binder or use a high starch rice only!
Fourth mistake:  After frying up and testing the cakes, I was getting a bit sick of testing them after I plated the dish, I threw the other five I had left out.  I wasn't interested in eating them again!
Fifth mistake (are you kidding me?!):  I should have taken a photo of the fried rice cake on it's own for your viewing pleasure as they did look pretty good.  Ahhh well…..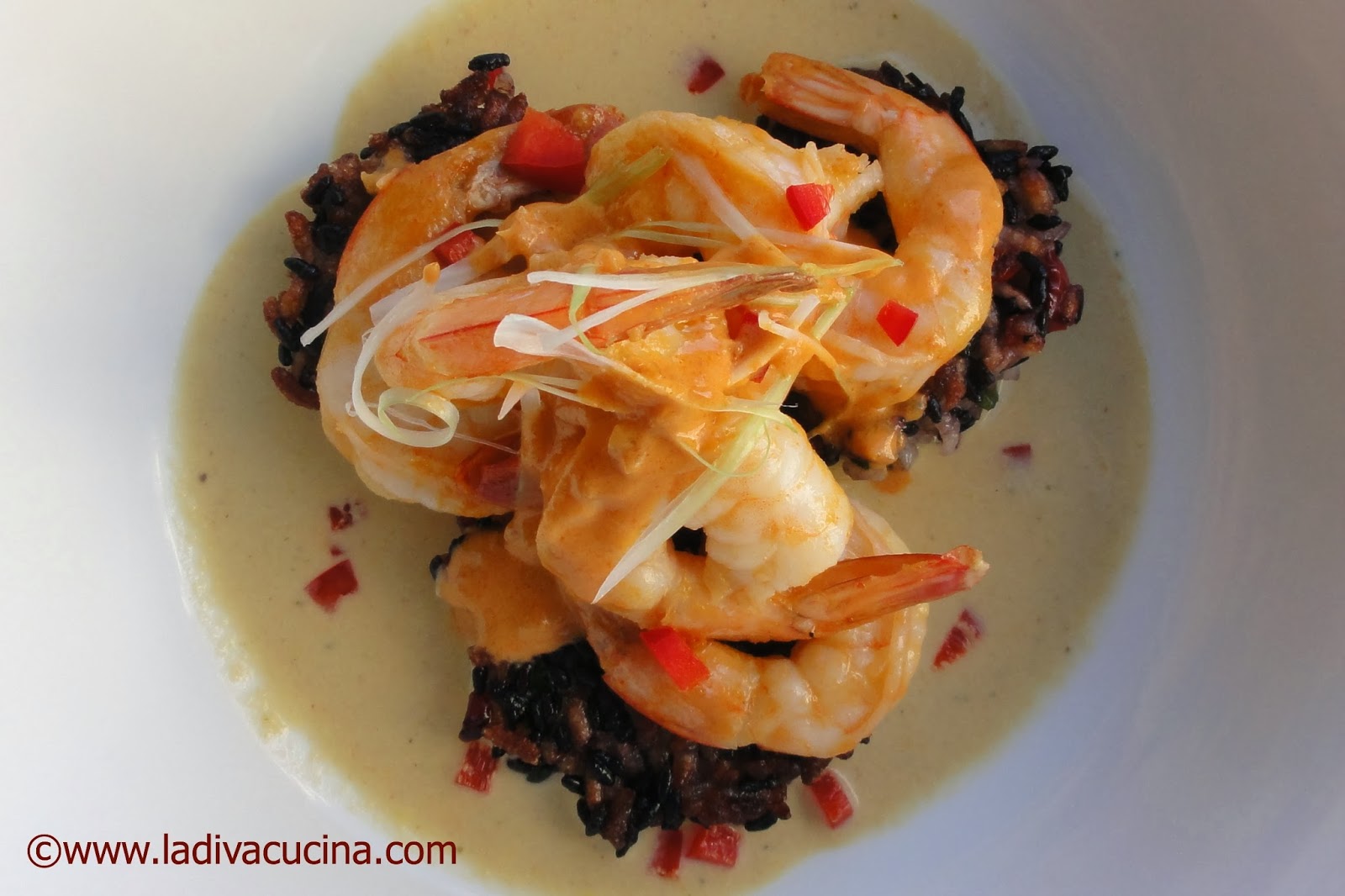 RESULT:  In spite of my mistakes, I was pretty happy with this dish.  In the first photos, you'll notice that I didn't have the extra sriracha sauce but since I had plenty and really wanted that spicy flavor hit, I added more dollops onto the shrimp.  The flavor combination of corn, red pepper and shrimp is classic but the cakes themselves were delicious with hits of green onion and the strong presence of kaffir lime added a citrus note.  La Diva loved the crunch of the rice cakes and the toothsomeness of the black rice, however, The DJ wasn't overly thrilled with the texture (but he's not a fan of the black rice anyway!)  But that didn't stop him from inhaling the dish and next thing you know, two and half hours work ended with empty plates and a load of dirty dishes, pots and pans!
An Unexpected Surprise…..
The next day while I went into the fridge to get my
Korean fried chicken wings
that I'd been drying out, I noticed another tray of rice cakes!  I had forgotten about them.  I touched one and instantly, a few grains broke away.  I hurriedly put them into the freezer after deciding to fry up the rest to serve as a side for the wings.
As I gathered my salad ingredients and plated my salad, I thought "Why not put the crunchy cakes on the salad?"  So, I did.  I topped them off with a slightly warmed up sriracha sauce from the day before and then made an additional sauce using Salvadoran crema, Greek yogurt and a dash of cream to create a pourable dressing.  I garnished the cakes with green onions and tomatoes and served it as a first course.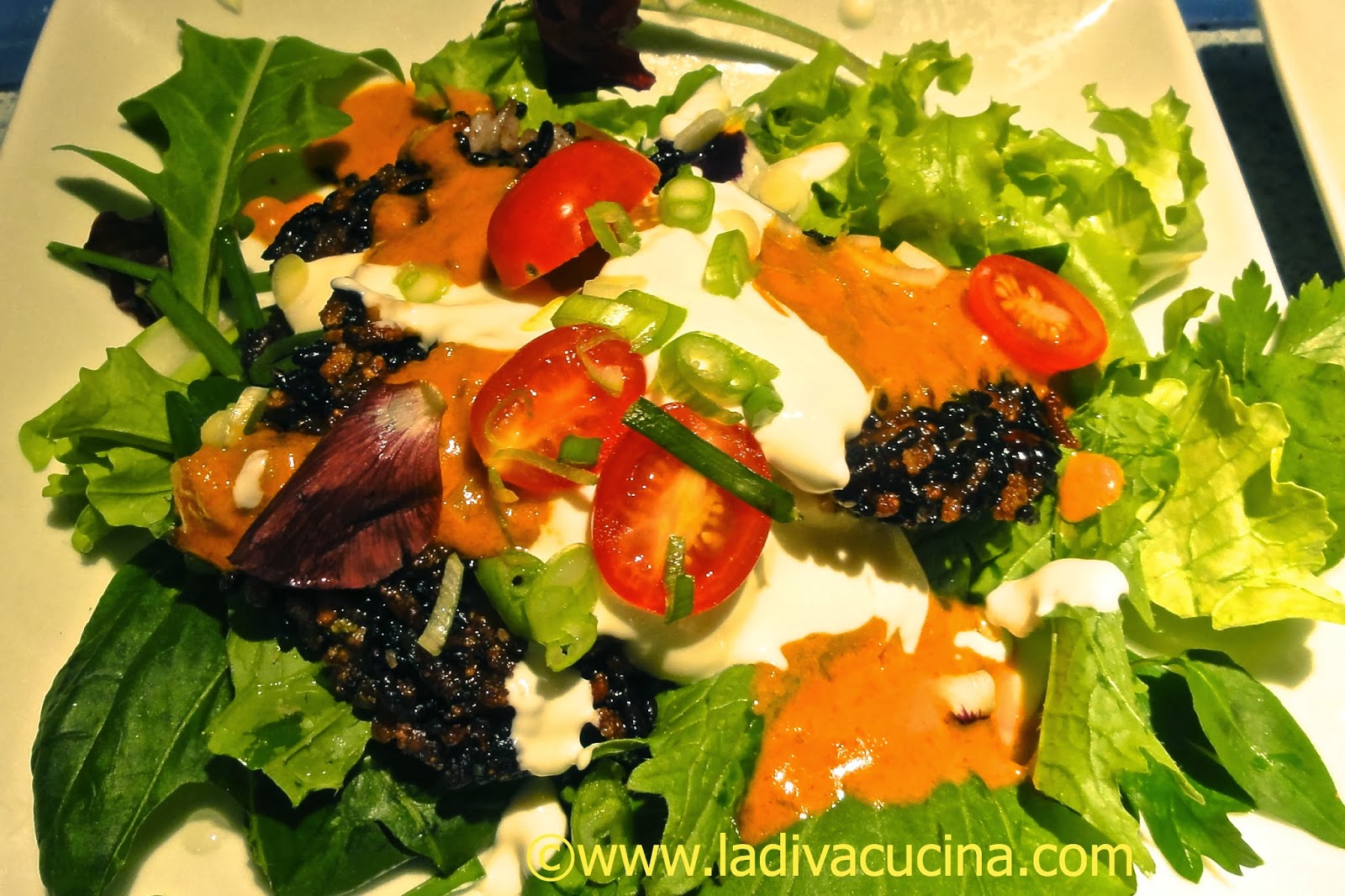 RESULT:  Now THIS dish was really tasty!  In fact, I liked it much better than my original idea!  The crispy and chewy cakes were the right topping for a fresh mixed greens and herb salad.  The heat from the sriracha sauce actually was a great foil for the cool, creamy dressing!  I loved it!  And The DJ?  He liked the rice cakes better served this way as well!  With the improved second dish, I now felt justified in spending hours in the kitchen to elevate the ancient, heirloom grain RICE.
Darlings, what would YOU do with rice for this challenge?  Click
HERE
to see all of the creative rice entries!  Ciao for now, darlings!

Originally posted 2014-02-18 22:53:00.