Darlings!  If there is any one THING I LOVE about eating out in America it's the richly diverse food offerings we have throughout the country.
And Detroit is no exception!  Boasting the nation's highest concentration of Arab populations in the United States (with Lebanese comprising of one third of that population) it stands to reason that absolutely authentic and gorgeous Lebanese food is readily available in Detroit and its suburbs.
Now that I live in Miami, which has a very LARGE Latin population with relatively few Arabs, I find that whenever I get back to Michigan, I MUST get my fix of Lebanese food whenever I visit my hometown.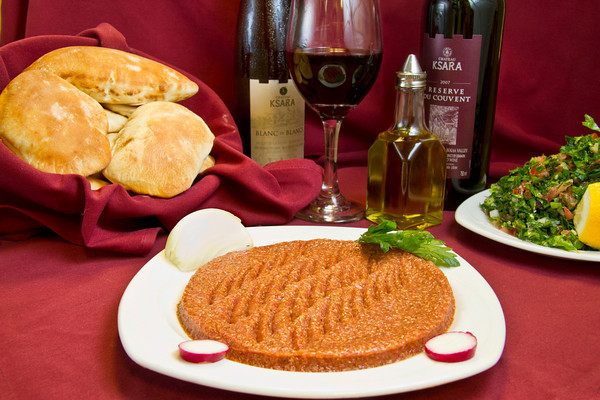 (from Le Saj website cuz mine came out way too blurry!)
My all time favorite Lebanese meal is kibbee naye, a dish comprised of raw, very lean ground lamb blended with cracked wheat and seasoned with spices (any combo of allspice, ground cloves, cinnamon or ground coriander.)
I grew up in Michigan eating Lebanese food and to a little girl Diva, eating this exotic raw meat specialty was no stranger than eating a huge bowl of mostaccioli with sausage, pork and chicken on a Sunday afternoon at my Auntie's house. Kibbee paved the way for this cavewoman to try and then fall in love with the Italian raw meat dish of
carpaccio
and also
steak tartare
 later on when I was out on my own.
Kibbee naye is served with olive oil, fresh parsley, raw onions and plenty of fresh pita bread to scoop it up.  The cracked wheat gives the meat a bit of texture and the onions add a pleasant crunch.   The dish is to be served not hot or cold, but at room temperature to allow the subtle seasonings to be tasted and savored.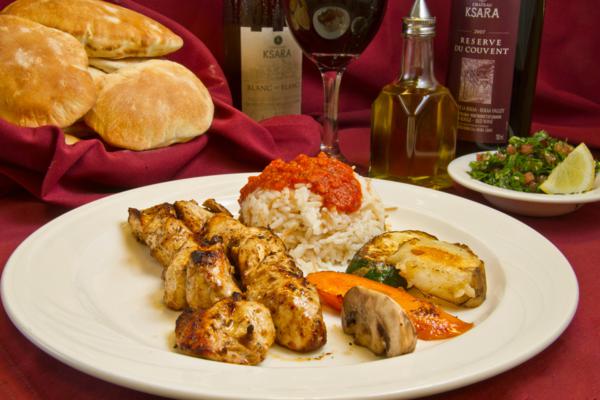 Chicken tawook (from their website)
So with two hours left in town, my sister insisted on taking me to
Le Saj,
a Lebanese bistro that specializes in making their own pita bread in a traditional oven called a "saj."  Served hot with a garlic sauce which can only be described as a "Lebanese garlic aioli," one could make a meal of the bread and dip alone.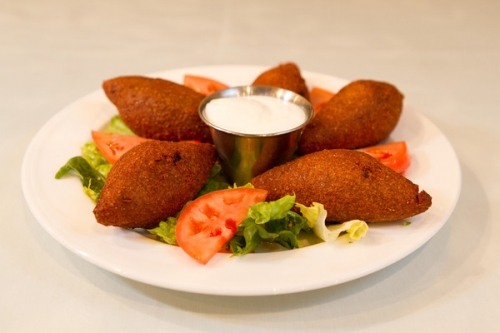 We also partook in fattoush (a mixed green salad with toasted pita bread and mint, a bread salad) fried kibbee (picture from Le Saj webpage!) which is lean ground lamb AND beef stuffed with onions and pine nuts and served with labneh, a creamy and refreshing yogurt sauce including garlic and cucumbers. I also had the chicken tawook (kebab) which is divinely marinated and grilled on skewers and served with more labneh.
Delightful and different, I never tire of eating healthy and clean Lebanese food! And it certainly beat the heck out of eating a Coney Dog at the airport!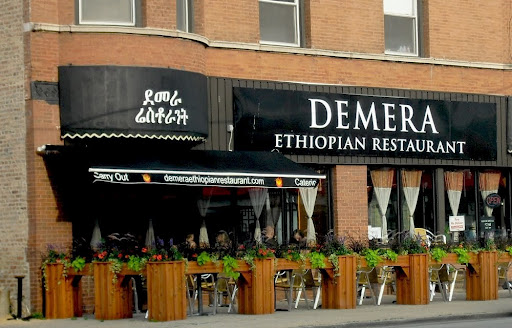 Years back when I lived in Chicago, my friends and I would enjoy the Ethiopian food at a few small cafes on North Clark street. I'll never forget the first time I tried it. Ethiopian food is so unusual in it's flavorings, it reminded me of Indian food because of its complexity, it's layer of flavors and the lentil and meat dishes that were served like a stew. But instead of basmati rice, the whole lot is served on (and scooped up with) the unique and vinegary, sponge-bread, injera.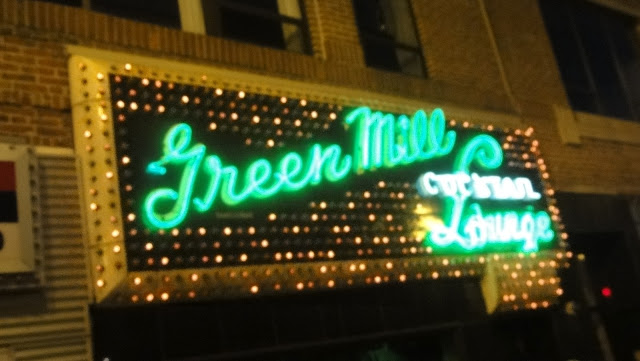 We started off with a plate of spinach sambussas, which are amazingly like the Indian samosa and just as delicious and spicy.
Thom then ordered a combo platter, starting with the doro wat, a chicken stew with berber sauce, an Ethiopian chili sauce, along with ginger and hard boiled egg, it's their most popular dish.
The platter also included ye-misir wot or split red lentils in a spicy sauce, quosta, a chopped spinach cooked with onions, garlic and ginger, as well as a chick pea stew and various other offerings of beef, fish, more lentils and a cooling, refreshing salad.
The platter was $45, and we were happy to pay $15 a person for the bountiful platter, there was even enough for leftovers for Thom!
Satiated, I looked over at Thom, a dear friend whom I've known and adored for almost 30 years, and The DJ, who had only met Thom for the first time a few hours before…they were laughing and having a grand time. We were meant to go to Chef Grant Achatz's The Aviary for molecular and pricey cocktails at 10 pm and it was now 9 pm…. I'd made the reservations months in advance and then confirmed earlier.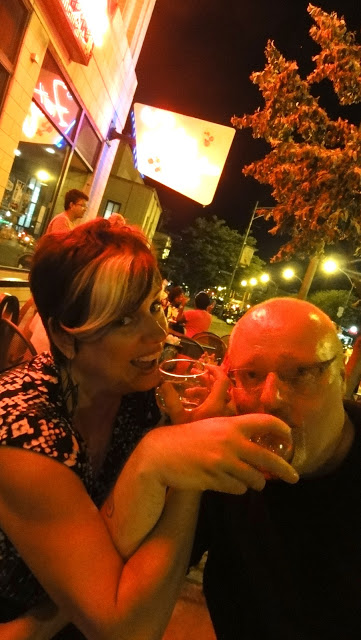 Looking at their smiling faces, hearing their laughter and seeing the focus they had on each other's words, I knew it would not happen. So we paid the bill and went across the street to The Fat Cat, another one of the plentiful Chicago bars lining the street, to continue with our merry making. After all, who knows when we would be together again and a cocktail is, well, just another drink. (even if it does have smoke coming out of it!)
STAY TUNED, DARLINGS, for my FABULOUS post about our visit to ex-Top Cheftestant Stephanie Izard's Girl and the Goat!
Originally posted 2012-07-06 22:52:00.