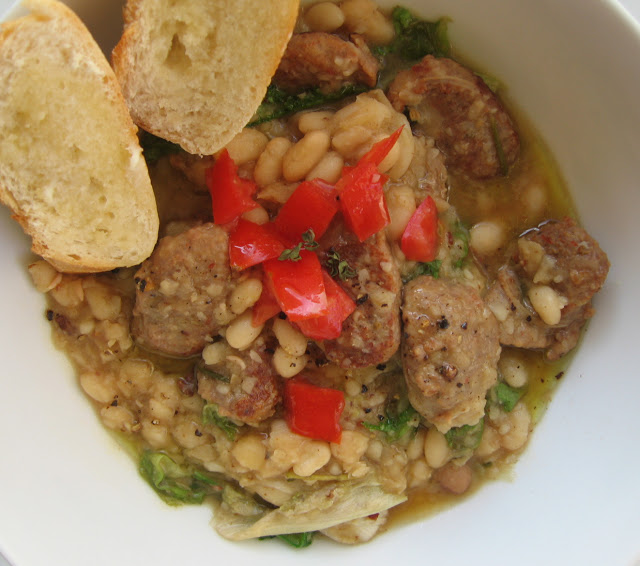 Darlings! Do you ever get inspired by ONE food item enough to base a meal around it? Of course you do, many great cooks rely on a number of sources to inspire what they will be making for dinner. I rely on my farmer. When I heard that my farmer friend Margie from
Bee Heaven Farms
would have escarole at the market, I already knew I would be making my hearty Italian sausage, white bean and escarole stew.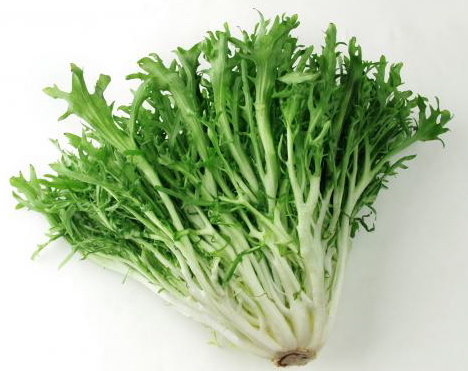 But, when I got to the market, Margie was dismayed to find that the escarole had not been packed! She DID, however, have loads of divine looking curly endive. Curly endive is also called frisée and is in the chicory family. It is a bitter leaf vegetable used mostly for salad. Since endive is a slightly more bitter green than the escarole, La Diva decided it would be a fine substitute for my dish! I picked the smallest of the huge bunches on display and went home to start dinner.
La Diva's Italian Sausage and White Bean Stew with Curly Endive!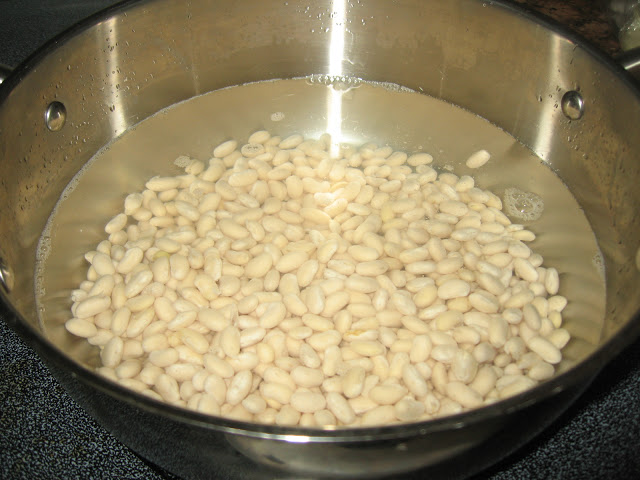 I had already soaked the white Great Northern beans the night before. Feel free to use any white bean available including navy or the Italian cannellini! (What's the difference, you say? Click
HERE
to find out!) I cooked the beans until they were tender and then drained them in a colander, salted and doused them with good quality extra virgin olive oil.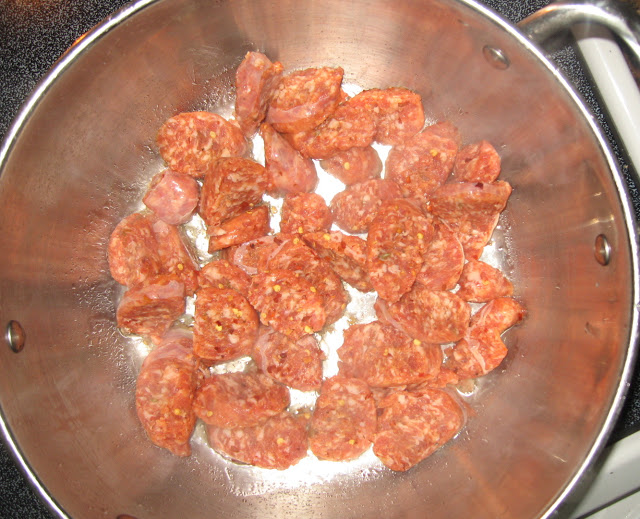 I sliced up four links of spicy Italian sausage and browned them in a bit of olive oil.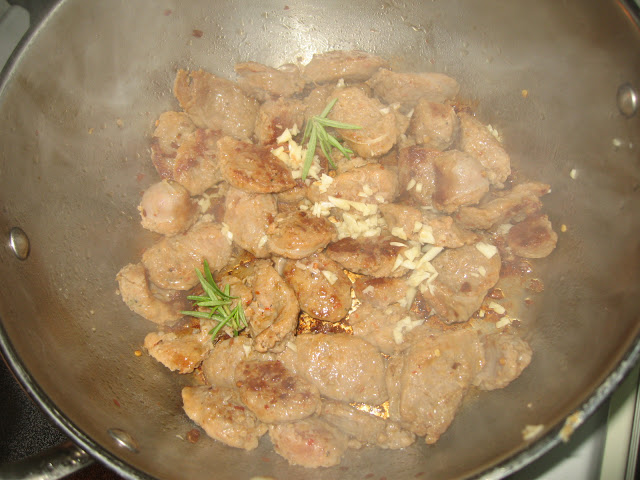 Once the sausage was nicely browned, I added a few minced garlic cloves, fresh rosemary and thyme.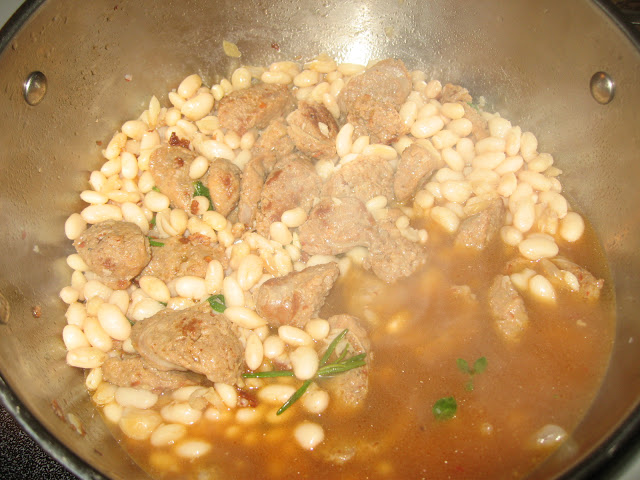 I deglazed the pan to get all the brown bits off the bottom with some chicken stock and then added the rest of the small can. I simmered the stew for about a half an hour in order to meld all of the savory flavors. DON'T add anymore salt and don't allow the broth to boil completely away but allow to SIMMER. The beans have been salted, there is already seasoning in the sausage and then when the broth reduces, it will be saltier still. So, please wait until done cooking to adjust any seasonings!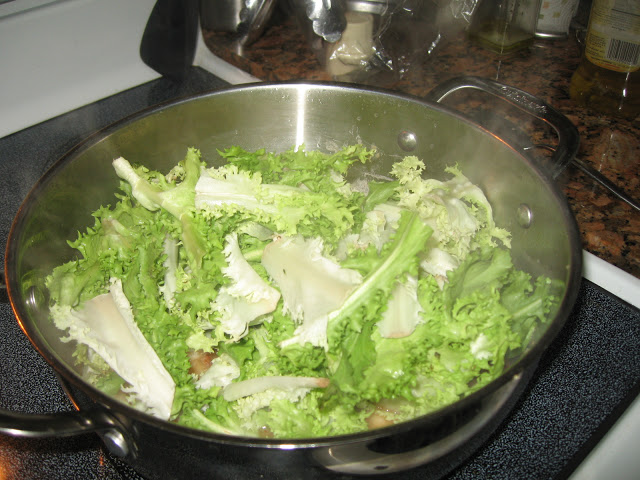 I added washed, chopped endive and mixed thoroughly and cooked until just wilted, only a few minutes more, and then DINNER'S ON, BABY!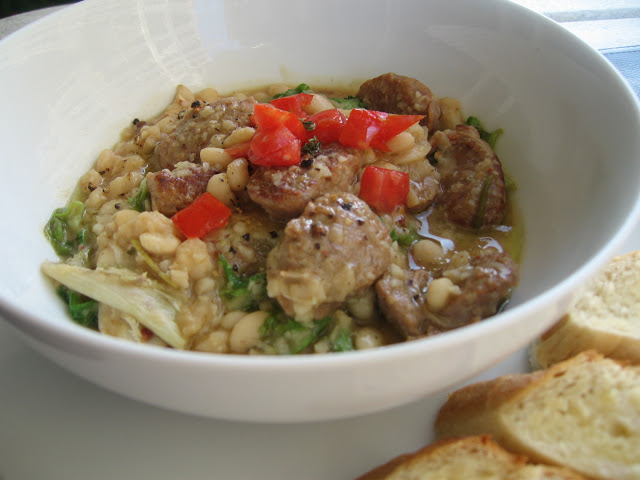 La Diva spooned up two hearty servings in shallow bowls and garnished with fresh tomatoes, a quick drizzle of extra virgin olive oil, freshly ground black pepper and a slices of buttered, crusty bread. The results were delicious and the DJ ate it up! The greens were only slightly bitter and offered a light crunch to the stew. This meal is delicious and quick, especially if you use canned beans, and is perfecto for a satisfying week night meal! (And that picky husband/kid/wife of yours won't even notice the healthy greens in it are really lettuce!)
Darlings, after I made the stew, would you believe I still had half of the greens left?
So, now I had to come up with dish number two…
La Diva's Poached Egg and Bacon Salad with Curly Endive and Lemon Vinaigrette!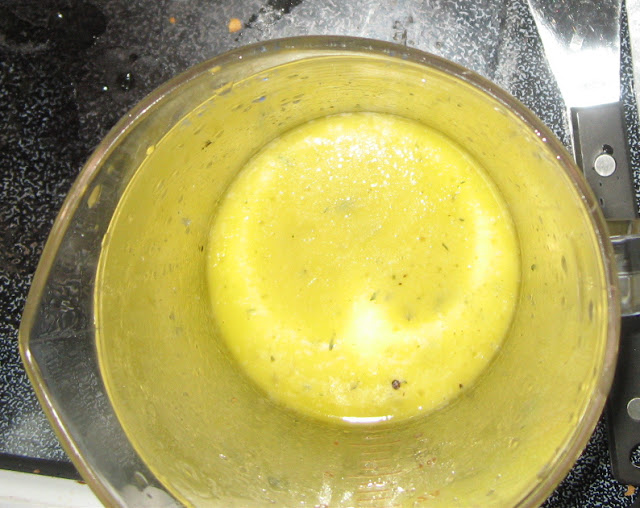 It was Easter Sunday and La Diva was enjoying her day off, lounging by the pool bayside and was not at all in the mood to cook a heavy dinner. We had enjoyed a Good Friday feast with our neighbors that was delicious but like in most cases where there are so many choices, I overate sampling them all! One couple from the UK fried and battered fish and served with mushy peas, Tere's father made Cuban
bacalao
with sweet potato and she offered spicy fried shrimp, Monica experimented with a mellowly spicy tilapia and rice curry using Jamaican curry seasonings, and Cori, from Boston, made sliders! (for all the heathens and sinners and seafood haters!) It was delicious, but La Diva was not ready or willing to leave the sunshine and the pool to create yet another high calorie feast. So, I sent the DJ to the store to pick up some bacon to create a simple salad for supper.
I made a quick vinaigrette using my immersion blender: chopped shallots, extra virgin olive oil, juice from half a lemon, a dash of white wine vinegar and salt and pepper, easy peasy!
I tossed a couple of cubed potatoes into a roasting pan with olive oil, sea salt and rosemary and baked on 450 until they were very brown on the bottom, about 10 minutes. I turned them over and cooked another 10 minutes til they were lovely and crisp. Then I let them cool on the stovetop.
In order to get a super crispy, fast and hassle free bacon without the greasy pan, I "nuked" four strips between paper towels on a plate for about five minutes. When cool, I chopped the bacon and set it aside. In five minutes I had crunchy, home made bacon bits (and without all of the imitation flavors and chemicals!)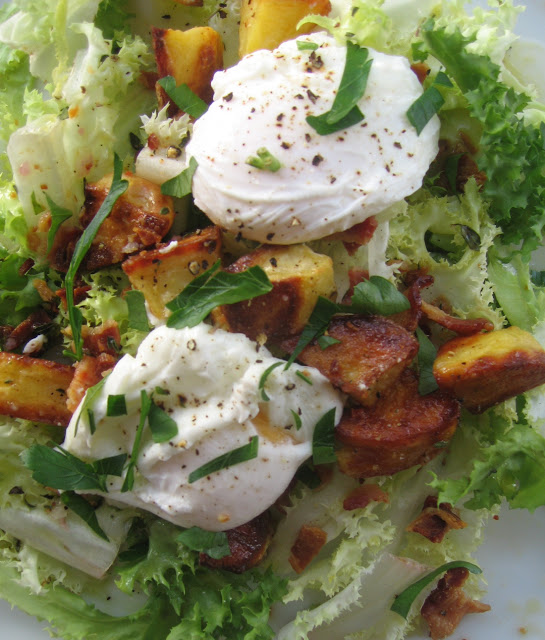 After putting a small pot of water on to boil, I cracked each egg individually into a small bowl, then added a dash of vinegar to the water. Once boiling, I swirled the water around and then carefully dropped the egg into the pot. I repeated with the other three eggs and then cooked about three minutes or so until the egg yolks had firmed up slightly. I carefully removed them to a plate with a slotted spoon while I assembled the salad. (adding vinegar to the water helps the whites of the egg bind together.)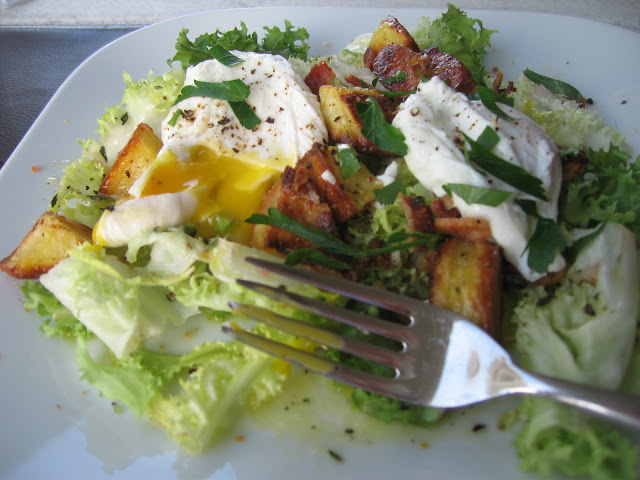 I laid the cleaned and chopped endive on large plates and then the potatoes, dressed the salad with the lemon vinaigrette and then seasoned it. The bacon bits came next and I carefully ladled two eggs on each bed of greens. A pinch of sea salt and freshly ground pepper was added and I topped it all with a chiffonade of Italian parsley. Dinner was served!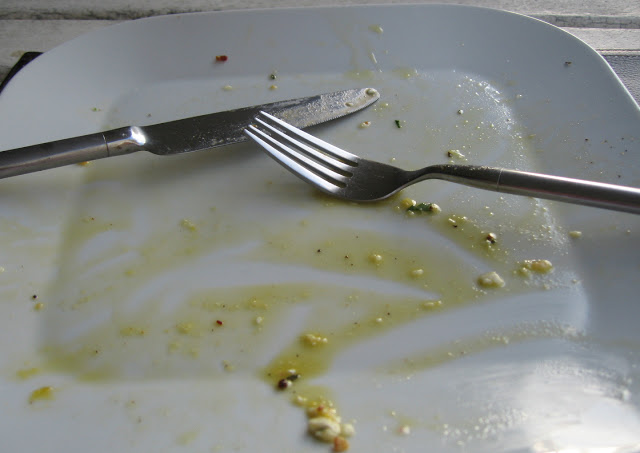 RESULT: See above!!! Obviously, this dish would also make a fabulous brunch dish. The endive, with it's unique, frilly texture, made the perfect foundation for the eggs and potatoes. The potatoes were crispy and lemony with the dressing and the bacon added additional crunch and salt! A savory MORE-ISH dish for a simple supper.
So there you have it, darlings, two ways to try something you might not have had before: curly endive! Or chicory! Or frisée (if you feel like being a show off!) Have you cooked lettuce before in a dish? What do YOU do an excess of greens? Tell La Diva ALL about it! Ciao for now, darlings!
Originally posted 2011-04-28 21:58:00.