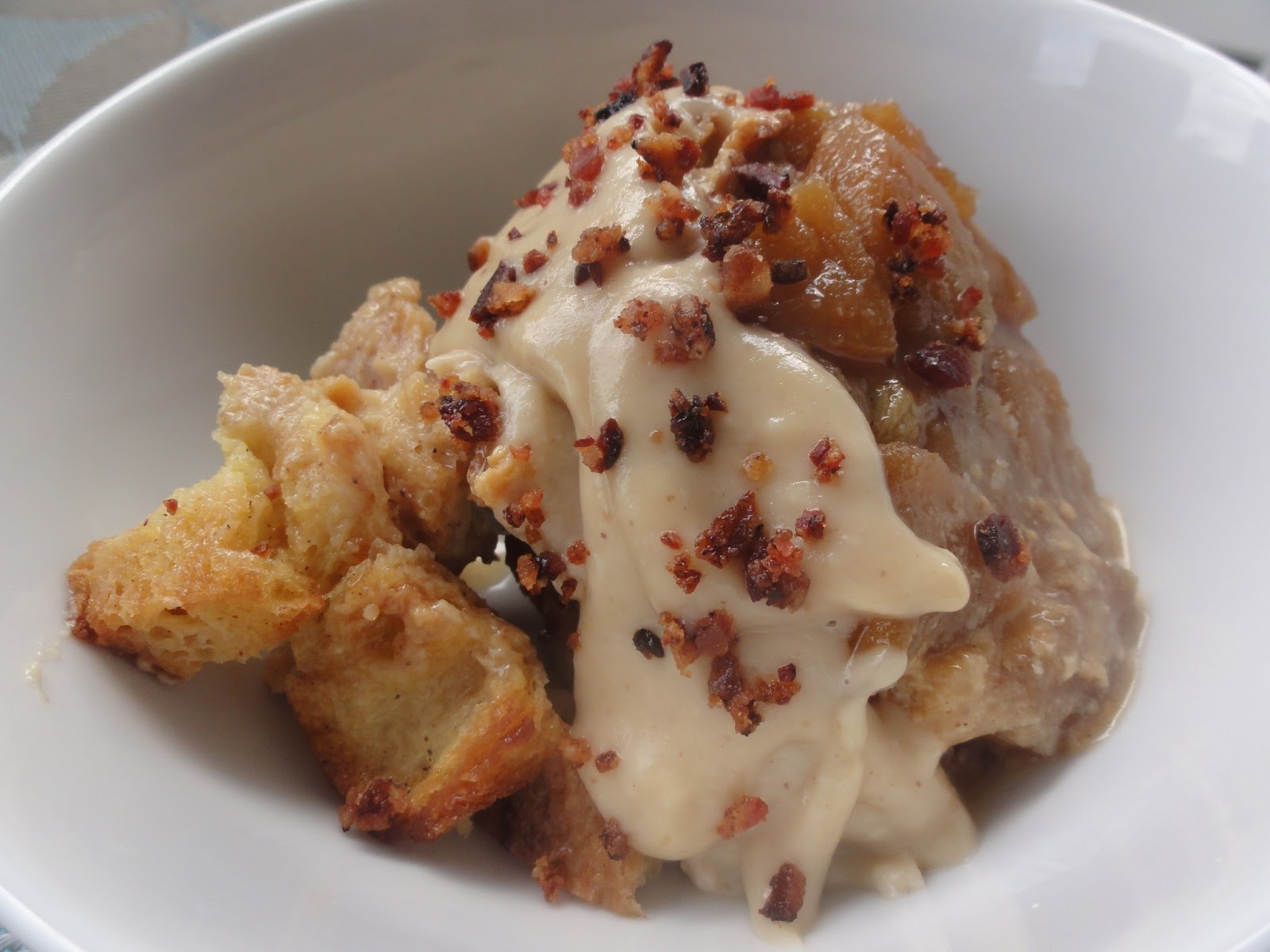 Can you guess what this is?
Darlings!  The Creative Cooking Crew is a Facebook group headed by Lazaro Cooks and Joan Nova, both uber talented and creative cooks.  Joan writes about food and travel and does recipe development while Laz, a local Miamian, pushes the boundaries with high end plates emulating the great French chef Joel Robuchon!
A few months ago, they asked me to join the group and I happily accepted.

In the style of the tv cooking show "Chopped," we were "given" four ingredients to work with and had to incorporate all in one dish.
They were:
green apples
vinegar
bacon
nut butter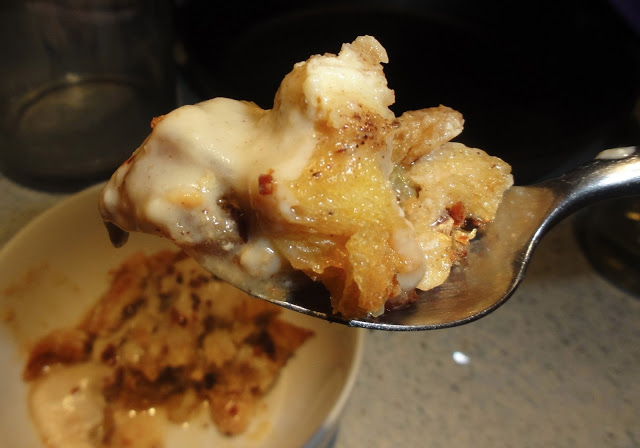 While many, naturally, thought of salad, I thought of dessert!  I'm TRULY not a lover of "all things bacon" and actually think that people have gone a bit overboard with their bacon love (it's full of fat, cholesterol and nitrates!!) but I do like it once in a while, though it MUST be made super crispy!
So, what EEEES THEES DISH, La Diva?
It's a caramelized apple bread pudding with a peanut butter sauce and maple syrup bacon garnish!
How'd I do it?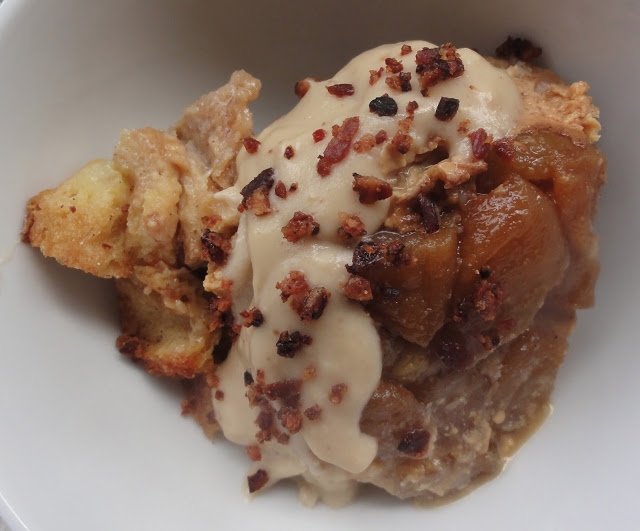 I used the classic French dessert of Tarte Tatin as my inspiration and caramelized the apples in butter and sugar until a dark amber color.   I added a healthy dash of apple cider vinegar for a more sweet and sour taste!  It worked well!   Here you can see the caramelized apples on the right.
I used the apples as the base in the casserole and then did a basic bread pudding using challah bread, raisins, cinnamon and milk.   I baked it for about an hour and let it cool completely.  While it was baking, I made a simple sauce using egg, flour, milk and sugar and then two teaspoons of peanut butter.  It was nice and light in texture and sweetness with just a hint of peanut butter.
I baked apple smoked bacon in the oven and then just before it finished cooking, I drizzled maple syrup over it and continued baking for another five minutes.  I allowed the bacon to cool and then minced it up with a knife.
The bread pudding was spooned into bowls with the peanut sauce poured over the top and the bacon sprinkled lightly as a garnish.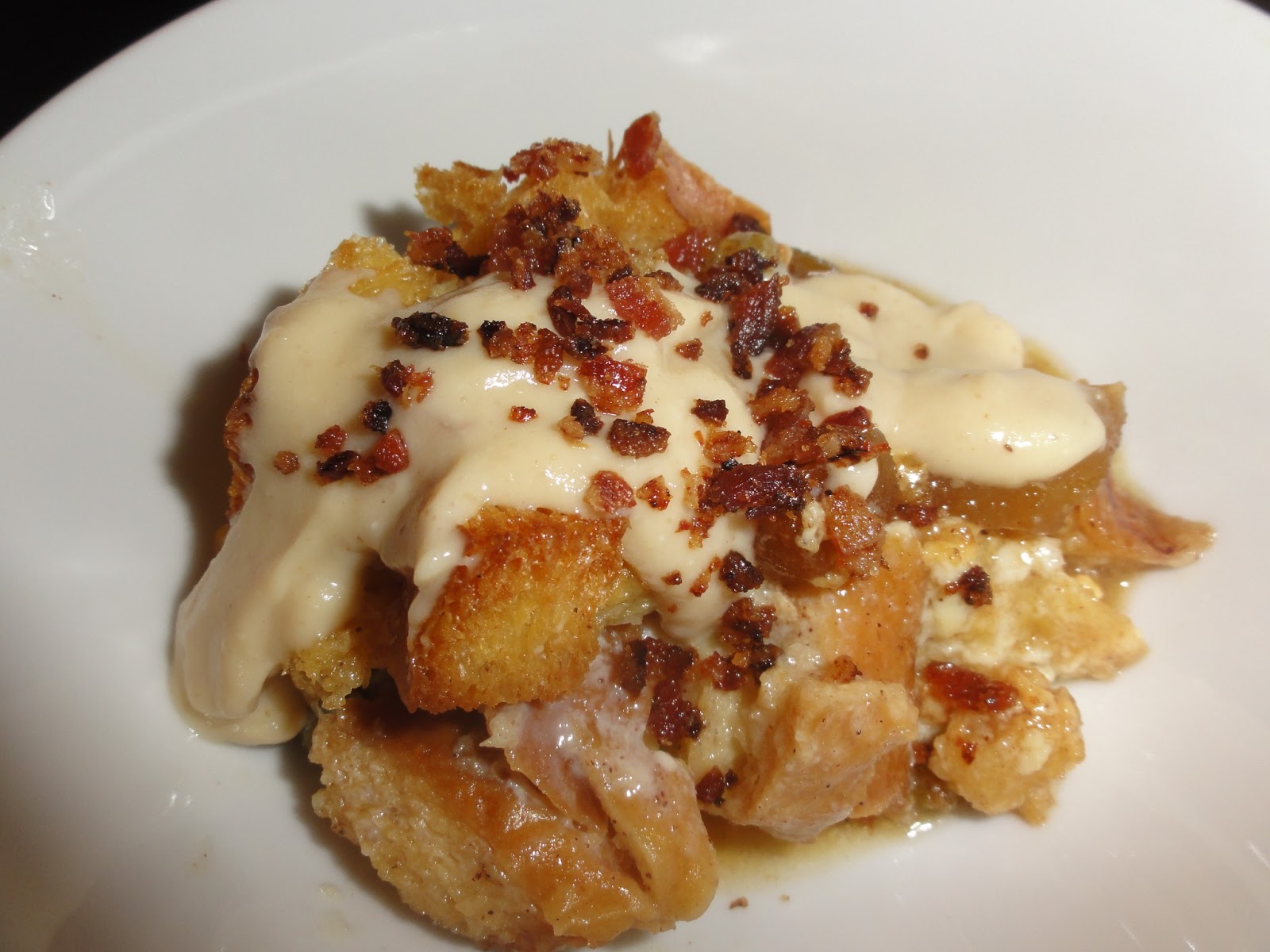 RESULT:   HOLY COW!  What flavors, what decadence!  While I DID cut the sugar down by half (from 1.5 cups to .75 cup), this dish was already sweetened by the caramelized apples in the bottom and didn't even need THAT much sugar.  Of course the smooth, creamy peanut sauce with the crunchy salty hit of bacon sent my tongue over the top, it was THAT good.  But, honestly, for me, it was really too sweet and too much.  If I made this again, I would cut down the sugar in the bread pudding to quarter of a cup and omit the sauce and bacon (or maybe add some cooked bacon pieces to the caramelized apples?)
All the NEW POSTS ARE UP!
Ciao for now, darling!
Originally posted 2013-03-26 14:58:00.