Darlings!  Once again the Creative Cooking Crew has come up with a wonderful challenge for the month of October:  "Cooking with spirits!"  A "spirit" is an alcoholic beverage containing ethanol and made by method of distillation….but Joan and Lazaro who host the CCC, have kindly allowed us to use beer, wine or any alcohol for the challenge.  And that means the possibilities are endless!

And CHALLENGING it was!  Why?  Because once I put my thinking cap on, I realized that while I often cook with al-kee-hol, I do not have as many original ideas as I'd like to give myself credit for.  I wanted to make a completely original dish, and even though I came up with one, dear Joan Nova of Foodalogue, used a combination of almost all of the same ingredients!  Believe me, it seems easy enough to come up with an idea, but to come up with an idea that's never been done before is harder than you think!  (Okay, YOU try it, smarty-pants!)
First to come to me were desserts that I've made and loved:
Rum cake!

Trifle with sherry!

Figs sauteed in butter and brown sugar with white balsamic vinegar reduction and sweet marsala over mascarpone cheese! (a new favorite dessert idea I've been toying with!)

Macadamia bourbon pineapple upside down cake!  (I made one for a dear friend's birthday once and we ate the entire thing while still warm, just us two, with forks and straight from the pan!)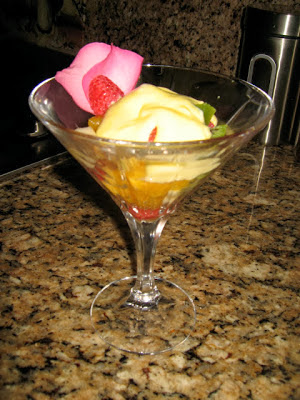 I thought about main dishes I make with booze:
Chicken marsala!

Fried fish in beer batter!

Coq au vin (chicken in red wine!)

Gourmet mushrooms in sherry cream sauce over steak!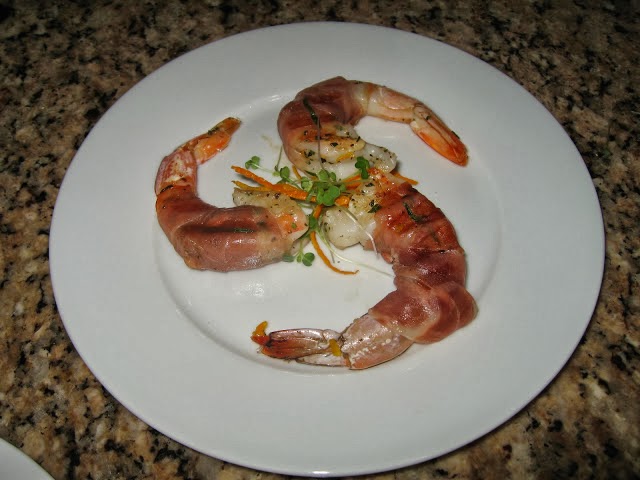 Large shrimp wrapped in procsiutto are marinated in a rosemary orange and sambuca sauce and grilled, a classic flavor combination!  I've since modified my recipe to pan-searing the prosciutto-wrapped shrimp and then sauteing the lot in a buttery, sambuca-drenched orange rosemary sauce!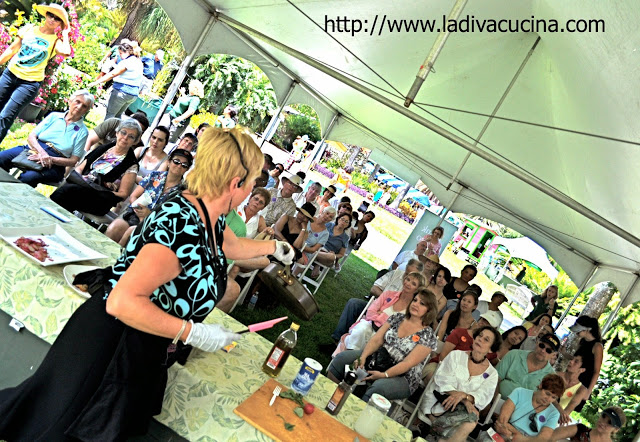 La Diva demonstrating "Sauteed Radishes and Tops with Chicken Apple Sausage over Bow Tie Pasta" at the Fairchild Botanical Garden's "Garden to Table" Festival.  The recipe calls for sauteing the radish slices with a sweet, white vermouth!  EVERYONE loved the dish and said "I never tasted a cooked radish before!"  Using a sweet, white vermouth with the radishes took the bitterness away.  Get the recipe by clicking HERE!
Well, that little trip down memory lane was all fine and well but what was La Diva to make that is original and I've not made before?  I was back to SQUARE ONE.
A friend recently told me about her fish cooked in tequila  and I was intrigued.  But, I didn't want fish…..and I needed a good base.  "What goes good with tequila," I thought to myself?  I conjured up corn, red peppers and cilantro. YES!  But corn what?  Corn on top?  Polenta?  Corn pancakes?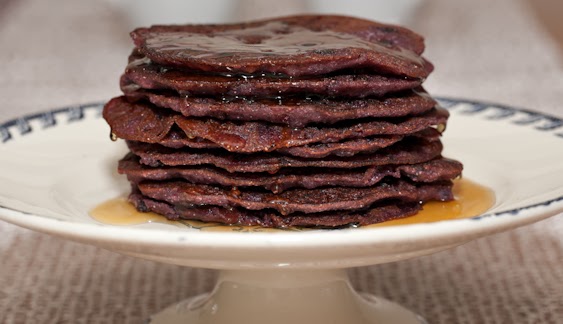 Photo courtesy of Anson Mills
I had some lovely native blue corn meal from Anson Mills that I was dying to use!  Anson Mills grow heritage grains and the company suggests using their posted recipe to familiarize yourself with their product for the first time.  Their suggested recipe for the native blue corn was johnnycakes.  I loved the idea!  I will make native blue corn johnnycakes as my base for the dish.
The more I thought about making the corn cakes, the more I didn't like the idea of a dense fish on top, I wanted something lighter and sweeter.  So, I went with a cold-water lobster tail, a diver scallop and Florida pink shrimp.  I poached them all separately in a broth of tequila, water, onion, cilantro and lime slices. The seafood came out with the light scent of tequila and was very delicate.
I decided to make two sauces starting with a tequila lime butter sauce. I "sweated" shallots in butter and added minced cilantro, juice from half a lime and a large dash of golden tequila, then I reduced the sauce to half and  doused it with cream at the last minute.  It was wonderfully rich with a piquant taste from the tequila and lime juice.
I wanted to counter the richness of the tequila butter sauce with another flavor and also to help bring it all together.  So, I made a roasted orange pepper sauce.  Again, I started by sauteing the shallots and then processed them together with the roasted pepper and a healthy dash of home made aji amarillo sauce.  I put it through a very fine sieve and added a dash of cream for a rich, umami flavor profile.
Here it is all put together:  Lobster, scallop and shrimp poached in tequila served over a roasted orange pepper coulis on native blue corn johnnycakes with tequila lime butter sauce with  Peruvian choclo corn garnish and lime zest!
Let me tell you, darlings, this dish was decadent, rich in flavor and texture, but not too heavy!  The two sauces combined brilliantly, the roasted pepper sauce slightly sweet and spicy cutting through the zesty tequila lime butter sauce just as I'd expected it to.  My only complaint was that the johnnycakes did not hold together well and crumbled when you tried to fold one over a piece of succulent seafood!  Next time I would use my own recipe (with eggs!) and opt for a fluffier and thicker corn cake base.
Darlings, what are your favorite dishes to make with spirits?  Do tell La Diva all about it! CHECK OUT ALL OF THE CREATIVE DISHES BY CLICKING HERE!
Originally posted 2013-10-20 17:40:00.