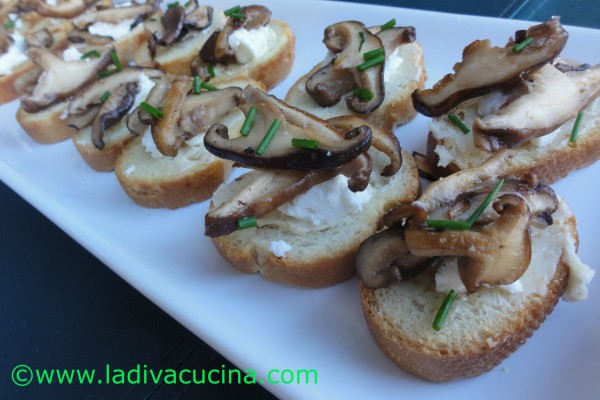 Darlings!  When I found out the Creative Cooking Crew's March challenge was to pair a cocktail with an appetizer, I KNEW it really would be a challenge.  You see, even with all of my experience throughout the years in the liquor industry as well as working on pairing cocktails and appetizers for La Diva Cucina's most popular cooking class "small bites, BIG DRINKS,"  I've always found that pairing liquor with food to be incredibly difficult.
Liquor can be harsh.  Complex.  Overpowering.  Base.   Wine, and even beer, seems to have more subtlety in alcoholic taste, notes and layers of flavor to make pairing with food easier.  Or is it?
I remember one time when I was working at my favorite restaurant in Sydney, Gotham Brasserie, and I was chatting with the owner /sommelier Grahame about how he picks wine for his wine list to pair with their meals.   I was simply amazed at his pairing talent, his selections were pretty incredible and varied.   He simply ate a bite off his plate and then took a sip of wine, took another bite and took a sip of another wine.  He said to me "Just taste the food and then taste the drink."  It seemed SO simple.  But there are just so many variables for that to be a reliable method for me.  Different palates, different tastebuds, noses, smokers vs non-smokers, young palates, old palates….
With wine, I definitely have a New World palate.  One time at Gotham, a gorgeous bottle of lucious French wine ended up on the bar at the end of service, three quarters full.  As the chefs and servers all sat around bitching about this customer or what went down in the kitchen, we were all given a taste.  I hated it.  To me, it tasted like moldy earth.  I bravely suggested that "Well, if no one wants it, I'll take it home and make a sabayon out of it."
Quelle horrour!  How gauche!
The bottle was immediately removed from within my grasp and I was told that on no uncertain terms would I be taking THAT bottle home to make into a dessert sauce!  Well!
So how DOES one pair liquor or more specifically a "cocktail" with food?
When I think about "pairing" a cocktail with food, I naturally begin to think about the flavor profiles of each component and then take apart what goes with what.  Example:  mushrooms go with anise, so what about a mushroom appetizer pairing with an anise flavored cocktail?   How can those two flavors work together instead of clash?   Will they enhance each other?  Will one overpower the other?  Besides flavor combinations and profiles, I  consider textures and if the ingredient is sweet, savory or possibly both.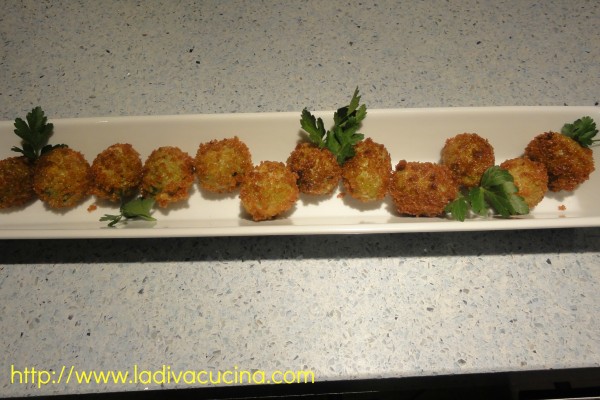 One of my favorite pairings from my class is a panko pan fried queen olive stuffed with feta cheese and herbs served with a tart and refreshing pomegranate mint martini.
It works.
The crunchy, savory saltiness of the cheese and olive's brine are cut with the tart flavors of the pomegranate and then you end up with the refreshing mint finish.  As I said, it works.
Another pairing that works very well is the combination of Asian-style orange blossom honey shrimp with lemongrass ginger martinis.  The shrimp are subtle in flavor with a buttery honey sauce infused with roasted chili paste and garlic.  I pair that with a tart cocktail made with fresh lime juice with a hit of heat coming from the ginger in both.  It's not overly spicy or overly cloying, it just works.  The bright citrus taste comes from the limes and the lemongrass which of course "goes" with the shrimp.  You have ginger in both.  The citrus also cuts through the decadent butter and garlic.  It works too.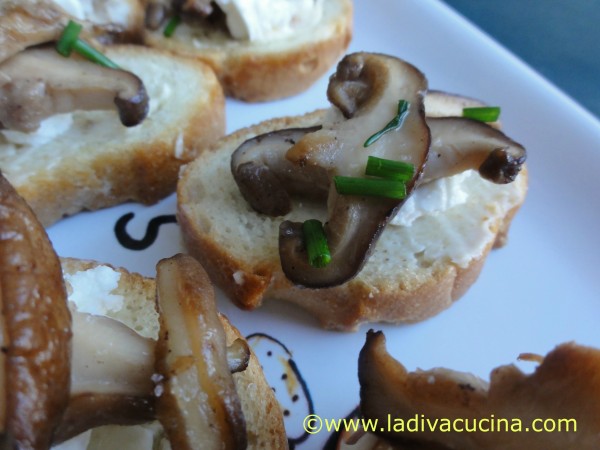 It was with this methodology that I decided that for this challenge I would do a SAVORY cocktail.  I imagined a mushroom cocktail, something along the lines of a chilled mushroom soup shooter with a lovely crostini.  For some reason, I thought about pairing vanilla vodka, whiskey or plain vodka for my liquors of choice.  Here's what happened:
For inspiration, I took a look at "The flavor Thesaurus" and found that mushrooms "go" with the following:
Anise , apricot, blueberry, goat cheese and truffle
From this I began to think of ideas for an appetizer and felt that a crostini would offer myriad combinations for me to play with.
I began to make deeply flavored mushroom stock with a store-bought veal demi glace, porcini mushrooms, shallots and baby portabella mushrooms.  I reduced the stock, blended and then double strained until I had a very smooth and potent puree.
I tried a bit of the puree with the vanilla vodka.  UGH.  Blech!  That so didn't work and I'm not sure why I thought it would.  Vanilla was no where to be seen in the book as a suitable pair for mushrooms.
Then I tried it with an aged Tennessee whiskey….better.  I'd recently read an article about Chef Edward Lee's bourbon and food pairings and it was suggested that an aged bourbon worked better with savory food, younger whiskey with sweet.
Now to make the crostini for which I would make two versions, savory and sweet.  The first crostini would be savory using a very thin shmear of truffle butter, sautéed shitake mushrooms in butter, olive oil and finished with bourbon culinary spirits.  I put a dollop of French goat cheese, then added the shitake mushrooms and topped with a simple chive garnish and a sprinkle of truffle salt.  These tasted earthy and divine and most importantly, NOT TOO MUCH TRUFFLE.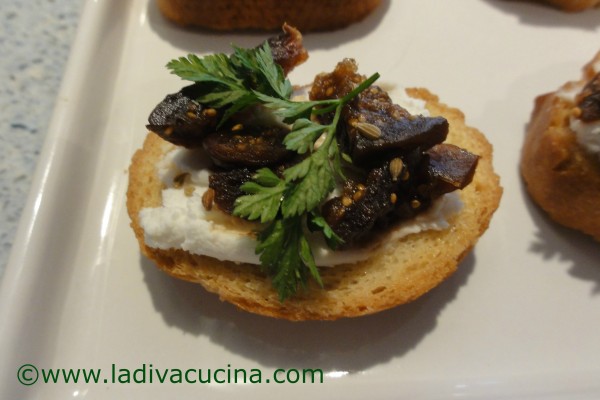 The second crostini, I decided to go with figs.  My thinking was that if apricots go with mushrooms, then why not figs?   I DID find that figs went with anise and anise went with mushrooms…a stretch but I was going for it!  I diced the figs and then soaked in sweet vermouth.  After 15 minutes, I drained the figs and put it on a crostini I'd already topped with goat cheese, added the fig, toasted anise seeds and then a sprig of chervil, which also has anise flavors.  These were even better than the savory crostini, sweet but not cloying.
Now it was time to put the cocktail "shooter" together to taste!  I added 1-2 oz of the mushroom puree into a shaker and then experimented with cream and a shot of vodka or the bourbon.  NO GO.  Awful and didn't really taste like anything.  I did it again but added salt and pepper.  Again, just awful, the liquor totally overpowering the flavor of the mushrooms except now salty!
Then I tried adding agave syrup to the drink and went with a sweet mushroom drink instead of savory.  Winner!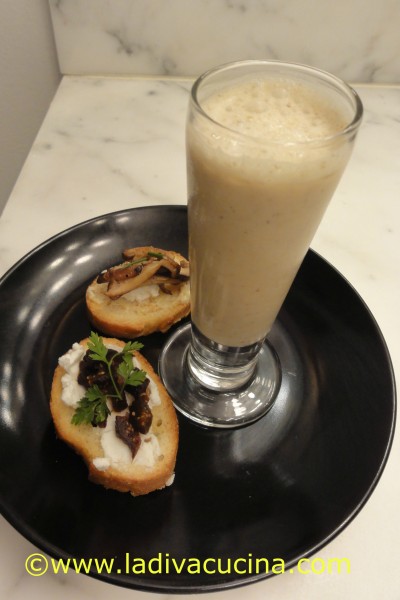 Result:  A big fat MEH.  Even though the sweet mushroom shooter tasted very nice, almost like a Baileys Irish Cream, it was completely taken over by the flavor of the aged whiskey.  When I did the same with the bland vodka, again, it was lost amongst the strong alcoholic flavor.  I could have worked on the savory mushroom idea more but to be honest, all the work and money that went into creating the mushroom puree was just not worth it.  I took the last bit and froze it for a sauce or a soup another time.  The crostini  however, especially the vermouth-soaked fig and toasted anise, ROCKED!  I'll definitely be making that again as an unusual appetizer.  Perhaps I could have gone the other way and did a savory mushroom appetizer with an apricot liqueur  or anise cocktail?  Thoughts?  Have you ever trifled with cocktail and appetizer pairings?  Do tell La Diva all about it.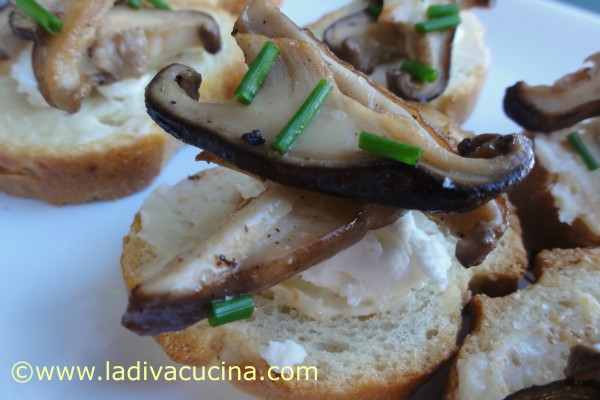 And don't forget to check back here soon to see ALL of the cocktail pairings by the Creative Cooking Crew!  Ciao for now, darling!

Originally posted 2015-03-25 17:26:05.