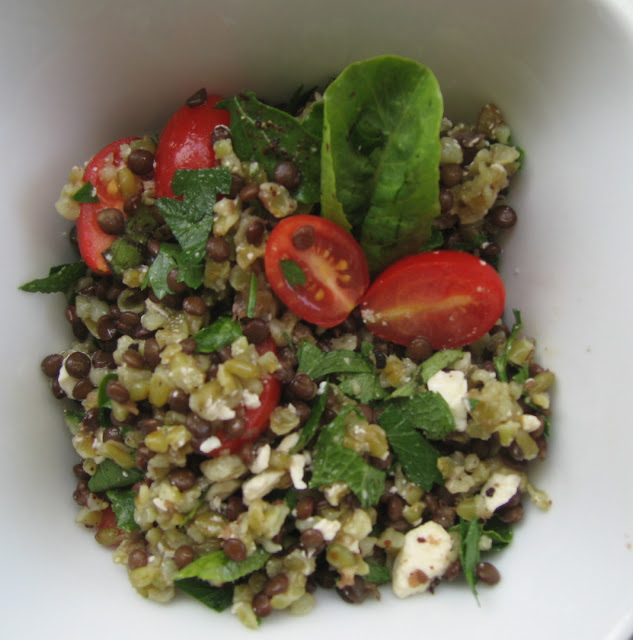 Darlings, (or should I say
"habibi?")
you know, La Diva is quite the curious creature and one of my fave pastimes is to stroll around ethnic markets and discover new or unfamiliar ingredients to experiment with. A few weeks back, I found myself at the Jerusalem Market & Deli in North Miami to pick up a few cans of
harissa
for my fabulous
spicy harissa chicken
skewers for a
La Diva Cucina bridal shower cooking class.
I'd recently read about a Middle Eastern grain that was an interesting alternative to couscous and rice called freekeh, with lofty claims of being a high protein, high fiber, nutrient rich supergrain. Looking on the shelves, I located several brands and through the bag, the grains looked exactly the same but had different names, I opted for the one called "fereek" by Cedar brands, from Egypt. When I got home, I looked at my bulging pantry and wondered where the heck I was going to put the fereek? The shelves were already laden with six types of rice, two types of couscous, a variety of hand made and commercial pastas, rice noodles and wraps and a box of bulgur for good measure. La Diva stuffed the bag into a small cranny next to the orchietta and quickly shut the door before an avalanche of grains spilled out!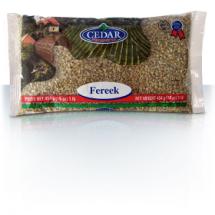 Freekeh is a cracked wheat but unlike bulgur which has been parboiled and the bran has been removed, it is a whole grain with the whole wheat berry cracked but intact, giving it high fiber and super nutrient qualities. The grain is harvested when it's young, sports a brownish-lime green hue and tastes like a combination of barley and brown rice.
La Diva found an excellent article on it
HERE at NUTRITION UNPLUGGED
(go ON and click, darling, you know you want to!) According to the article, the grain is one of the new little darlin's of the culinary scene, hailed by Jamie Oliver as a Superfood and is being carried at Trader Joes! This article was posted February 2010 and La Diva wants to know why it took her so ding dang long to find out about it?! (And WHEN is Flo-duh getting a Trader Joes?)
La Diva's Get Yer Freekeh On Middle Eastern Salad!
Let's assemble our ingredients.
3/4 cup small black lentils
1 cup freekeh
2 cups water
1/2 cup Bulgarian feta, drained and blotted
six leaves each of baby romaine and arugula
handful of lemon basil, mint and Italian parsley
half of a punnet of grape tomatoes
extra virgin olive oil
juice of half of a lemon
sea salt and pepper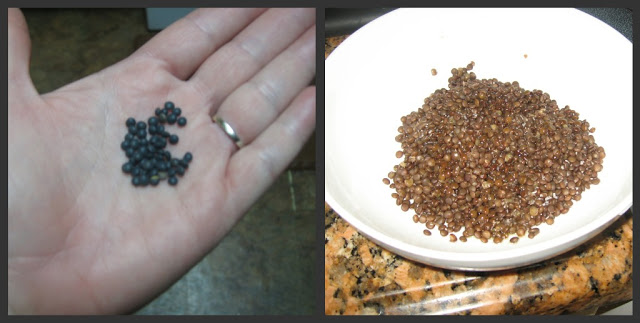 I buy these tiny black lentils at the gourmet grocery because they take only 12 minutes cooking time until tender and have a lovely taste. Once cooked, they go from black to brown. I cook them until slightly al dente, so they retain a nice, chewy texture. I drain the lentils, put in a bowl to cool but while still hot, add salt and a drizzle of good quality extra virgin olive oil.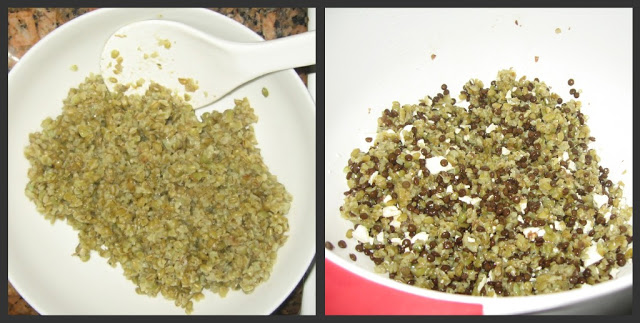 I used my electric rice cooker for the fereek/freekeh using 2 cups water to 1 cup grains with a dash of salt. I put the freekeh in a bowl to cool and like the lentils, added a nice drizzle of the extra virgin oil. Once cooled, I mixed the lentils and grain together in a large bowl and crumbled creamy Bulgarian feta into the mix!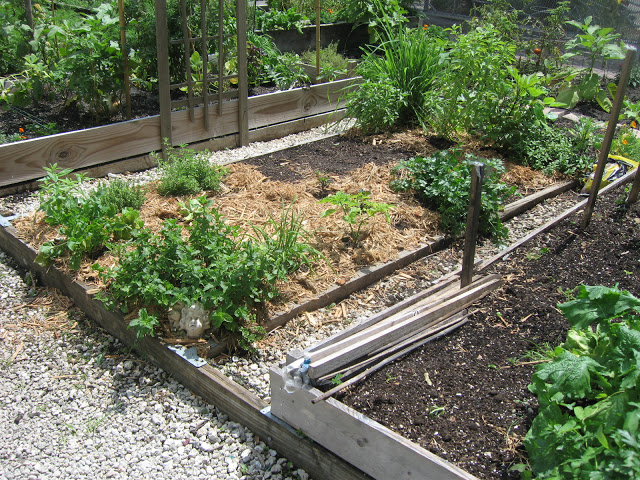 La Diva's garden plot, THE place to go for fresh herbs! (click on photo to enlarge!)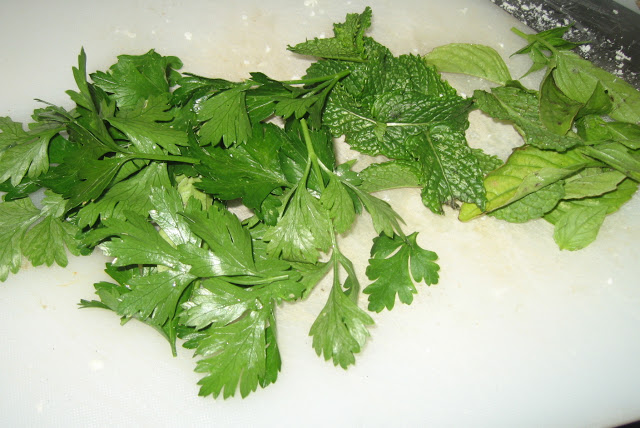 No tasty salad would be complete without fresh greens and herbs and La Diva's garden plot would provide all that I needed! I picked a few leaves of baby romaine and arugula and then Italian parsley, mint and lemon basil. Darlings, did you know you can wash your herbs in the salad spinner as well as lettuce? I always give my herbs a good soaking as the only crunch La Diva wants in her salad is from vegetables or nuts, NOT DIRT, which has an annoying habit of sticking to the plants like glue! So, after a good spin to dry them, I did a quick chiffonade of all the greens and added to the salad with halved grape tomatoes.
A quick squeeze of fresh lemon juice for a bit of sunshine and tang, I adjusted the seasonings with sea salt and freshly cracked black pepper and voila! La Diva's Get Yer Freekeh On Middle Eastern salad was complete!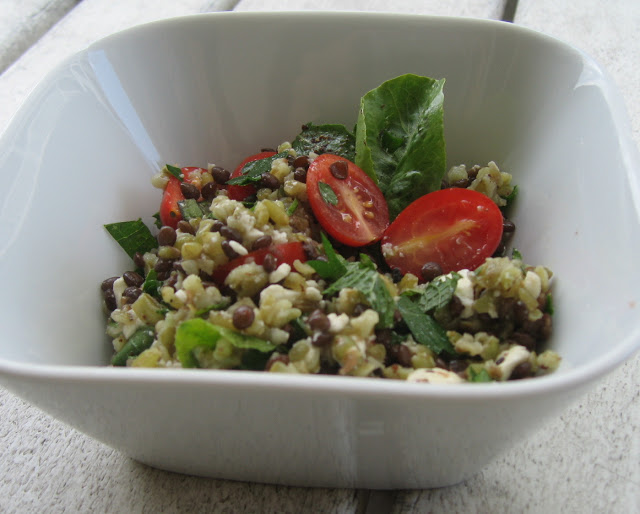 RESULT: The freekeh salad turned out to be a very nice HEARTY salad that was satisfying enough power La Diva all day. The freekeh was chewy with a slightly grassy taste, not unlike brown rice, with a hearty texture. The lentils add more substance and fiber and the cheese a delightfully creamy tang. The lemon and herbs meld and brighten, yet their varied essences truly enhance the salad's flavor: the pepper of the arugula, the cooling mint and lemon from the basil. And then, a pop of juicy, sweetness from the grape tomatoes! La Diva was so delighted with the results of this simple salad and it fueled La Diva all afternoon!
This salad would be a great accompaniment with grilled garlic lamb or lemony chicken breasts or would be perfect for piling onto a plate of greens for a vegetarian main meal, it's so satisfying.
So darlings, what grain do YOU use to get yer freak on? Anything out of the ordinary that La Diva should know about? (Diva doesn't like being left out!) DO tell me all about it, darlings! Ciao for now!
Originally posted 2011-05-20 12:25:00.