A Mediterranean influenced salad: spice rubbed grilled chicken breast with steamed freekeh seasoned with sumac, cukes, tomatoes, red onions, Bulgarian feta over baby spinach and arugula. Crunchy, healthy, GOOD.
Darlings! I had taken for granted how GOOD it is to cook one's own food at home! Being without pots, spices, dishes and a clean, organized kitchen to cook in during our move, the DJ and I subsided on mostly takeaway of pizza, burritos and greasy Chinese. La Diva tried so hard to be healthy, but the grocery store pre-made salads just didn't taste quite fresh enough. On the weekends for breakfast, all we had time for was a quick McGriddle or bagels and a coffee and then we'd get to work.
It took me three days to unpack and organize my kitchen. Dudes, I had three boxes of spices alone! It was great to be able to actually have space to put everything in. After not cooking for more than two weeks, I could not wait to cook a real dinner again for the DJ and myself. I was longing to eat vegetables again and wanted to quench my desire for leafy, crunchy food. So, the Mediterranean chicken salad in the photo above was our first *healthy* meal in our new home.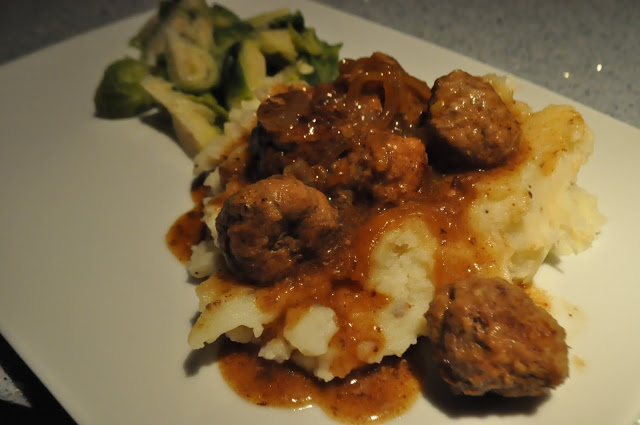 Comfort food is best made at home: Ground beef AND turkey make up these tasty meatballs in a brown onion gravy over mashed parsnips and potatoes with steamed, buttered Brussels sprouts. DJ satisfyin'.
Saturday was a miserable day in Miami. The tropical storm started the night before and then raged on and off all day and into the night. At times the wind was so strong, it was blowing like a baby hurricane and a powerful gust sent my orchid crashing to the ground, shattering one of my favorite pots. I watched a large cardboard box fly by seven floors up, at times the wind had gusts up to 50 mph! Gray-all-day times are rare in Miami, so La Diva thought it was an ideal day to try a hearty soup my friend Bobby made recently:
Did you know La Diva is of Polish descent too? Easter was always spent with my dad's mother side of the family, the Poles, eating and laughing. No Polish-American kid worth their salt didn't love golabki or stuffed cabbages. I've made stuffed cabbage a few times but it's not something I think to make very often, so to find a soup that replicates the flavors and ingredients of stuffed cabbage, La Diva was intrigued. (and it would be a lot less time consuming than making stuffed cabbage rolls too!)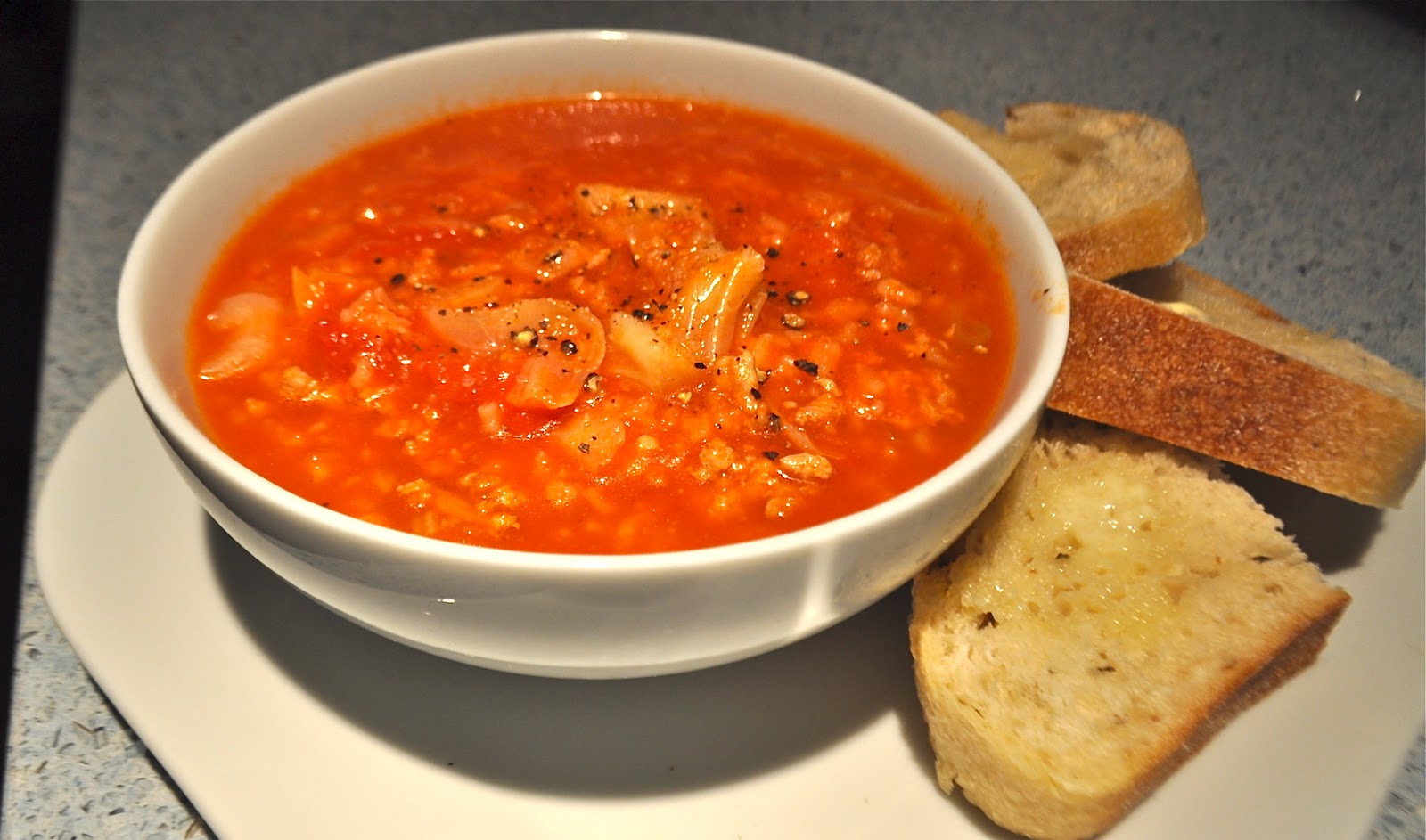 Ahhhh cabbage soup. Not glamorous. Not fancy. Just hearty, cabbag-ey goodness.
BOBBY'S STUFFED CABBAGE SOUP
2 lbs. ground beef
2 large onions, chopped
Brown the above and drain well. Then add to:
3 lbs. of cabbage chopped
1/2 cup white sugar
1/4 cup lemon juice
14 oz. can of beef broth
2 large cans tomato sauce
1 large can of diced tomatoes
2 large cans of water
1/2 – 3/4 cup of white rice
salt and pepper to taste
Bring all to a boil then simmer until rice and cabbage are done. Note from La Diva: Make sure you stir well so the rice doesn't stick to the bottom!)
RESULT: Pretty good, warm, subtly flavored, satisfying and perfectly comforting, yep, it sure DOES taste like stuffed cabbage in a soup! The Polish Diva in me highly approves. However, if you know anything about La Diva, you know I'm going to change it up a bit. I used ground dark turkey meat instead of the ground beef, which lightened the texture of the soup, but the downside was that the turkey seemed to be lacking in any definitive flavor, so I added a few beef bullion cubes and a couple of bay leaves to add more depth. When I make this again, I will cut back on the water and add beef broth instead. Also, unless you have a large family to feed, I'd say cut this recipe in half, it's a LOT OF SOUP for only two people. (Bobby must be feeding the neighborhood drug dealers and crack ho's again!)
I ended up freezing half of it and giving some to a friend. I'm not sure how well the rice will hold up once frozen, though. Bobby makes the soup with chicken broth and brown rice, which sounds nice too. Another friend suggested adding caraway seeds. Feel free to tweak it to the way you like your stuffed cabbages to taste. Anyway you make it, it's a simple, satisfying soup that is great for an easy, casual supper. Thanks again, Roberto, for another wonderful recipe for my repertoire.
What about you, darling? What's YOUR fave comfort soup for those dark and dreary days? Don't be shy, tell La Diva all about it, darling! Ciao for now!
Originally posted 2011-10-11 00:38:00.