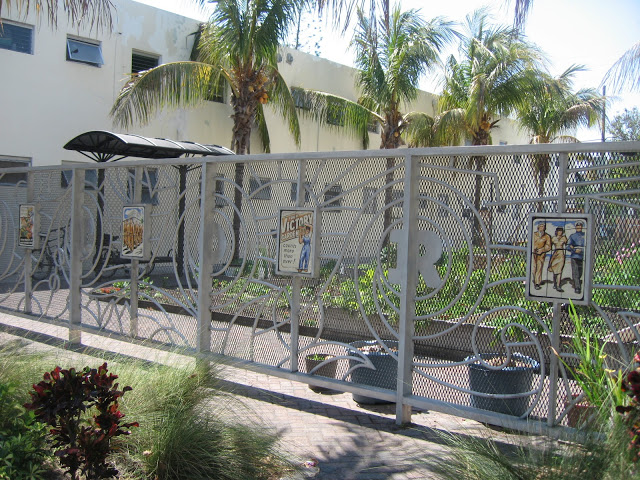 Darlings! Welcome to La Diva's Victory Garden on South Beach! Well, it's not really MY garden but the City of Miami Beach and all the wonderful volunteers and neighbors in my community that want to grow their own vegetables, fruit, herbs and plants!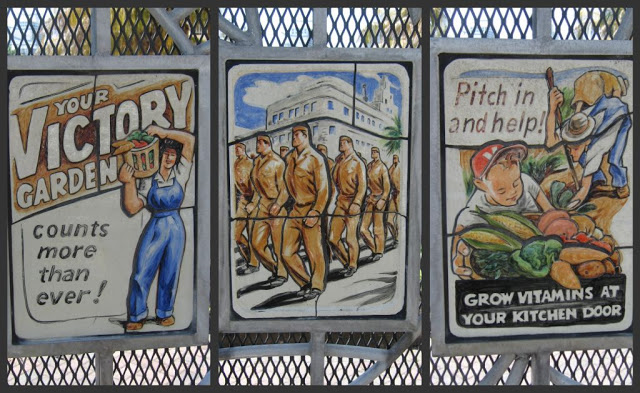 This is a close up of some of the cool, hand painted tiles on the fence.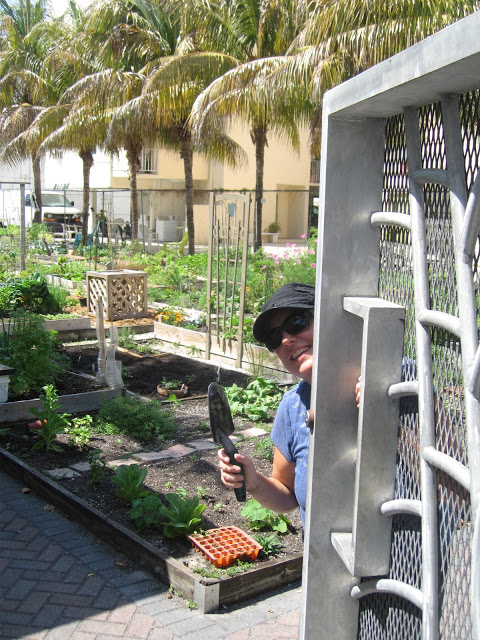 Come on in and I'll show you around!
I decided for my plot that I wanted to grow herbs and things I can't get easily at the store like Asian herbs. Also included would be herbs I use in my class, like rosemary and Italian parsley. They are $3 a bunch, and that adds up when you only need a sprig or two! I was told that tomatoes are challenging to grow, so I am not bothering with them. Nor am I bothering with cilantro, which I always find bolts too quickly, and which I can get for only 99 cents a bunch. Hey, this plot is precious real estate, I'm not wasting it on stuff I can buy easily and inexpensively!
The garden is divided into plots and stretches back to the alleyway. We have a huge tank of rain water to use, a sprinkler system that goes on twice a day, a tool shed, compost bin, a seedling table, storage for extra pots and things, picnic table and a shaded bench. My plot is the one in the middle next to the wooden trellis with the small green pots with seedlings.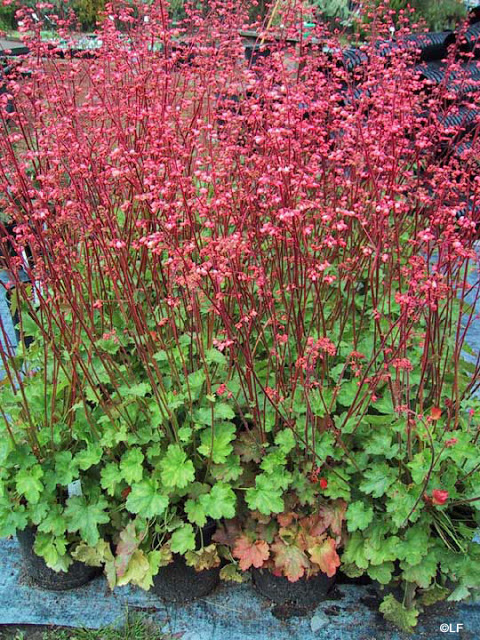 I've been a gardener since I was a very little girl of about five, when I used to follow my mom around our yard picking her beautiful roses, lilacs and forsythias. These are coral bells, dainty little pink bells on long stems and we had clumps of them scattered about in our back yard. They always remind me of my mother and my time in the garden with her. As we'd walk around the garden, weeding and clipping off dead flower heads, bees would buzz, butterflies would flutter by and I remember smelling the sun on the cotton sheets drying on the line! Such sweet memories!
In my life as a gardener, I've gardened in the suburbs of Michigan, Chicago, Illinois, Sydney, Australia and Los Angeles, California, and now in Southern Florida, all with different growing zones and conditions. Michigan and Illinois were the same with a very short growing season and extremely hot and humid summers, while Sydney was sub-temperate with severe sun and a climate that favored drought resistant plants. My favorite place to grow was Southern California where I had window boxes filled with hummingbird attracting fuschia and coloured coleus and a dwarf lemon tree with violas. So healthy, bright and beautiful were my plants that I actually sold all of the boxes when we were packing to move to Miami!
It's been challenging to learn what will and will not grow in all of these different zones as well as what time of year to plant! I don't think I've even seen coral bells down here in the South. Further, this plot is about a block from the beach so salt and wind could very well be something to consider!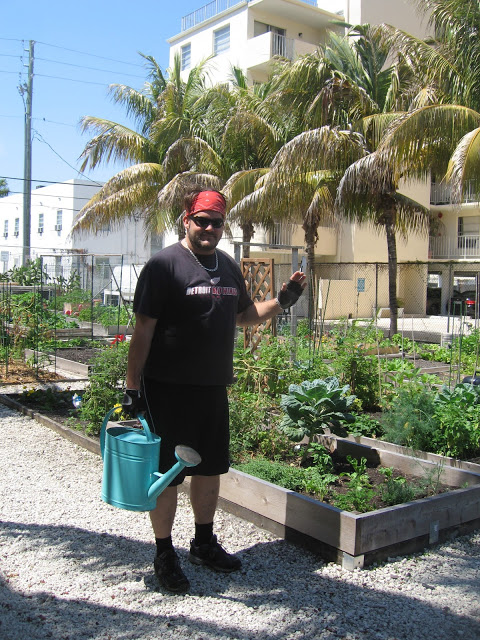 Don't let his friendly wave fool you! Bears can be found in gardens all over the States, but you have to be careful, they
will
steal your shit. Never leave a plate of food or an alcoholic drink unattended around a bear! (they favor bbq chicken, anything with alcohol and especially leftover steak and honey, naturally!) Some have been known to be tame and helpful, but again, you can't take your eyes off of them for a second!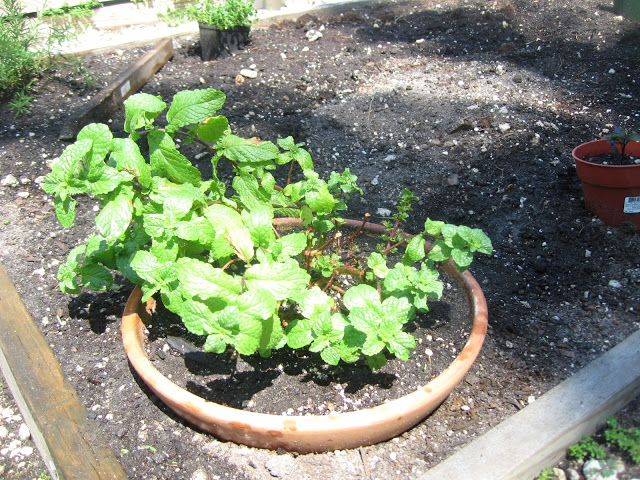 Peppermint is put into a pot to prevent spreading and taking over my plot. One never knows when La Diva could crave a mojito and the grocery doesn't always have it on hand, it's quite the popular herb in Miami!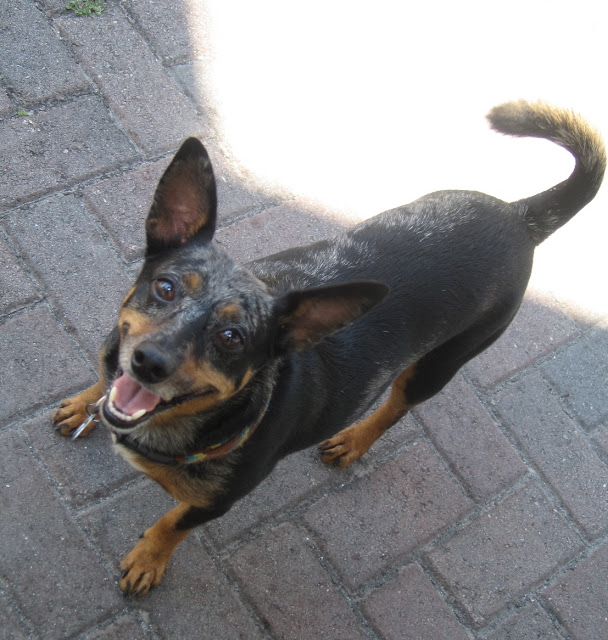 Chile the dog helps supervise the DJ with La Diva (when he's not guarding his precious ball.)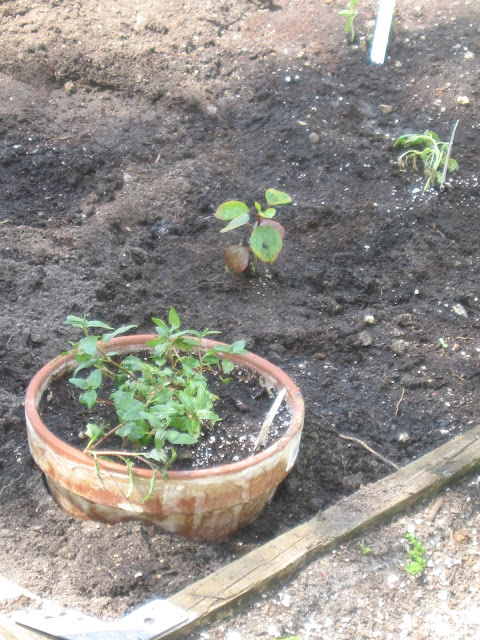 Up top you can see the poor basil seedlings that have been fried. I'll go back today to see if they made it. The sorrel is above the Vietnamese mint in the pot.
Red sorrel
is a very popular herb prevalent in the Caribbean and the dishes of the region. I know it's used in other country's cuisines but it seems to have fallen out of fashion here in the States. However, I remember my Polish great aunt telling me about how delicious sorrel soup was and that always intrigues me. Seeing as I don't ever see it in the store, I've decided to put it in and see what I can make with it as I love being inspired with flavors I'm not familiar with. The Vietnamese mint in the pot (or Vietnamese coriander) was wilted too but sprang back to life once it got a nice drink of cool water.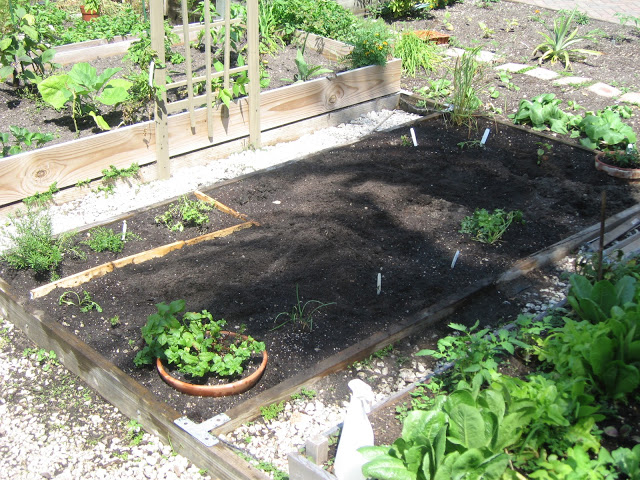 Clockwise: Rosemary, lemon thyme and sweet marjoram. The DJ found some extra wood boards to separate the Mediterranean herbs so they don't spread too much. In the far right are two basil plants, Sweet Dani, a lemon basil and Queen of Siam, a Thai basil. I brought the seedlings to the garden on Friday but was ill on Saturday so didn't make it. When I came by on Sunday, they were very wilted. Let's hope they make it! (you can click on the photo to enlarge)
Behind them is lemongrass, some marigolds sprouting (to keep away bugs) and sorrel. In the corner in the pot is Vietnamese mint and then across the bottom, Italian parsley, habanero chile (Scotch bonnet) and Thai chile, then garlic chives and back to the peppermint. Then a few more marigold and one little arugula! I'm thinking of putting salad greens in the middle! How lovely would that be?!
The garden is in a bit of shade now at 2pm with sun all day but as the summer progresses and the sun moves further north, the shade will go. The shade is good for now, otherwise the plants could fry and I was told to put the chiles in the shady spots so that they would bear more fruit.
Darlings, especially my dear readers in the cold tundras of the north, are you going to be gardening this year? What will YOU plant? What do YOU see success with? Tell La Diva
all
about it! Ciao for now!
Don't forget, darlings, THIS SATURDAY, La Diva is doing TWO DEMOS at the Pinecrest Gardens "Backyard Paradise & Garden Festival." I will show guests how to make a cool and refreshing green papaya slaw and a divine and succulent lemongrass chile chicken on the barbecue! More details by clicking HERE!
Originally posted 2011-03-28 14:28:00.