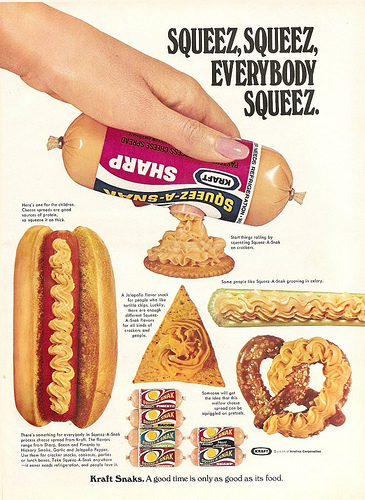 Darlings! For some vague reason when La Diva thinks about summertime lunches, it reminds me of when I was a wee lass of about eight years old and lunches eaten at home instead of at school. That would make it 1971….and what a strange time for food THAT was!
I remember this Squeez-A-Snak stuff (and "stuff" is the perfect word for this, er, product!) but I don't think my mom would have ever had that in the refrigerator. I can recall my teenage brother, in all of his gluttonous glory, eating this straight from the tube, but that was years later and after school when us kids were not as closely supervised! Instead, I remember mom having chocolate candy in the fridge that we used to want to eat but we were not supposed to touch.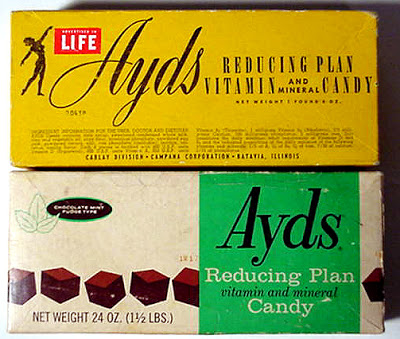 The "candy" was an aid to weight loss but Ayds
never

really helped my mom lose any weight. Unfortunately, the cancer she got did. And the summer lunches at home turned into lunches and dinners at our cousins' or neighbors' houses while my dad worked and visited mom in the hospital every chance he could.
Mom passed away on a beautiful summer day in August and after that was when all hell broke loose regarding what us kids ate. Our guilt-ridden and grief-stricken father, trying to raise three kids alone, was more than a little permissive. La Diva remembers loaves of Wonder Bread stuffed with Genoa salami and smeared with French's mustard, gallons of Kool-Aid, bags of Better Made potato chips, hot dogs, Kraft macaroni and cheese and cases of Towne Club soda pop, that I begged my father to get cuz they had crazy colors and flavors like Tropical Punch and Strawberry. Baked beans from the can was our vegetable of choice.
I'll never forget one day after school after mom had passed, my brother decided to make a meat loaf sandwich. I watched him in horror as he took four of his fingers on his right hand and dug into the meat, breaking off what he wanted, and setting the meat directly on the counter. Then he took the mustard jar out, opened it, dug his fingers in and scooped out a big gob and with a loud splat, slapped it onto the meat. He picked up the dripping mess and gobbled it up and washed it down with milk straight from the carton, all while standing in front of the open refrigerator.
My brother's fingers-as-utensil digging/cutting/scooping technique also applied to cutting butter for sandwiches and roast beef lunches included stuffing a piece of beef and then squirting mustard directly into his open maw. Mom would not have tolerated that and even though I was big sister reprimanding him, it fell on deaf ears. Having my brother as a brother is probably the main reason I don't have kids.
Yet, in spite of my mom's illness and subsequent death, I still think fondly of summertime in the 70's. And I truly believe that is just the way she would have wanted it.
So, here's a weekday's worth of healthy and unique summertime lunches….my mom (and yours) would TOTALLY approve! Enjoy!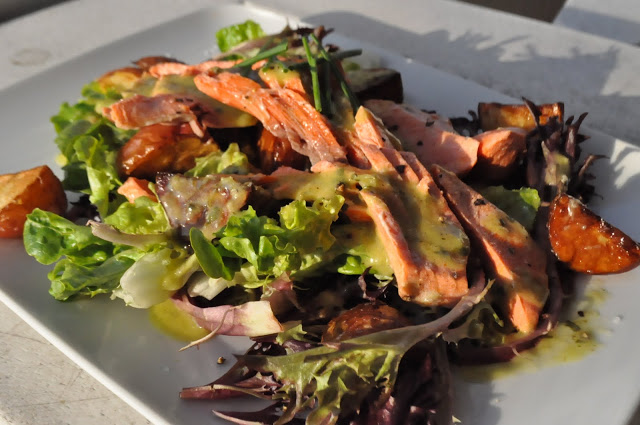 Poached wild salmon salad with roasted potatoes and lemon vinaigrette: Wild salmon is lightly poached, cooled and then flaked over mixed greens and oven roasted potatoes. The potatoes add a nice satisfying crunch and the vinaigrette is zesty and tangy. The dish can be lightened further and calories reduced by omitting the potatoes and adding fresh, raw grated carrots and sliced cucumbers but La Diva likes it just the way it is!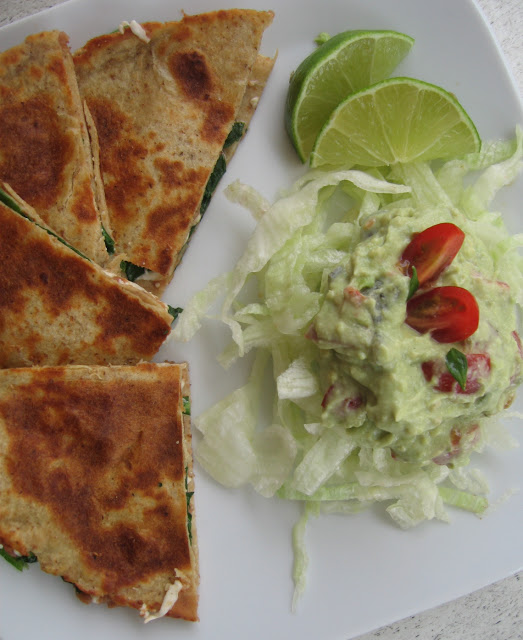 Quick, easy and cost effective, these vegetarian refried beans, spinach and cheese quesadillas made with low carb/high protein tortillas are sure to please everyone! I simply spread a light layer of beans over a tortilla, load the fresh baby spinach leaves on and then top with a bit of cheese to help keep it all together. If you can, grill them or cook with a small amount oil in a non-stick fry pan.
Instead of serving the quesadillas with the usual trio of tomato salsa, sour cream and guacamole, I combined smashed avocado with freshly squeezed lime, low fat Greek yogurt, chopped cilantro, quartered grape tomatoes and a dash of cumin and salt and served it on top of refreshing, crunchy iceberg lettuce. (Hey, it's summertime, why create more dishes? Just mix it all together already!) Delicioso, baby!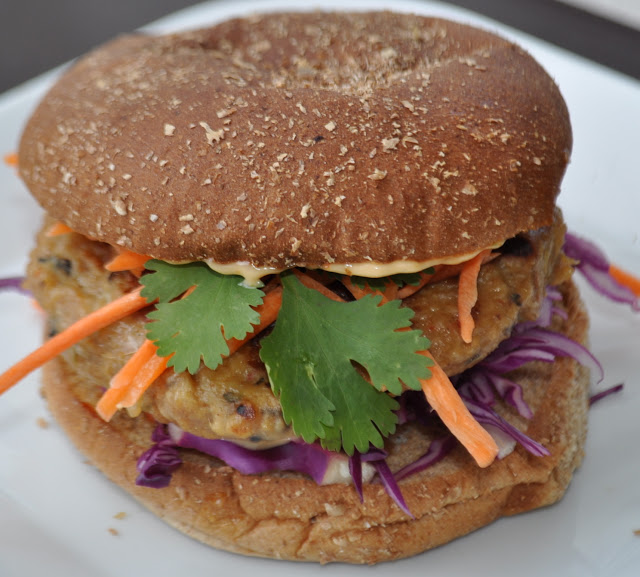 Like the idea of biting into a juicy, flavorful burger but don't like the heaviness of the usual beef burger all of the time? La Diva does! Just because I want to "lighten up" some of my meals doesn't mean I want to eat salad all of the time. And besides, you know La Diva has to have "man pleasin'" food for the DJ! This chicken burger with Thai seasonings does the trick.
Here's La Diva's version of a Thai chicken burger: red curry paste, cilantro, lemongrass paste, a kaffir lime leaf very finely sliced, minced garlic, egg, breadcrumbs and milk with ground chicken. Form into patties, then chill, grill and serve with lime chili mayo, sriracha chili sauce and grated carrot and red cabbage on a whole grain bun. Satisfying, spicy and unique!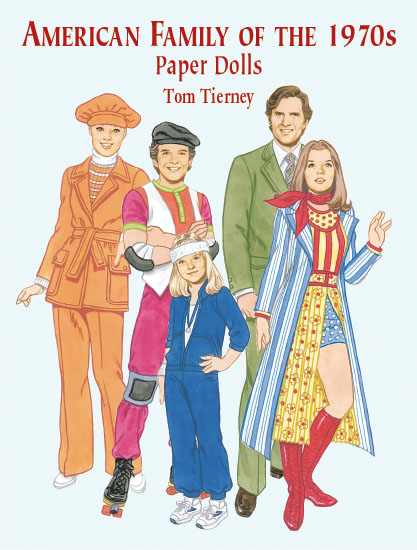 Hmmmm….this reminds me of my family with me as the oldest, a younger brother and little sis. But I think if my brother dressed like this, he would surely get beaten up! No boy wore magenta pants (unless you weren't straight!)…believe me. Burgundy corduroys was the closest thing you'd get to this look! And I don't remember ANYONE wearing sport clothes for leisure like this little girl (that started in the 80's, thanks Run DMC!)
But I DO remember monster bell-bottom jeans and used to have mine dragging on the ground, frayed and fabulous, and wore them with my sky blue puffy sleeve shirt and beaded choker necklace that had a charm on the end spelling "love!" In fact, this was my "roller rink" outfit and I'd skate on Friday nights, looking cool, to Led Zeppelin's Black Dog.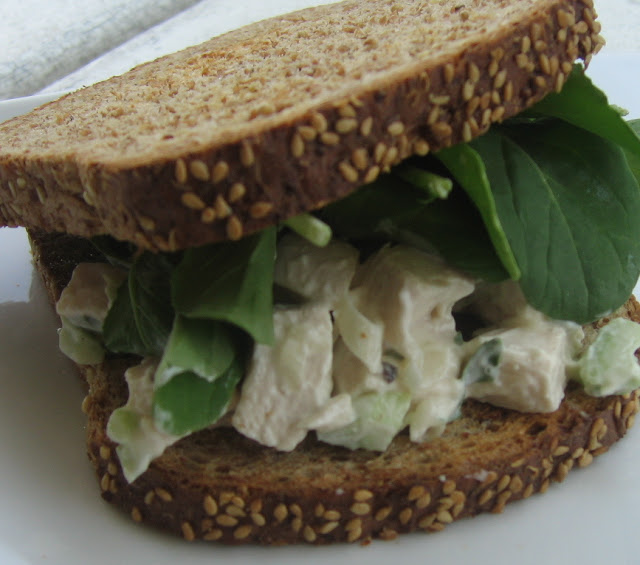 Traditional chicken salad sandwiches are always great for a cool summer lunch. However, La Diva's chicken salad gets a hit of flavor by adding freshly minced tarragon along with diced celery and green onions. Heavy and high-caloric mayo is cut by adding equal amounts of low fat Greek yogurt and then served up with fresh greens on lightly toasted high fiber sesame bread. Tarragon has a strong and slightly licorice taste and is a classic pairing with chicken and I love how the addition of the yogurt lightens and moistens the salad. Simple, flavorful and definitely more-ish!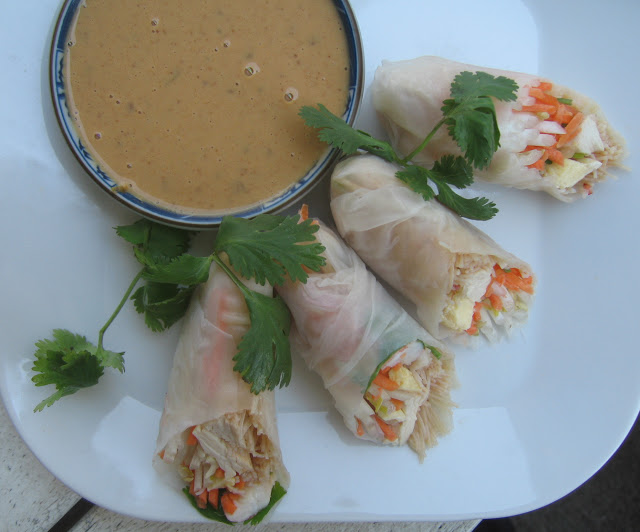 Do you love the Thai classic noodle dish called Pad Thai? La Diva does! Since I love pad Thai so much, I came up with a way to turn the dish into a snack or light lunch! All the ingredients of the traditional stir fried noodle dish, including egg, chicken, shrimp, rice noodles, green onions, bean sprouts and cilantro, are rolled snugly in a Vietnamese rice paper roll and served with a spicy, home made peanut sauce!
The fresh veggies provide a refreshingly crunchy texture while the proteins and noodles deliver the satisfaction and the peanut sauce completes the dish with authentic Asian flavors. (You can also make the peanut sauce for chicken sates and stir fries.) When I serve these summer rolls at a catered party, they are always a hit. You can find the recipe for them by clicking
HERE.
Do you remember food from the 70's, darlings? (Please tell me you were around then, c'mon, humour La Diva!) And what did you eat when you were a kid in the summertime? Tell La Diva all about it! Ciao, darlings!
Originally posted 2011-06-26 15:02:00.