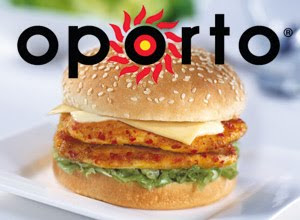 Darlings! Why is it that certain foods stick in your memory and will haunt you endlessly? You know what La Diva is talkin' 'bout, a dish you crave and wish you could eat again and again? THAT DISH to La Diva, my friends, is the Oporto Portuguese chicken sandwich known to Sydneysiders as the Bondi Burger.
Sydney, Australia is a true melting pot and boasts wonderfully diverse and authentic ethnic foods from all over the world. As it happened, me and my sidekick, DJ Nevah L8 (4 dinnah) lived within a mile of Little Portugal, the Sydney inner western suburb of Petersham, and enjoyed many a Portuguse chicken dinner from Petersham Charcoal Chicken. The chickens are marinated, flattened and grilled and boast a spicy chicken taste that is deliciously succulent and juicy. The place has a license to print money and is always packed with punters ready to part with their dough for one of their chicken dinners. It is the number one take away chicken joint in Sydney.
But the Portuguese chicken La Diva really fell in love with was sold in the form of a sandwich at Oporto in Bondi Beach. Oporto was started by a Portuguese immigrant back in 1986 who adhered to the formula of: "Let's just sell one item but damnit, we will do that one item right." And he did. All Oporto sold were chicken sandwiches and hot chips. But not just any chicken sandwich, a spicy chile-slathered piece of flavorful chicken breast flattened thin and grilled and served up on a soft sesame bun with mayo, lettuce and mild cheese.
The secret is in the chile sauce. The sandwich is spicy but the fieriness is tempered by the mayo and mellow and mild cheese and the cool aqueous lettuce. Lines formed out the door for these spesh chicken burgers and at one time, you could only find them in a handful of locations.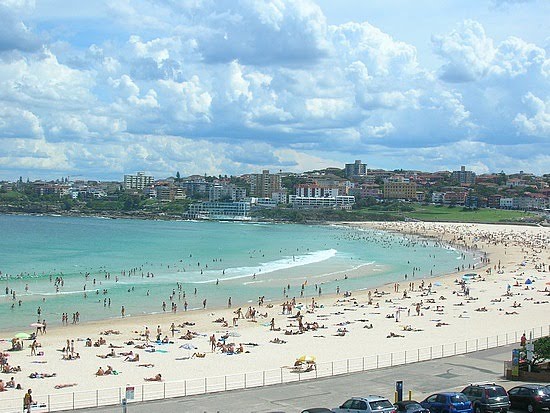 Fancy restaurants, take away shops and retail stores line the popular Campbell Parade with exquisite views of Bondi Beach. Don't have a lot of cash? Get some take away and sit on the expansive lawn behind the beach and enjoy the views while trying to fight off dive-bombing seagulls!
And then La Diva noticed that other Portuguese chicken joints began popping up all over Sydney, trying to copy the famous Oporto chicken burger. There was Nando's and Ogala and the last time I was in town, even the local milk bar was offering Portuguese chicken sandwiches. La Diva was in heaven. But then I moved back to the States and there was not one Portuguese chicken shack to be found.
Oh, but how La Diva missed the spicy succulence of those burgers.
In the last eight years since I've been back in the States, La Diva has been trolling around the Internet trying to find an authentic recipe to replicate the unique sauce and preparation of the chicken. Were the breasts fried or grilled? Some say grilled but I noticed they seemed to have a light coating of something on the chicken, perhaps coated in flour and then fried on a griddle? They had a beautiful texture to them, and were either cut thin or flattened with a mallet, making them easy to eat and to take on as much of the chile sauce as possible.
I've yet to find an authentic recipe and even found some recipes calling for the use of sweet chile sauce (F*ckin' hell, Aussies put that stuff on EVERYTHING!) but I knew that just wasn't right. There was NOTHING sweet about this sammie and those recipes were modified by wimps! Also, I wasn't so sure that the chicken was even grilled. After all, not one blogger had mentioned the slightly crisp texture of the chicken breast that could only have come from a light dusting of flour. Subtleties like that go unnoticed by the uncultured palates of some but certainly not by La Diva!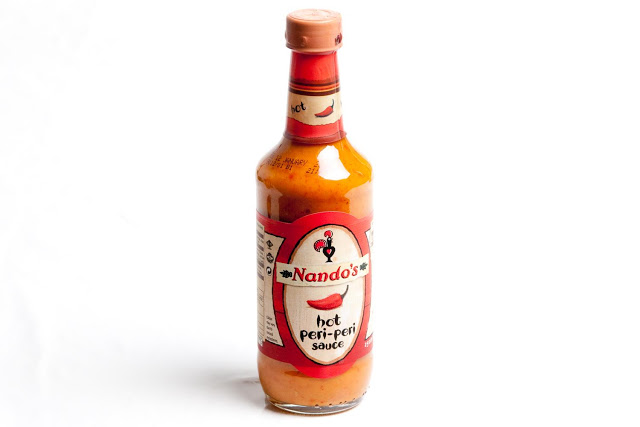 La Diva used to be able to "cheat" and when visiting back home, I would bring back bottles of Nando's Peri Peri sauce, the key flavoring component. But then I ran out and getting glass bottles shipped from halfway around the world is expensive via air mail and my favor card from once-sympathetic friends back in Sydney was full up. Time to make it on my own, experiment and get it right.
Interestingly enough, one of the key ingredients in the secret chile sauce is the periperi chile (also spelled piripiri), an African bird's eye chile and used in a variety of Portuguese dishes. And I just so happened to have some on hand! I gathered up all things chile from my pantry and refrigerator and began my experiment.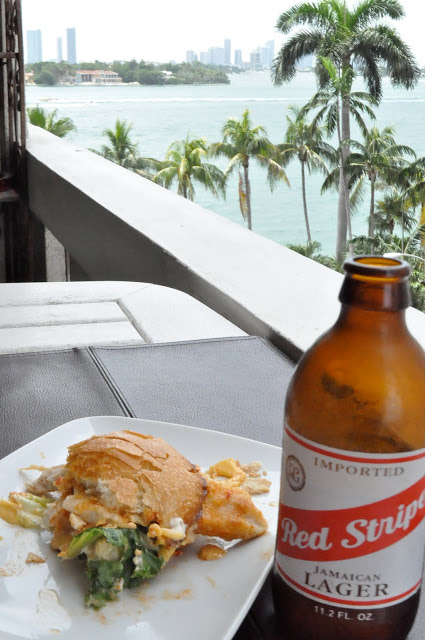 Darlings, don't even THINK of using a knife and fork for this sloppy sandwich, a cold beer and plenty of napkins is all that is required. (Fabulous view extra!)
Portuguese Chicken Sammie La Diva Style!
For two:
2 chicken breasts (I prefer organic)
2 T flour
2 large soft sesame hamburger buns (I used a crunchy water roll which made the burger harder to eat!)
Mayonnaise
2 slices mild cheddar or American cheese
leaf lettuce
oil for frying
salt
Chile sauce:
1 garlic clove, finely minced
Juice of half a lemon
1 t piripiri chile powder
2 T chile paste (I used Gourmet Garden Chile Pepper Spice Blend from the tube, in the produce aisle)
1 t Louisiana hot sauce
1 T white wine vinegar
Mix together in a shallow bowl and set aside.
Taking a very sharp knife, cut along the thickest part of the chicken breast lengthwise to create two fillets. You should have four thin chicken fillets. Using a mallet over plastic wrap, lightly pound chicken to flatten to about 1/4 inch thick. Salt on both sides and dust lightly with flour, set aside.
Lightly toast buns, slather with mayo on both sides. Put lettuce leaves on bottom and then cheese slice. Your bun is ready for toppin' with the chicken!
Heat oil in skillet and when hot, add chicken breasts. When golden brown, flip over and finish cooking. Remove chicken from skillet and take each fillet, one at a time, and dip into the chile sauce, making sure to coat both sides. Put two chicken fillets on each bun and top.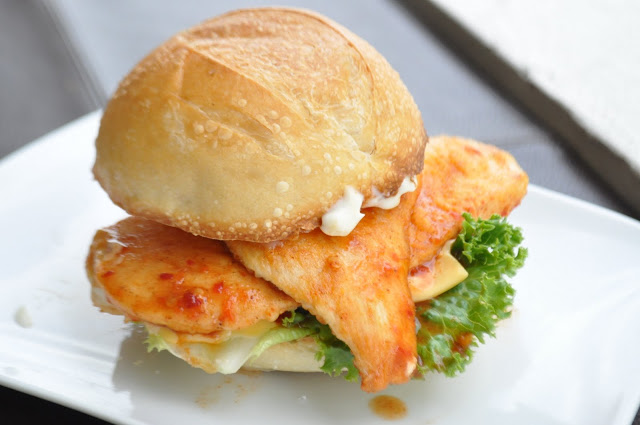 RESULT: Ok, La Diva did not have an Oporto burger to compare the taste to but I believe I've eaten enough to know that I did a FINE JOB replicating the flavors, a MIGHTY FINE JOB! When I asked the DJ what he thought, he just looked at me, sauce dripping down his chin and nodded, chomping furiously. One, two, three bites and it was gone! His satisfied grin was good enough proof for La Diva!
If you like a spicy sammie, this is the ONE: simple, easy to prepare and full of flavor! This ain't no sandwich for wimps, anyone wearing white or women who are too delicate to "pick up their food with their hands," this is a SERIOUS SANDWICH for serious sandwich eaters!
So, do you think La Diva is a contender for Doggybloggy's BATTLE SANDWICH? Go to his site
ChezWhat?
over the next few days to check out all the entries and see the winner!!!
Darlings, do YOU want to learn how to cook with unique spices and learn new flavor profiles? La Diva Cucina offers a variety of classes to suit! Click HERE for more info!
cooking class, cocktails, parties, cocktail party, Miami, coral gables, events, bartending class, cocktail class, Laura Lafata, Miami Beach, miami cooking classes, bachelorette parties, bachelorette party, personal chef, corporate events, catering, personal chef, party entertainment, www.ladivacucina.com, top chef, next food network star

Originally posted 2010-08-23 18:01:00.