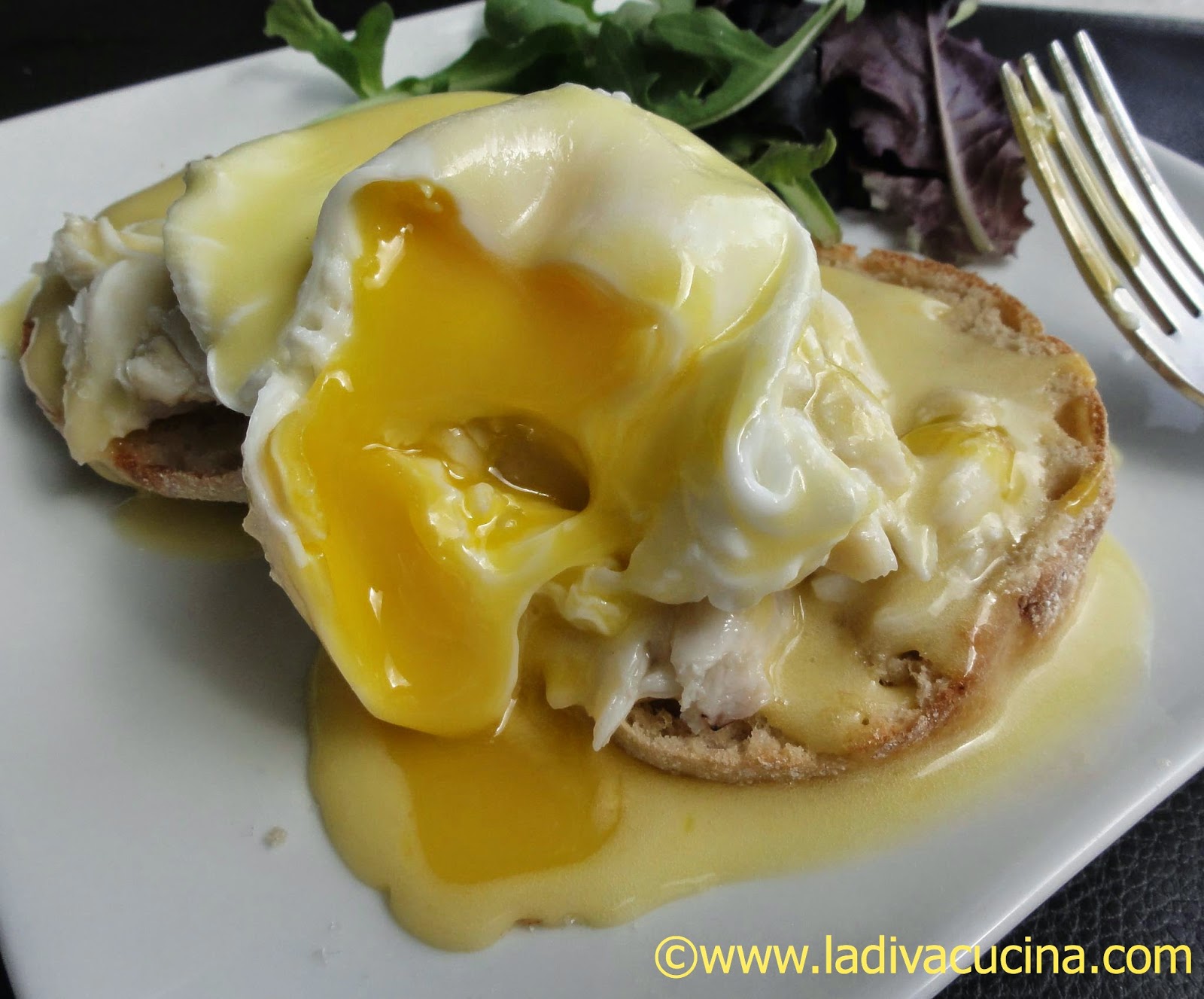 Delectable, sweet lump crab meat sits upon a toasted whole wheat English muffin and is topped with perfectly poached eggs with lemony Hollandaise sauce!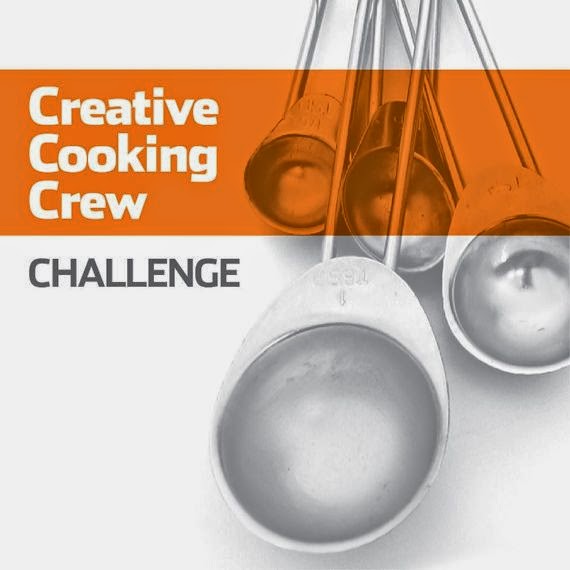 Darlings!  Joan Nova of the "Creative Cooking Crew" asks:  "What's for breakfast?  Show us what you would make for breakfast if you had weekend guests."
Well, honey, I don't need houseguests to create fabulous breakfasts! After a week of eating simple breakfasts before I hit the gym, on the weekends I look forward to creating a hearty morning meal, usually making it my favorite meal of the day!
One of the best breakfasts I've ever been made was when I was a houseguest at my friend's mother's place in Birmingham, Alabama.   She was the quintessential hostess,   I'll never forget how we woke up from a most enjoyable sleep with down pillows that just hugged our tired heads, to a lovely aroma emenating from the kitchen.
Waiting for us was a delectable spread of bacon, coffee, home made biscuits and sausage gravy, scrambled eggs and strawberry jam.  What a delight!  What made it all the more delightful was that we were all hungover, Mom included!  I appreciated her grand effort. From what I can remember, the night before included wonderful live jazz music and a whole lotta Scotch whiskey.  Mom had cracked me up by saying, "Laura, I'm a Christian lady and a Scotch drinker. And not necessarily in that order!" Good times!
I love having breakfast made for me, but sadly it doesn't happen often outside of a restaurant (though I'm currently training my husband for pancake duty!) For I am La Grande Breakfast Maker.  Because I'm good at it and mostly because I usually can't be bothered to wait that long to eat and get very crabby!
So, before I get to "the most decadent" breakfast, I thought I'd take you on a photo journey of some of my fave "breakies!"  (Aussie slang for breakfast, of course!)
If you are having guests for breakfast or brunch and don't want to be standing at the stove making pancakes and eggs for everyone, I love to offer quiches and frittatas!  The beauty of both is that you can feed six people with one dish as well as serve it room temperature with a green mixed leaf or fruit salad.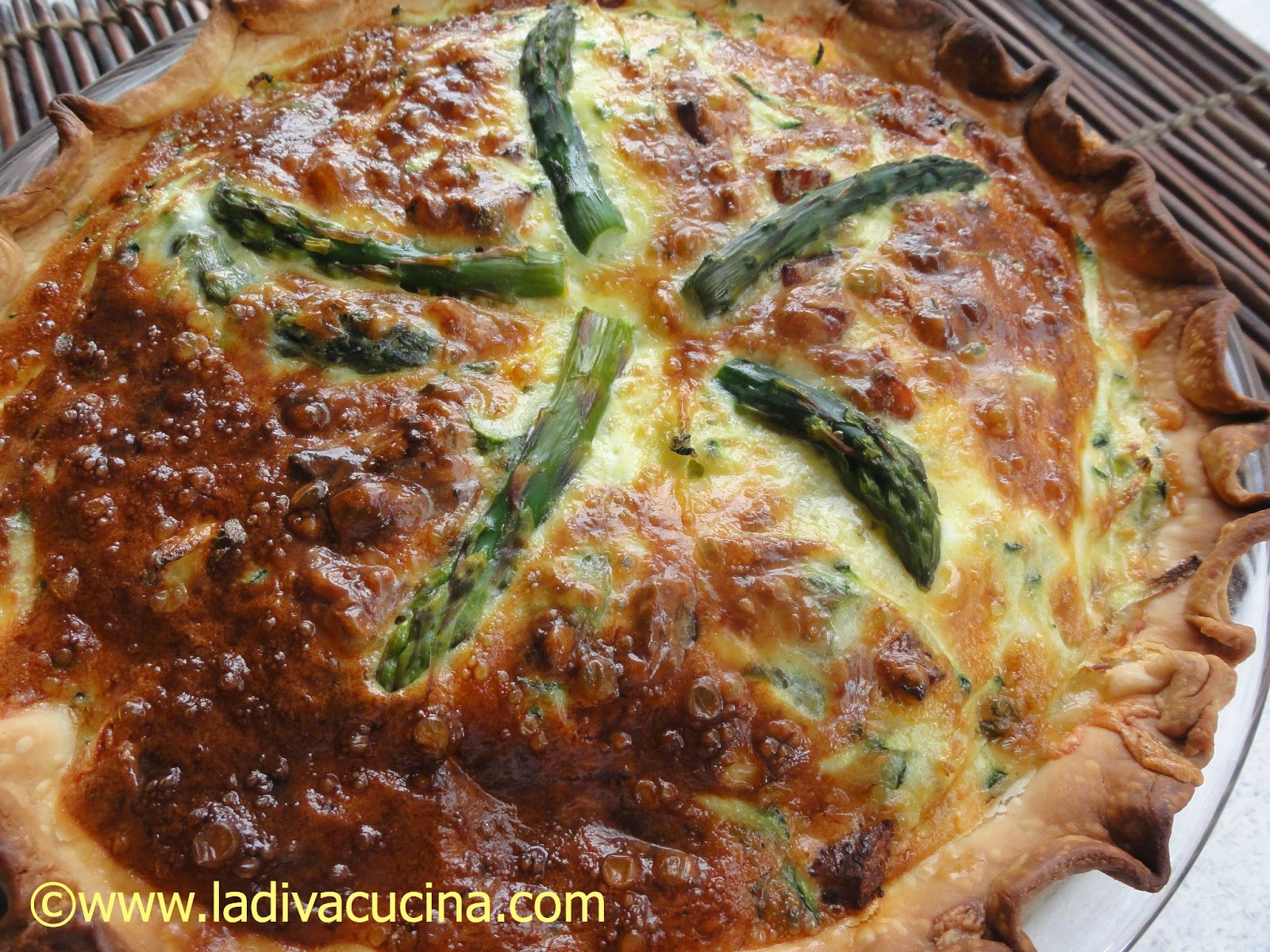 Go on an make home made pie dough, but if you don't have the time or inclination, buy the pre-made and roll it out!   You can keep it in your freezer it will thaw out in just 10 minutes.   This quiche includes gruyere cheese and lightly steamed asparagus.  I cut the asparagus into bite size portions and keep a few to garnish the top!   Isn't it brown and beautiful?!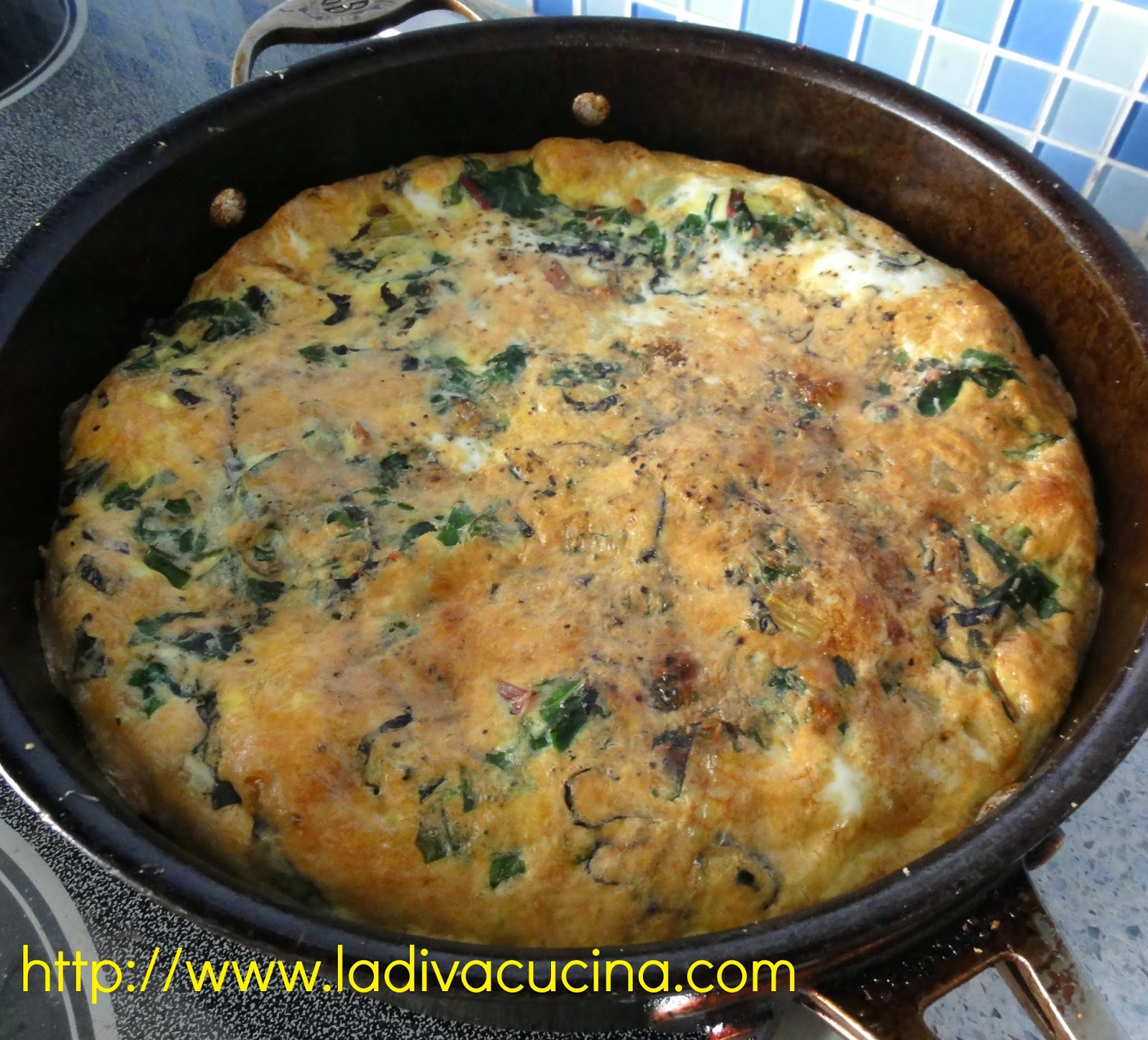 Frittata is an Italian dish I grew up eating and learned to make at an early age. And the best part?  I've never met anyone who doesn't like it!  I will sometimes make one in a lasagna tray with zucchini, potato and rosemary and serve it in bite-size squares at a party.  This lovely frittata includes sauteed rainbow chard from my garden.
Have leftover veggies from dinner last night?  Throw 'em in!  Add a good grating of parmesan cheese to the eggs and your frittata will be brown, fluffy and delicious!
I won't make any bones about it:  I LOVE POACHED EGGS!!!  
Why?
Because they are so easy to make, especially for a crowd!  Did you know that you can pre-make poached eggs and re-heat them later?  Simply poach the eggs for one minute less and hold them in cold water in the refrigerator until you need them.  When you are ready,  simmer water in a pot and add the eggs, cooking for the last minute.  It's so simple!
When I poach my eggs, I make sure I use a pot with plenty of room for two eggs.  I crack the egg into a small bowl, not directly into the pot, and then swirl the pot around with a metal spoon and carefully drop the egg in.  Adding a dash of vinegar to the water before adding the egg will help to form perfect whites, the straggly bit you simply cut away.   Take them out with a slotted spoon and  serve over buttered toast.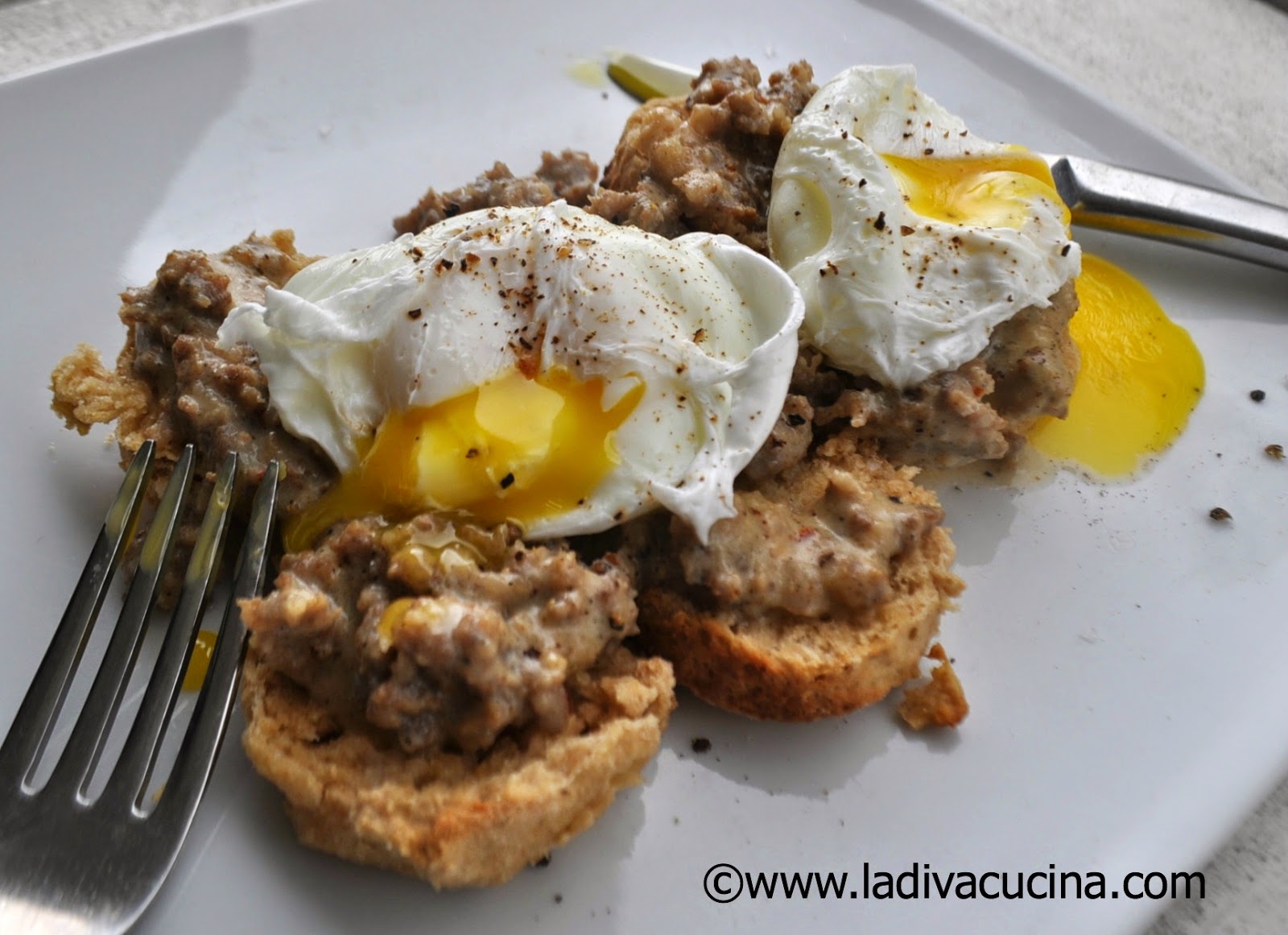 Or, if you are so inclined, serve them over home made biscuits with sausage gravy, a  classic Southern dish!
These poached eggs sit atop a mix of chorizo sausage, potatoes and komatsuna, a Japanese green, from my garden.  Don't have komatsuna?  Then try spinach, chard or kale.
Omelets good enough for comp'ny!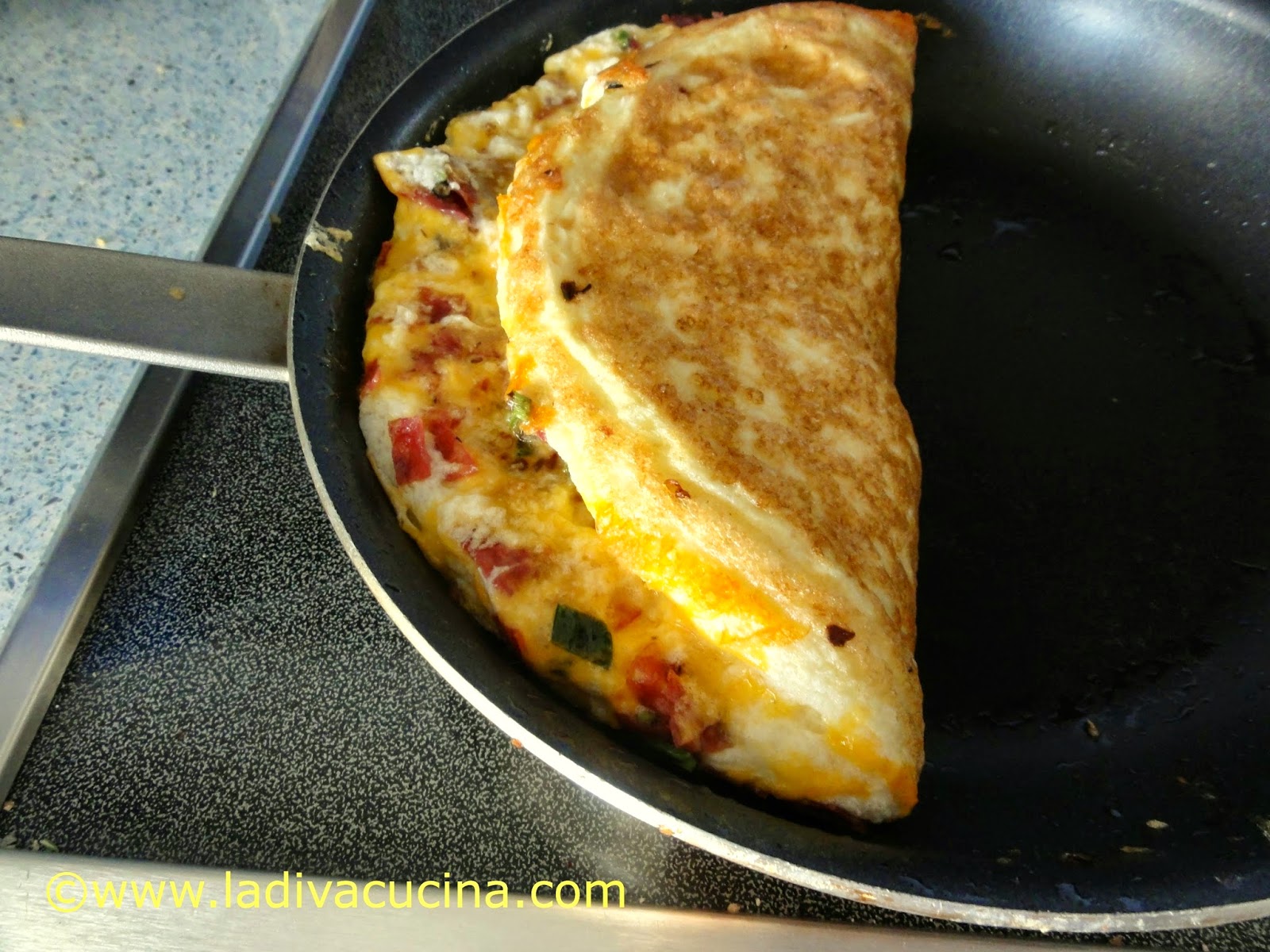 I love to make a variety of omelets and this method can be used to make  impressive omelets for breakfast, brunch, lunch or dinner.  I saute all ingredients ahead of time and put them aside on a dish and cover them to keep warm.  Then I separate several egg whites from their yolks and use a fork to break up the yolks.  I beat the whites until they are light and fluffy and then carefully fold them into the yolks.  I cook the omelet in a non-stick pan with a little olive oil, carefully flip the entire omelet over and then fill with my favorite toppings (this one included crisped prosciutto and green onions) and perhaps a little grated cheese.  I cook for another thirty seconds and then serve up this gorgeous, fluffy omelet.
Sometimes I will add sauteed mushrooms, snow peas, bean sprouts and julienned carrot for a light Asian style dinner.
Scrambles for the impatient…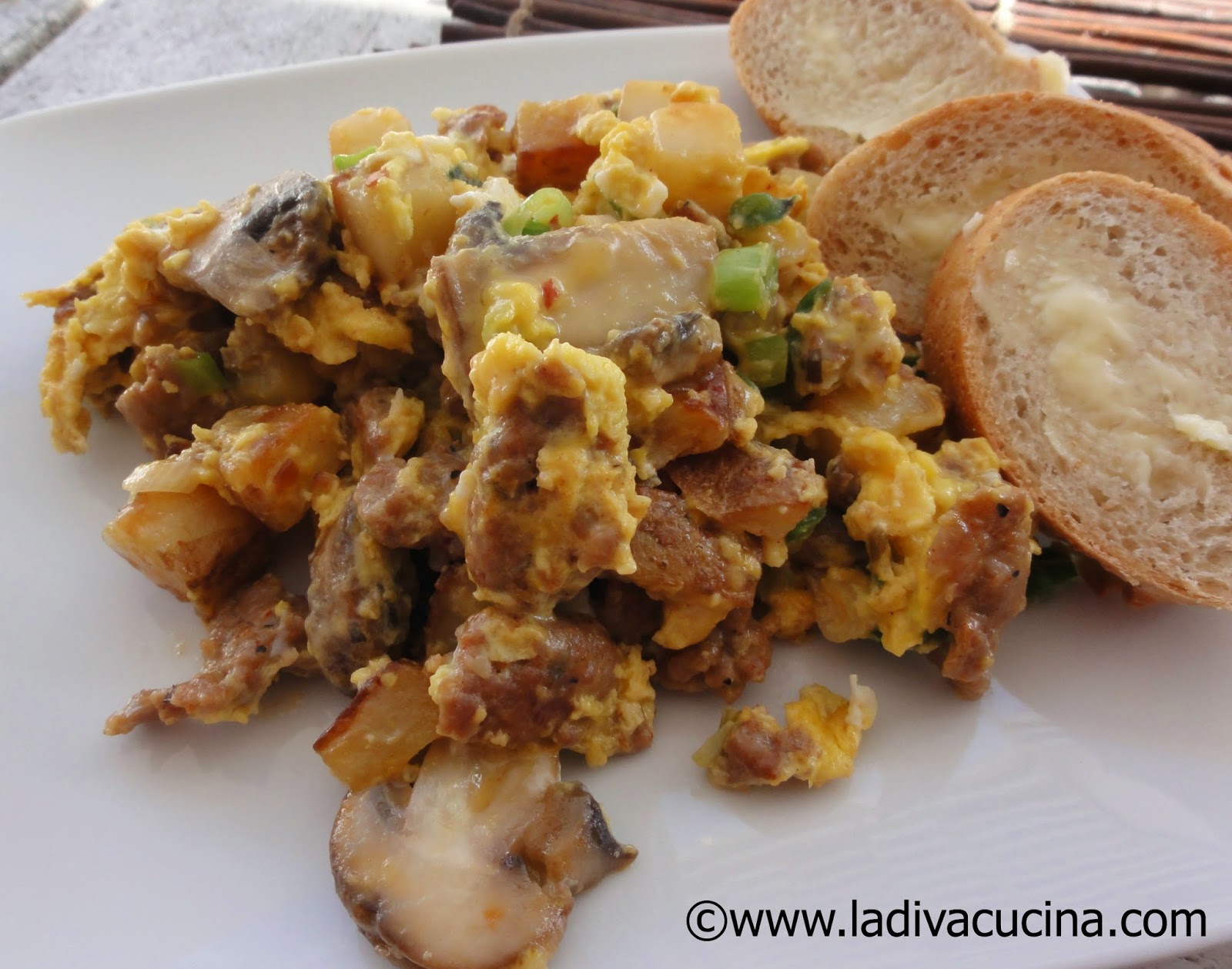 Sometimes I don't want to be bothered with a fussy breakfast and want to make a quick and easy meal.  That's when a good ol' scramble comes in!  Simply saute any leftover vegetables or meat in the refrigerator and then add spices, herbs, cheese and beaten eggs.  This hearty version includes mushrooms, breakfast sausage, potatoes and green onions.
There is breakfast beyond eggs…..
Why limit yourself to eggs for a hot breakfast offering?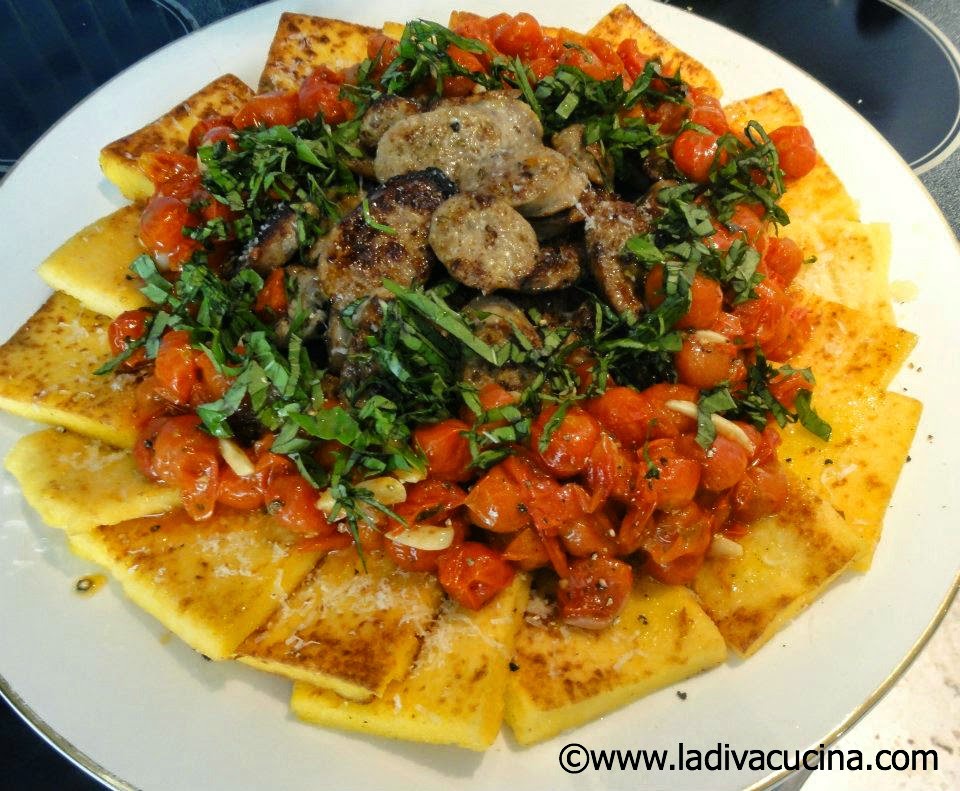 For a different take on brunch, I made creamy parmesan polenta, cut it into squares and fried them up and then topped them with roasted baby grape tomatoes with garlic, sliced, caramelized Italian sausage and garnished with basil chiffonade and grated parmesan.  As you can imagine, not a bite was left!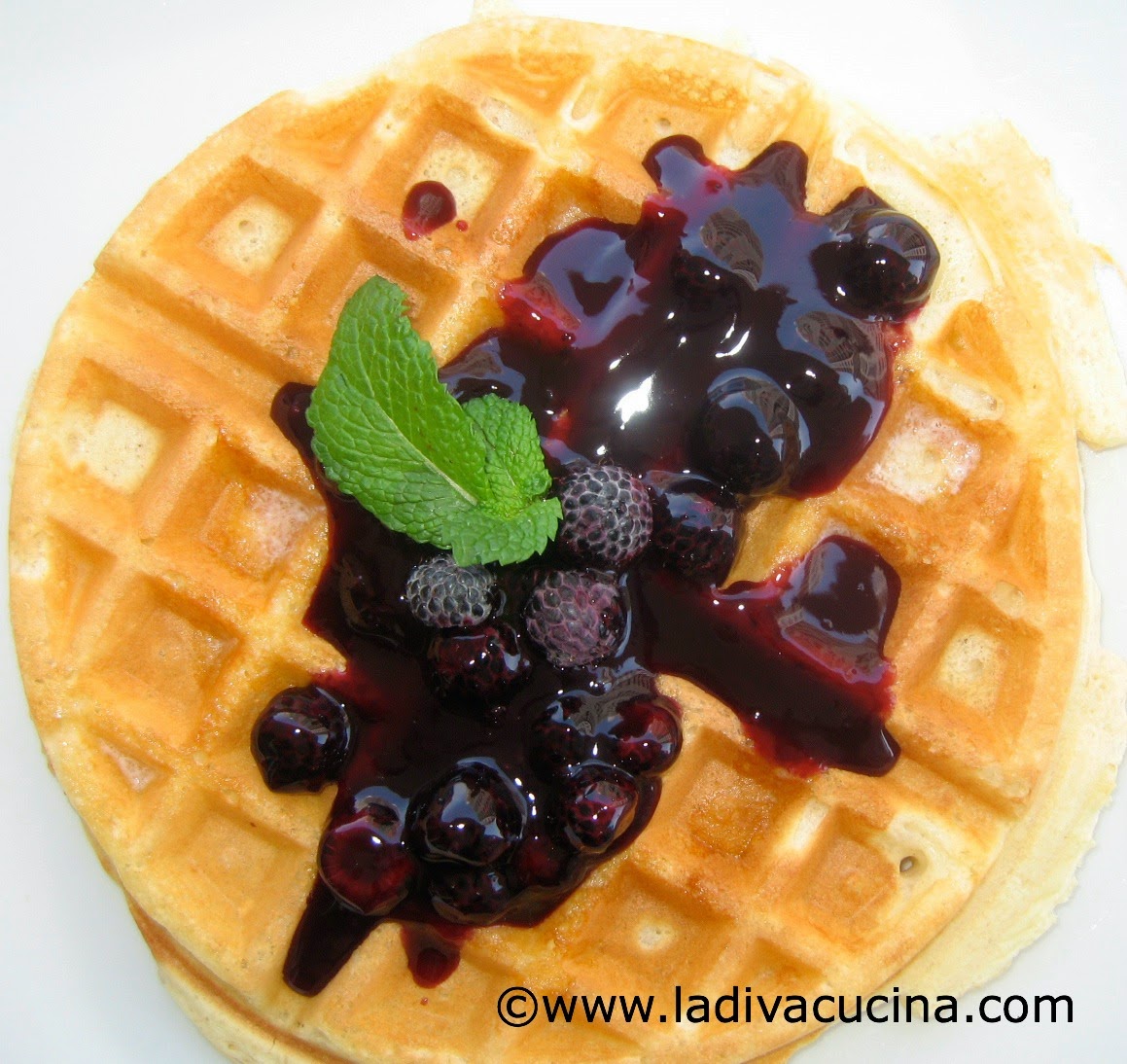 My husband, "The DJ," has become the pancake and waffle maker in our house!  He has become more and more accomplished and I love it when he treats me to a scrumptious breakfast, all the more delicious because I didn't have to cook it.  But my husband found out the hard way:  You can't put raspberries into the waffle batter, they will burn and make a mess!  So, I made a quick blueberry sauce and  used it as a topping for buttermilk waffles and then garnished with mint leaf and mysore raspberries, a delicious tropical berry.  Elegant, beautiful and yummy!
But the most decadent breakfast of all……
La Diva's Decadent Panettone French Toast with Fresh Orange Sauce and Pork Apple Breakfast Sausage
It all starts with a Hershey's chocolate panettone from Italy.  I've made this decadent breakfast for Christmas morning to delighted friends and family a number of times.  The buttery panettone with the heavenly orange sauce and pork sausage is a combination that is truly divine.
Sadly, I have NO GOOD photos of it, so you'll just have to simply imagine how wonderful it tastes.  Or better yet, MAKE IT for your special guests or even for yourself, you deserve it!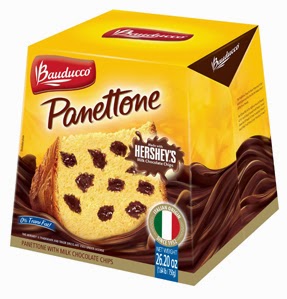 La Diva's Decadent Panettone French Toast with Fresh Orange Sauce
Serves 4, double for 8
1 x 26.60 oz/750 g Italian Panettone (with chocolate chips)
4 eggs
1/8 c cream
1 t vanilla extract
1 t butter
1 t vegetable oil
butter for serving
Remove panettone from plastic wrap and remove all paper from sides and bottom.  Cut the panettone into half.  Set aside one half.  Cut in half vertically again.  Starting at the bottom of each quarter, cut into 1/2 inch slices, you should get six slices out of each quarter.
Mix eggs, cream and vanilla in a shallow bowl.  Heat up fry pan with 1 t butter and oil until melted.  Dip panettone into egg mixture and then add to pan.  Fry until golden on both sides, dot with butter and keep warm until all pieces are cooked and ready to serve.
Serve with orange sauce and pork apple sausage.
 Fresh orange sauce:
3 large navel oranges
1/8 c sugar
1 t butter
Peel all skin and pith away from oranges and section each orange, leaving skin.  Squeeze the juice from the orange skins into a small pot.  You should have about a quarter of a cup.  Add the sections of one orange to the pot, reserve the rest.  Bring to a boil and add butter and sugar, reduce heat and simmer for 15 minutes.  Orange sauce should be reduced into a thick, chunky syrup.  Add rest of the orange sections, allow to warm briefly and take off heat until ready to serve.  Spoon over French toast.
Orange sauce may be made up to a day ahead, add fresh orange sections and re-heat on the day of serving.
 La Diva's Pork Apple Breakfast Sausage
Serves 4, double for 8
1/2 lb. ground pork
1/2 lb. regular pork breakfast sausage* (in bulk)
1 small apple, grated
1 small onion, grated
1 T brown sugar
1 t dried sage
1/2 t poultry seasoning
1/4 t dried thyme
1 t kosher salt
1/2 t freshly ground black pepper
1/4-1/2 t red pepper flakes
Vegetable oil for frying
Mix all ingredients together and form small patties, about 2 ounces each.   You should have about 9-11 patties.   Place patties on plate on parchment paper to reduce sticking.  Sausage can be made a day ahead until this point.  Cover with plastic wrap and refrigerate.
Heat up a large fry pan and coat the bottom with oil over a medium flame.  When pan is hot, cook sausage until brown and caramelized on one side, about 1 1/2 minutes.  Flip over and continue cooking 1 1/2 minutes more, take off heat and put on plate with paper towel.  Rest meat for 30 seconds and serve.  Enjoy with panettone French Toast!
* I've found my local grocer has cut the fat in the ground pork they sell, creating a very dry sausage.  If you grind your own meat or go to a butcher, grind the pork with a higher fat content and then you won't need the breakfast sausage, simply double the amount of ground pork.
Darlings, I hope you enjoyed my photo journey through Breakfastland!  And if you want to see ALL of the creative creations of our crew, please come back in a few days and I will post the link!
What is YOUR favorite breakfast, darlings?  Tell La Diva all about it!
Ciao for now!
Originally posted 2014-04-26 18:02:00.