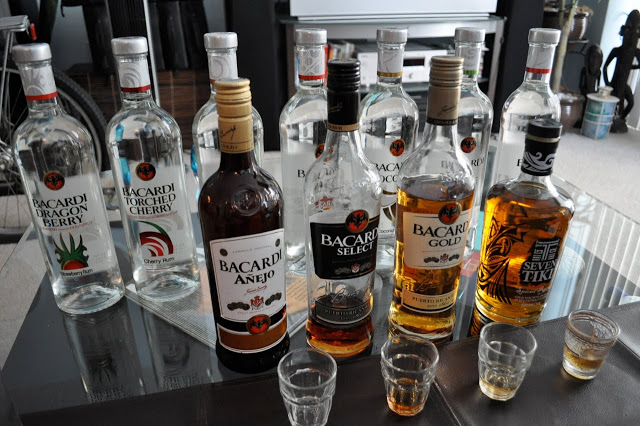 Guess which rum was Diva's favorite? Can you tell?
Darlings! A few weeks ago, La Diva was about to head off to the pool to do laps when my phone rang. Not recognizing the number, I let it go voice mail, and continued down to do my workout. Upon my return, I checked the message, and to my surprise, found it was from a deliveryman wanting to confirm my address for a liquor delivery.
To my knowledge, La Diva had no deliveries coming. I called the deliveryman and was told he had a case of Bacardi rum in assorted flavors to deliver to me and wanted to confirm my address.
I hurriedly gave him my address realizing at once that an industry compatriot who works for Bacardi was most likely behind this surprise package. I had recently written him to tell him that I was still experimenting at perfecting my cherry basil mojito using Bacardi white rum.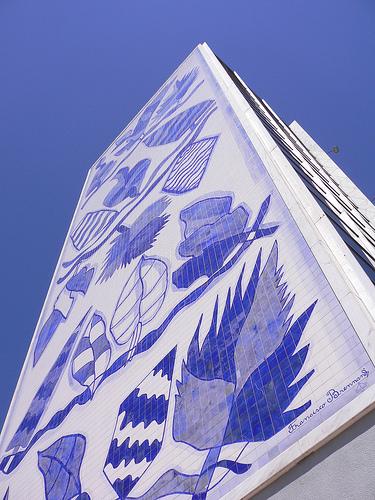 One of the historic Bacardi buildings of Bacardi USA Headquarters in Miami.
The package arrived an hour later and, yep, there was an entire case of rum just waiting for La Diva to experiment with! I checked out the selection and was delighted to find interesting new flavors as well as premium rums including Anejo and Select. La Diva was mighty pleased! Now, all La Diva had to do was to "stash" the goods in a secret hiding place until I returned from my holiday in Detroit as I was leaving the next morning!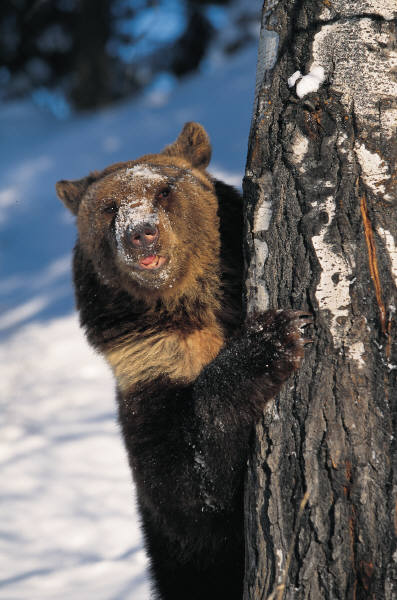 Would you trust this thirsty bear to not drink an entire case of your rum while you were away on holiday? Diva didn't either!!!
When I got back ten days later, La Diva was eager to share the prize with her fave bearman and deejay, DJ Nevah L8 (4 dinnah!) When I showed him the case of rum, he almost fainted. I told him that a tasting was in order and he quickly agreed, running to the kitchen to get shot glasses.
Here are my tasting notes:
Bacardi Anejo: Pale golden color with a smooth taste, though quite strong, it is a delicious premium rum. The Bacardi website says the anejo is "mixable" but we enjoyed it alone over ice.
Bacardi Gold: La Diva is very, very familiar with this golden rum and has used it for years for a more rich, sugarcane flavor in cocktails. I found the taste to be very similar to the anejo, smooth and strong, but would use this for cocktails when a darker, full-bodied rum flavor is required.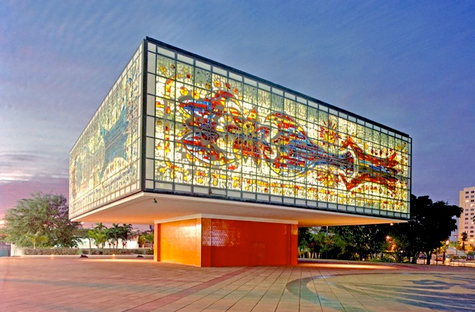 The other groovy building of Bacardi USA Headquarters in Miami. For more info on the history and preservation of the buildings, you can click HERE.
Bacardi Select:
This dark and sultry rum was definitely
my favorite
amongst the premium rums. I prefer to slowly sip it over one ice cube like a good single malt scotch. I imagine this to be an excellent cooking rum in desserts as well and had dreams of using it for Bananas Foster. I say IMAGINE because we are already on our second bottle and have yet to do anything with it besides drink it over ice!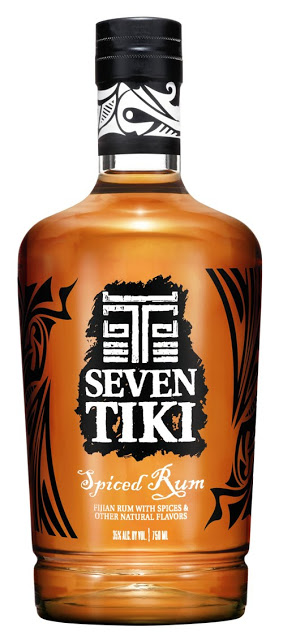 Bacardi Seven Tiki Spiced Rum:
This was La Diva's second favorite as this smooth and oh-so-mixable Fijian rum exuded flavors of vanilla, nutmeg and other spices. While La Diva and the DJ were so very happy to drink this mellow, slightly sweet and flavorful rum on its own, I am certainly looking forward to creating a cool cocktail with it soon. Any suggestions, darlings?
And now, on to Bacardi's flavored rums made with real fruit essences and natural flavors and of course, premium Bacardi rum.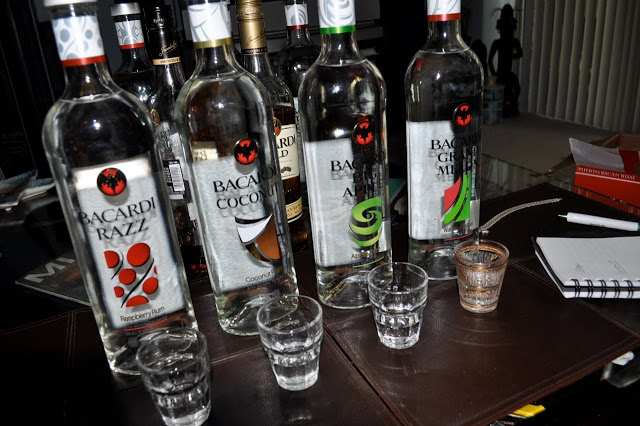 You can check out all the Bacardi flavors and recipes by clicking HERE
Bacardi Razz: I think that this flavor, along with the Limon and Orange, has been out for a while now. While this rum had a good raspberry flavor, I personally found it to be too sweet for my palate. I think the Razz would make an excellent flavoring agent in cocktails and would be refreshing with just soda or tonic water.
Bacardi Coconut:
La Diva liked this rum A LOT. Unlike other coconut rums, this was not sickly sweet and exuded flavors of a true, natural coconut,
not
a chemical fake coconut taste. La Diva CANNOT WAIT to try this in my coconut mojito and other tropical concoctions. Highly recommended for cocktails!
Bacardi Big Apple:
Another rum flavor La Diva believes is targeted towards the younger set….and has the sour green apple flavor we have come to know from the apple martini craze a few years back. If you like that taste, you will love this. I did not. But, do you think that will stop La Diva from finding a way to USE it and LIKE it? Hell no! Perhaps mixing with a liqueur or another flavored rum would do the trick? We'll see, La Diva will keep you posted!
Bacardi Grand Melon:
Now even though I found this rum to be sweet, I DID like the excellent honeydew melon flavors. Not too chemical or fake, I found the rum to be a more natural melon flavor and definitely not sickly and syrupy like Midori. Definitely could mix some fun cocktails with this rum.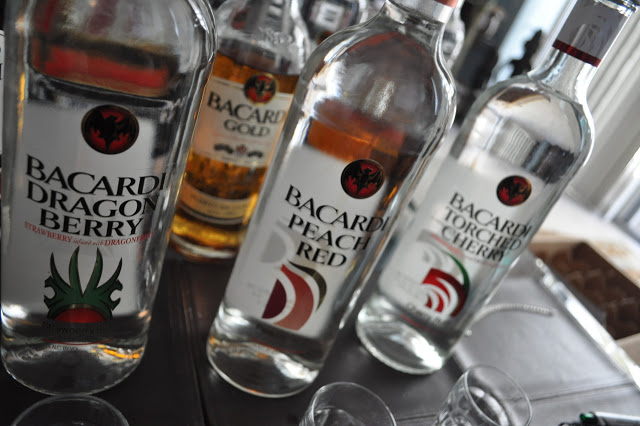 Bacardi Dragonberry:
The bottle says that the rum is flavored with the exotic dragonberry and strawberries. Now, La Diva isn't quite sure
what
dragonberry tastes like but have read it's a cross between kiwi and pineapple. However, all I could taste with this rum was a strong and sweet strawberry taste. This rum would be great for mixing with cocktails but as a stand alone or with soda, it's a bit too sweet for me. And now that I think about it, it might make a good base for a summertime fruit punch. For more Dragonberry recipes, click
HERE.
Bacardi Torched Cherry:
The label says Barbados cherry and torched aloe. Um yeah, what the heck IS "torched aloe?" Eeek! I've only had regular aloe juice and it was not very memorable. Bloody marketing department taking liberties again! And, La Diva is not usually a fan of cherry flavor unless it's real, natural cherry flavor. However……I loved this burnt cherry rum and found it solved my cherry basil mojito challenges!
I had come up with the idea of a cherry basil mojito a few months back and was damn determined to perfect the concoction as I just KNEW it would be a complimentary combo. But while La Diva tried using real cherries, frozen cherries, cherry preserves and basil sugar syrup to create a tasty cherry basil mojito, none of them was quite right. One of the problems was that the flavor of limes in the mojito was overpowering while the lack of lime juice left the cocktail without any depth or anywhere near being a mojito. With the cherry flavored rum, my problems were solved. I simply muddle a few basil leaves with sugar and ONE lime wedge, added 1.5 ounces of the torched cherry rum and topped with soda. Voila! Cherry basil mojito!
Of course, this cherry rum was delicious with coke! For more Bacardi Torched Cherry recipes, click
HERE.
And finally, Bacardi Peach Red: Another La Diva favorite and a rum that "tricked" me into liking it! Like cherry, I find true peach flavor to be elusive in flavored liquors. But, LA DIVA DID LOVE THE PEACH RED. I wouldn't say it was a natural peach flavor and though sweet, I really enjoyed the flavor of this rum anyway. I immediately concocted a delicious and refreshing summer cocktail with it:
The FUZZY ROJO!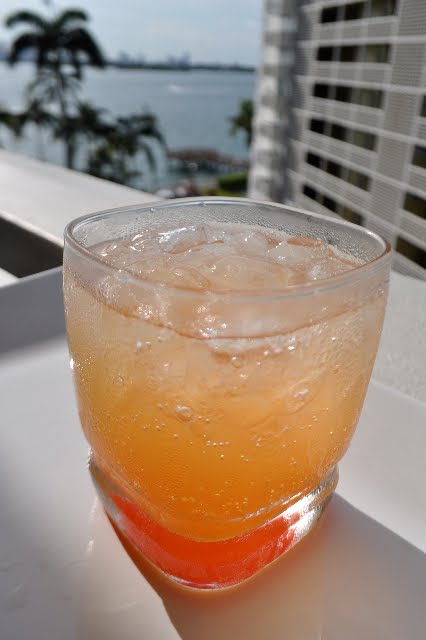 La Diva's peachy cocktail: The Fuzzy Rojo! Summery and delicious without being too sweet.
La Diva's Fuzzy Rojo:
1.5 oz. Bacardi Peach Red rum
ginger beer
dash peach nectar
dash grenadine
In a rocks glass full of ice, add the rum and then a dash of grenadine (for color) Now add a good dash of peach nectar (1/2 oz.) and then top with ginger beer. Garnish with peach slice and enjoy!
The Bacardi flavored rum range is an excellent way to make fun and flavorful cocktails without adding fruit puree or flavored sugar syrups, a time AND money saver. While I found some flavors to be more natural tasting than others, and some to be more sweet and "girly," I think that all of the flavors can be used in myriad ways to create delicious drinks for summertime or anytime, really.
La Diva gives the Bacardi rums a HUGE THUMBS UP and is highly appreciative of the generosity of her Bacardi buddy Billy! Cheers and ciao for now, darlings!
Do YOU want to learn to make cocktails like a professional mixologist? La Diva teaches bartending tricks and more at her small bites, BIG DRINKS cooking and cocktail classes! Click HERE for more info!
cooking class, cocktails, parties, cocktail party, Miami, coral gables, events, bartending class, cocktail class, Laura Lafata, Miami Beach, miami cooking classes, bachelorette parties, bachelorette party, personal chef, corporate events, catering, personal chef, party entertainment, www.ladivacucina.com, top chef, next food network star
Originally posted 2010-08-06 17:33:00.