Hello Kitty celebrates her 50th birthday with a party and a pop up gallery in Miami for Art Basel 2010!
Darlings! December brings the Silly Season to all but to La Diva and other art lovin' Miamians, it brings the fabulastic ART BASEL and it's La Diva's favorite time of the year! Art Basel Miami is the most important (and largest!) art event in the country and is a sister event to Switzerland's prestigious Art Basel. For one week, the city of Miami is FLOODED with artists, art dealers, collectors, pick pockets, grifters, tourists, freeloaders, hipsters, drunks, prostitutes and art lovers all coming together to create a fun and culturally stimulating vibe to our Magic City!
I am La Diva and I will be your hostess guiding you through this week's magic and madness!
F

irst things first, La Diva made a BEELINE for the new Christian Louboutin store in the Design District. Well, it was RIGHT THERE, after all! Was I meant to just walk right by?!
Not much cushioning for the ball of the foot but these sure are purdy!
| | |
| --- | --- |
| | |
| | Well, what is THIS?! ANOTHER shoe store? FABULOUS! Must investigate! |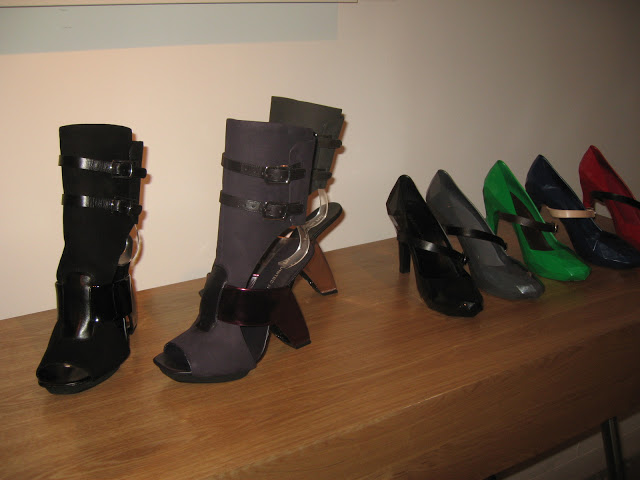 Those cool faceted shoes on the right are made of plastic fantastic! (wonder how comfy they'd be?)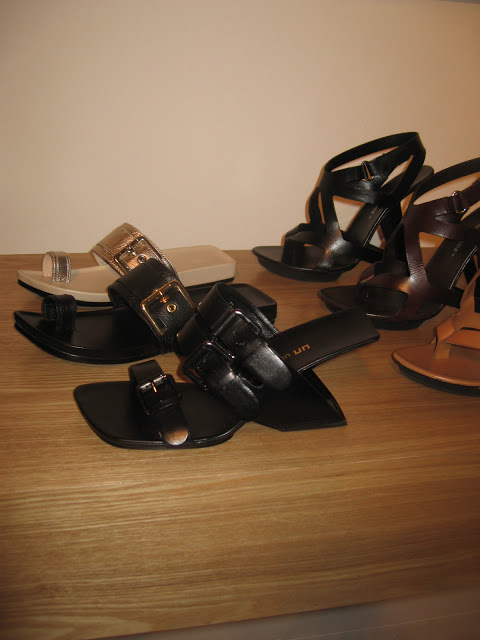 Yep, those sandals in the front have La Diva's name ALL OVER THEM!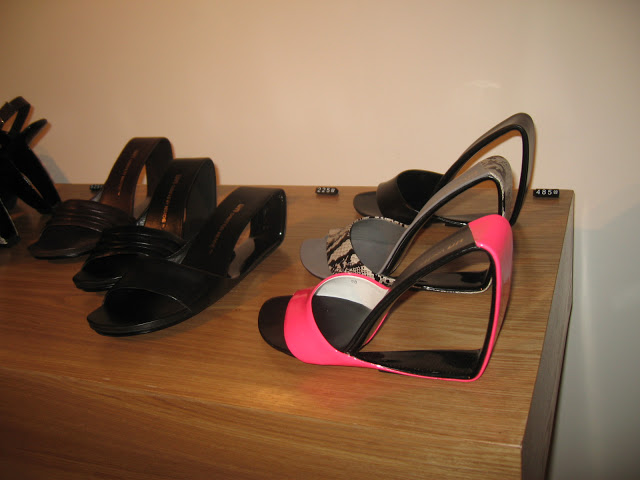 Patience, dear heart, we will get to more traditional forms of ART shortly……but in the meantime, AREN'T THESE BADASS?!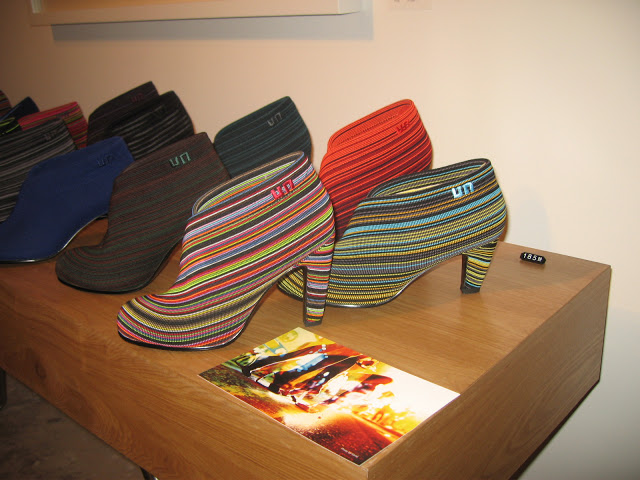 What color would YOU pick?! WANT.
Well, it was time to meet hubby and hit the home design shops with Robert, our interior designer escort of
Bloom Interior Architecture
. We had fun traipsing around the beautiful design showrooms, imbibing in champagne and Art Basel chit chat, but the time had come to go to the Hello Kitty opening night party!
The party was jam packed with hipsters and Hello Kitty fans!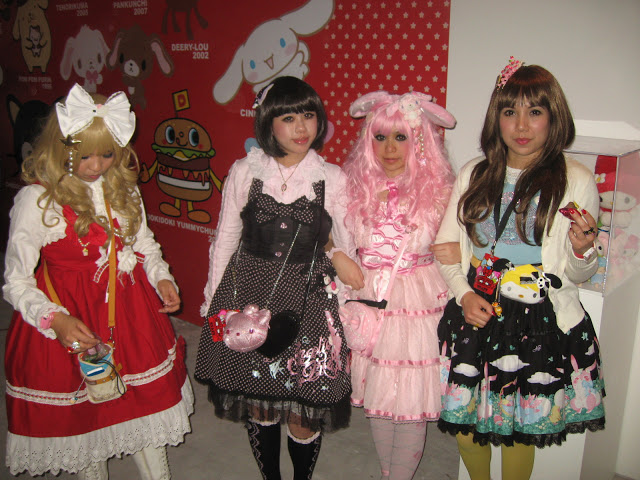 Of course, no Japanese art exhibition would be complete without the
Harajuku girls!
Kuromi is a La Diva fave!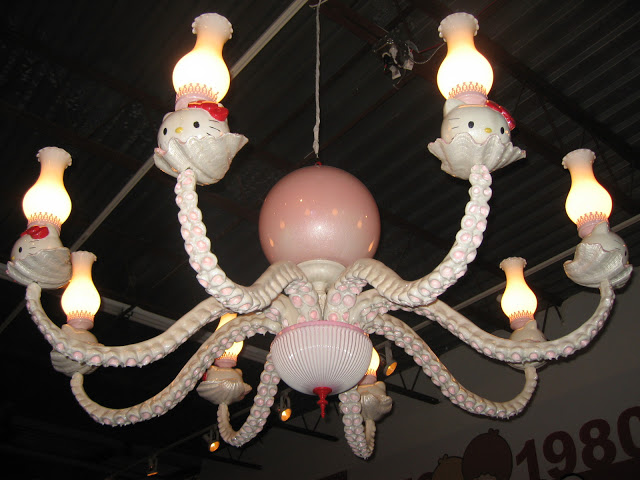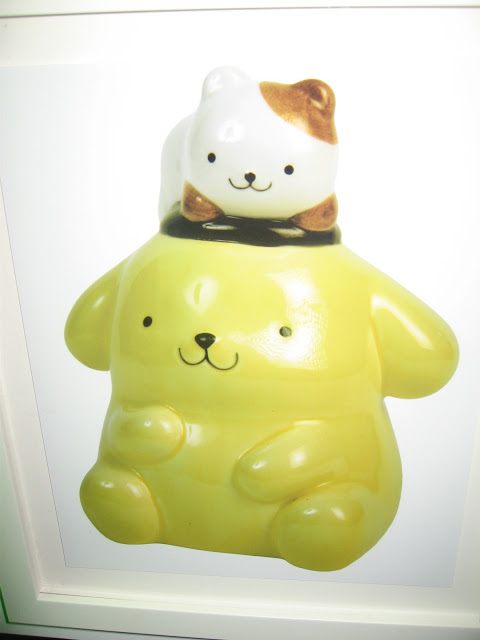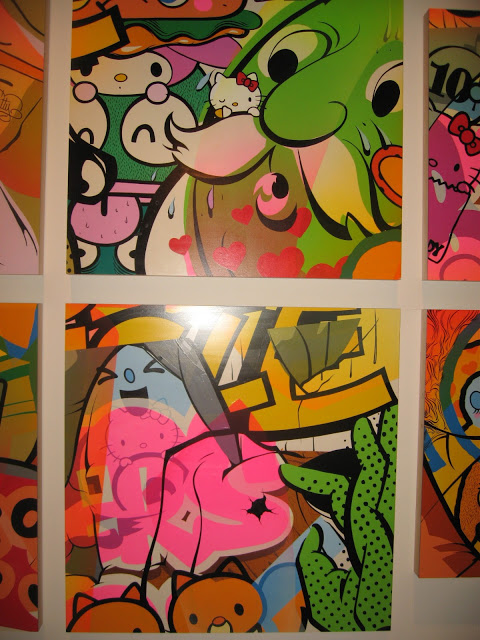 This was a cool series of paintings that covered one entire wall and was not to be broken up but sold as an entire piece.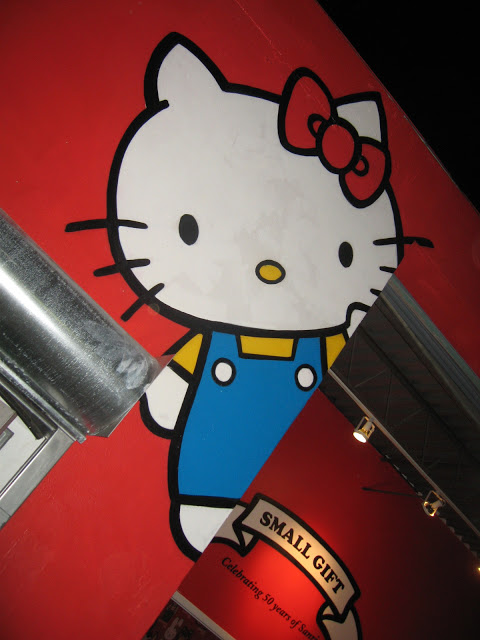 Speaking of "small gifts" the Hello Kitty store was so packed that we had to queue (much to the chagrin of the DJ!) to get in. I bought some stickers but imagine the craptastic stuff to spend your money on!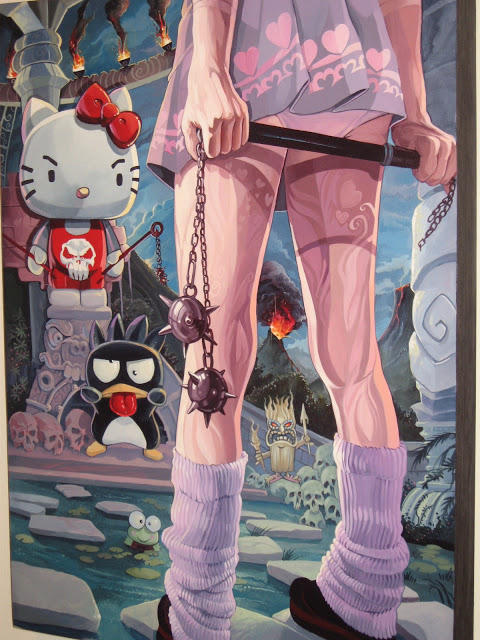 Many artists, including RAW comix icon Gary Panter and Mark Mothersbaugh (lead singer of Devo), contributed to the show.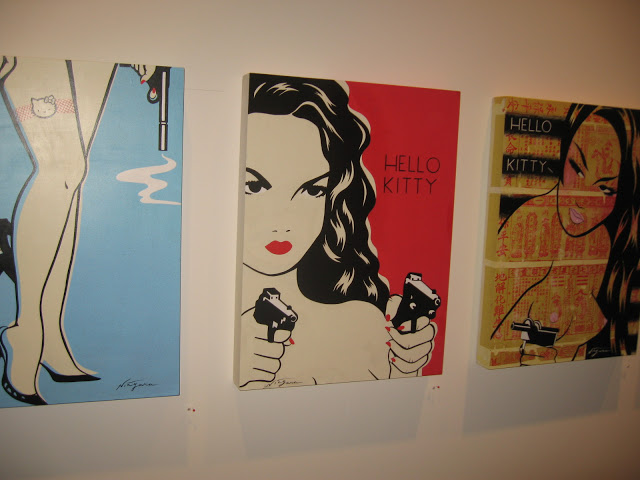 Feel free to click on any photo to enlarge and see more detail.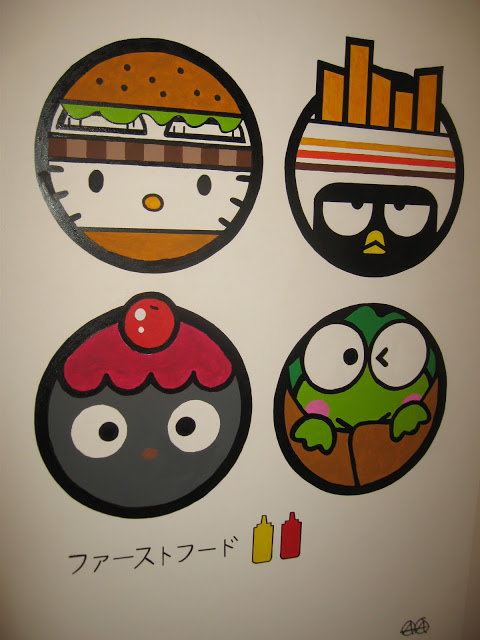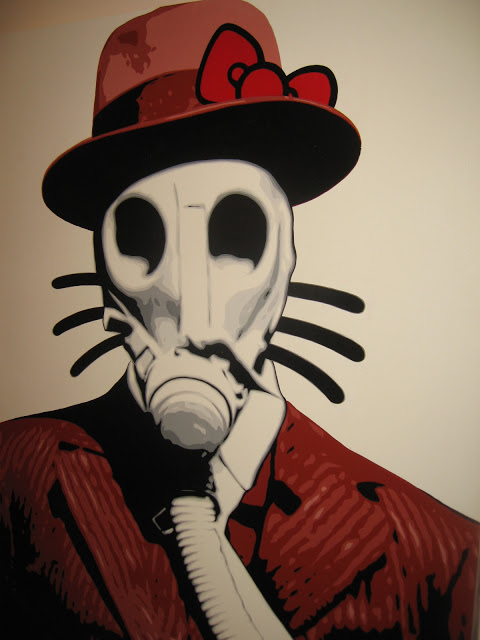 Dark.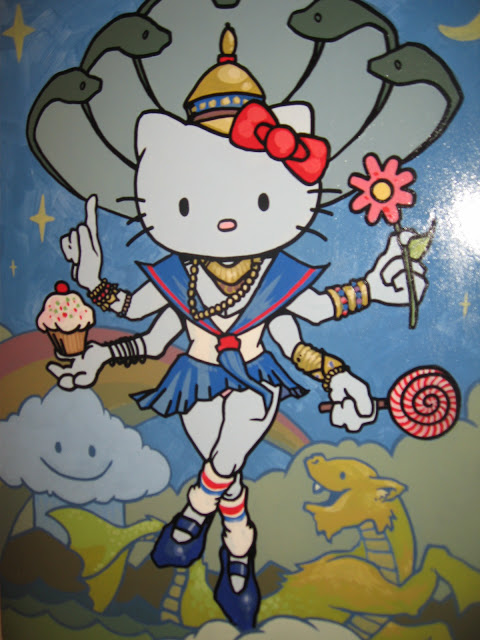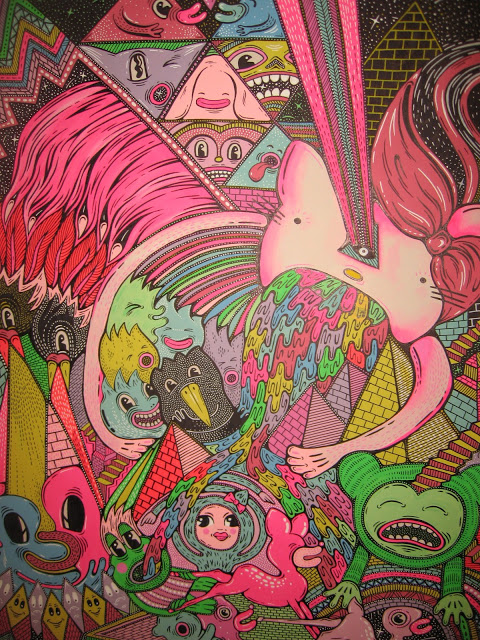 Shades of Keith Haring?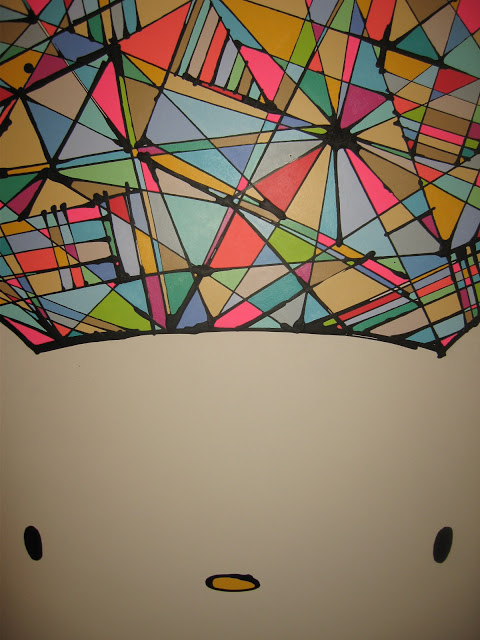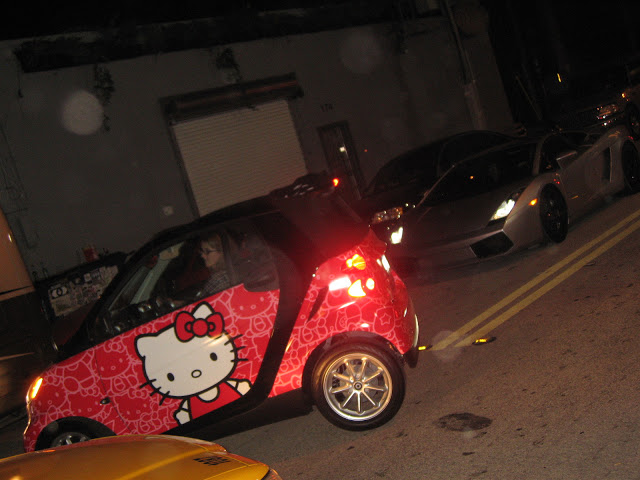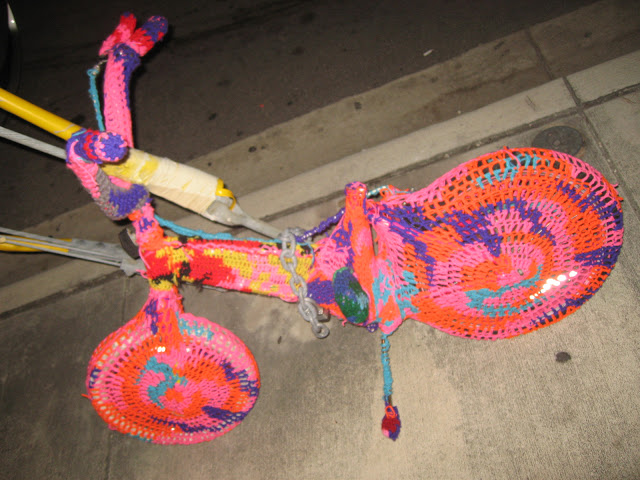 Sometimes the best stuff is on the streets and out of the galleries!

Crocheted bicycle chained to pole.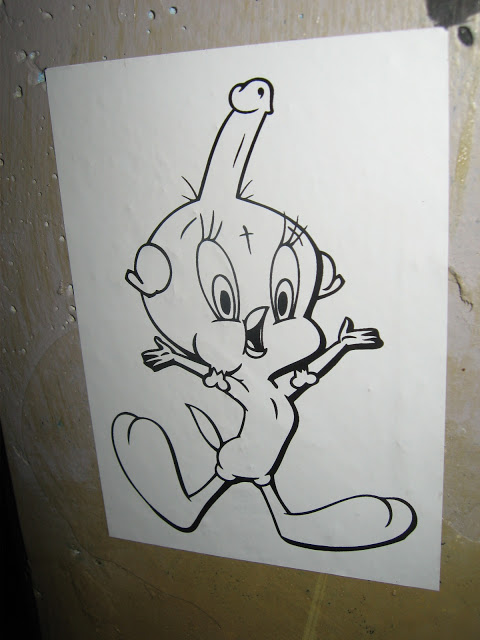 Poster outside of Hello Kitty gallery pasted on pole. Weird and funny!
Darlings, did you enjoy your little tour of Art Basel and Hello Kitty's birthday bash? I thought you would! The Hello Kitty gallery is open every day of the festival and you can learn more about it by clicking HERE.
There is more to come, darlings, so stay tuned! Ciao!
cooking class, cocktails, parties, cocktail party, Miami, coral gables, events, bartending class, cocktail class, Laura Lafata, Miami Beach, miami cooking classes, bachelorette parties, bachelorette party, personal chef, corporate events, catering, personal chef, party entertainment, www.ladivacucina.com, top chef, next food network star

Originally posted 2010-12-03 16:02:00.