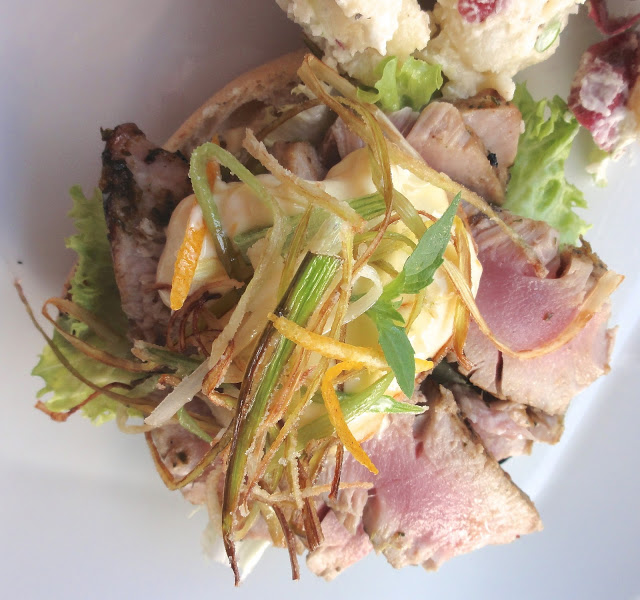 Basil, Cilantro and Preserved Lemon Chermoula marinated and grilled Tuna with Meyer Lemon Mayonnaise on Ciabatta with Frizzled Leek Garnish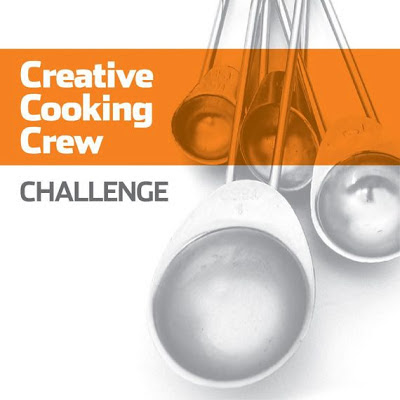 Darlings!
 Lazaro Cooks,
one of the heads of Creative Cooking Crew came up with an inspired theme for April's challenge:
"Build a sandwich around three ingredients that start with the letters…
B.L.T.
Obviously something other than Bacon, Lettuce & Tomato.  Other ingredients can be used but like our last challenge, the sandwich should be built aroud three ingredients that start with the letters BLT.
Like Beet, Leek & Tarragon…though probably not a tasty sandwich.
Any kind of sandwich, any kind of bread and of course creative takes on what a "sandwich" actually is welcomed."
Yeah, well you KNOW La Diva lurves a good, substantial sammie!  I instantly thought of tuna and formulated my ingredients based on the steak-like protein.
B?  L?  T =  TUNA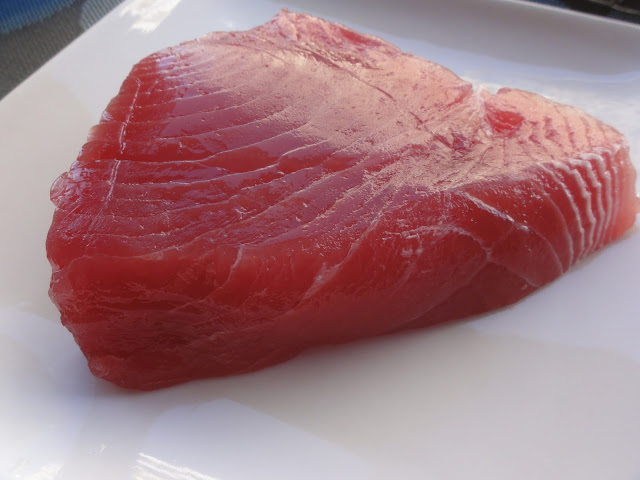 What a purdy piece o' fish!  This one piece of ahi tuna cost me $16, I better not screw it up!
For the B part of B.L.T.,, basil instantly came to mind.  But basil pesto?  BORING!  What else could I use for a basil flavoring?  I thought a basil based chermoula would do the trick.
A chermoula is a marinade used in North African cooking, mainly for fish, and usually includes fresh herbs, preserved lemon, cumin, onions and other herbs and spices.  It's tasty and divine, and lately, I've taken it a step further, using it like a salsa or chimichurri and serving it up with grilled steak and chicken.
MY chermoula included:  Lemon Basil, Basil, cilantro, Preserved Lemon, olive oil, smoked paprika and fresh garlic, but I omitted the cumin, I thought it would overpower the basil.  It was easy enough to make in the food processor and onto the tuna it went.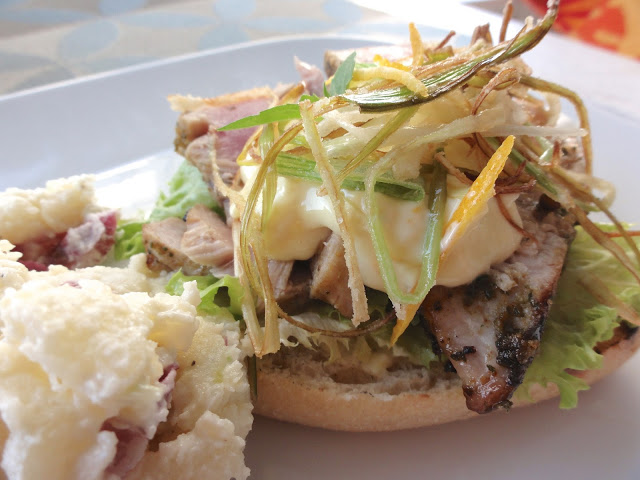 Now it was time to make my condiment:  Meyer Lemon Mayonnaise!  I made the mayo using my food processor and then added Meyer lemon juice and the grated peel from two lemons!  OH MY!  BOLD AND ZESTY!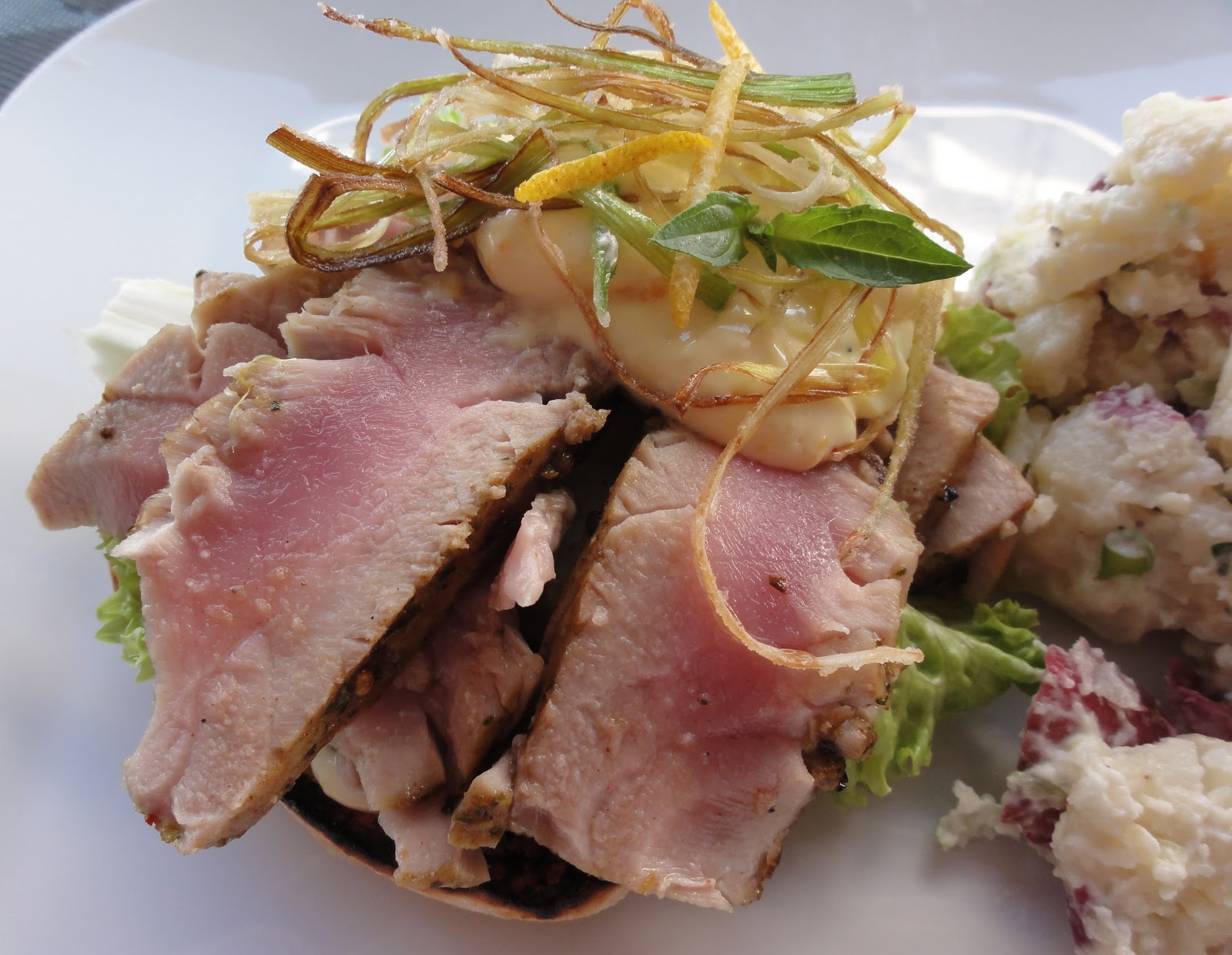 Now that I had my condiment, it was time to create my garnish of frizzled Leeks!  I cut the leeks into fine strips, washed and dried them thoroughly and then dusted them with salt and Wondra and quickly fried them in hot oil.  You have to be careful here, they burn and over cook very quickly!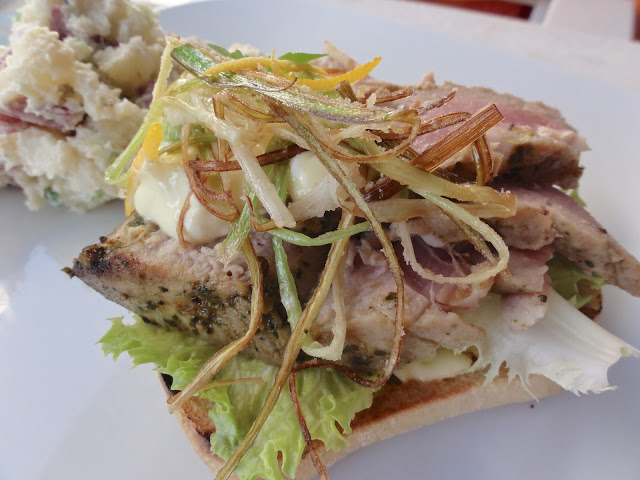 Finally, I grilled the Tuna to a lovely medium rare and toasted the ciabatta Bread and put it all together!  I served it up with my tangy, home-style, smashed red skin potato salad!
In spite of the flavor hit of the chermoula, over all, this was a mild and fresh-tasting sandwich.  The Meyer lemon mayo was an excellent foil for the quite bold flavors of the chermoula, which I drizzled over the tuna as well as used as a marinade.   With each bite, I would get a surprise hit of lemony, coriander seed or sharp, salty preserved lemon while the usually strong basil flavor  was subdued by the other herbs, lemon and garlic.
The tuna was cooked to perfection and I was pleased when I took a large, eager bite and tuna juice mingled with the mayo and dripped on to my plate.  The leeks, however, were a bit insipid beneath all the robust flavors in the chermoula and mayo, so maybe next time I'd cut them thicker and actually batter them or HELL, just put some onion rings on the darn thing!  A lack of crunch was my only tiny criticism, the freshness of the ingredients combined with the multitude of flavors were really delicious!  A WINNER!
There will be a round up in the next few days and I'll add the link so YOU can see all the super-creative entries!  As per usualy, the Creative Cooking Crew will NOT disappoint!
HERE IS THE LINK FOR THE ROUND UP, CHECK IT OUT!
So, what would YOU make for YOUR NOT-A-B.L.T. sammie?  Do tell, La Diva wants to hear all about it!
Ciao for now, darlings!
Originally posted 2013-04-26 12:32:00.