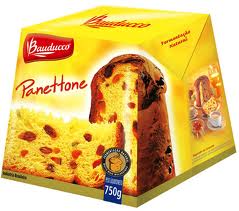 La Diva's Decadent Panettone French Toast with Fresh Orange Sauce
Serves 4, double for 8
1 x 26.60 oz/750 g Italian Panettone (with raisins)
4 eggs
1/8 c cream
1 t vanilla extract
1 t butter
1 t vegetable oil
butter for serving
Remove panettone from plastic wrap and remove all paper from sides and bottom.  Cut the panettone into half.  Set aside one half.  Cut in half vertically again.  Starting at the bottom of each quarter, cut into 1/2 inch slices, you should get six slices out of each quarter.
Mix eggs, cream and vanilla in a shallow bowl.  Heat up fry pan with 1 t butter and oil until melted.  Dip panettone into egg mixture and then add to pan.  Fry until golden on both sides, dot with butter and keep warm until all pieces are cooked and ready to serve.
Serve with orange sauce and pork apple sausage.
 Fresh orange sauce:
3 large navel oranges
1/8 c sugar
1 t butter
Peel all skin and pith away from oranges and section each orange, leaving skin.  Squeeze the juice from the orange skins into a small pot.  You should have about a quarter of a cup.  Add the sections of one orange to the pot, reserve the rest.  Bring to a boil and add butter and sugar, reduce heat and simmer for 15 minutes.  Orange sauce should be reduced into a thick, chunky syrup.  Add rest of the orange sections, allow to warm briefly and take off heat until ready to serve.  Spoon over French toast.
Orange sauce may be made up to a day ahead, add fresh orange sections and re-heat on the day of serving.
 La Diva's Pork Apple Breakfast Sausage
Serves 4, double for 8
1/2 lb. ground pork
1/2 lb. regular pork breakfast sausage (in bulk)
1 small apple, grated
1 small onion, grated
1 T brown sugar
1 t dried sage
1/2 t poultry seasoning
1/4 t dried thyme
1 t kosher salt
1/2 t freshly ground black pepper
1/4-1/2 t red pepper flakes
Vegetable oil for frying
Mix all ingredients together and form small patties, about 2 ounces each.   You should have about 9-11 patties.   Place patties on plate on parchment paper to reduce sticking.  Sausage can be made a day ahead until this point.  Cover with plastic wrap and refrigerate.
Heat up a large fry pan and coat the bottom with oil over a medium flame.  When pan is hot, cook sausage until brown and caramelized on one side, about 1 1/2 minutes.  Flip over and continue cooking 1 1/2 minutes more, take off heat and put on plate with paper towel.  Rest meat for 30 seconds and serve.  Enjoy with panettone French Toast!
© La Diva Cucina Inc.
Originally posted 2013-09-01 20:39:15.