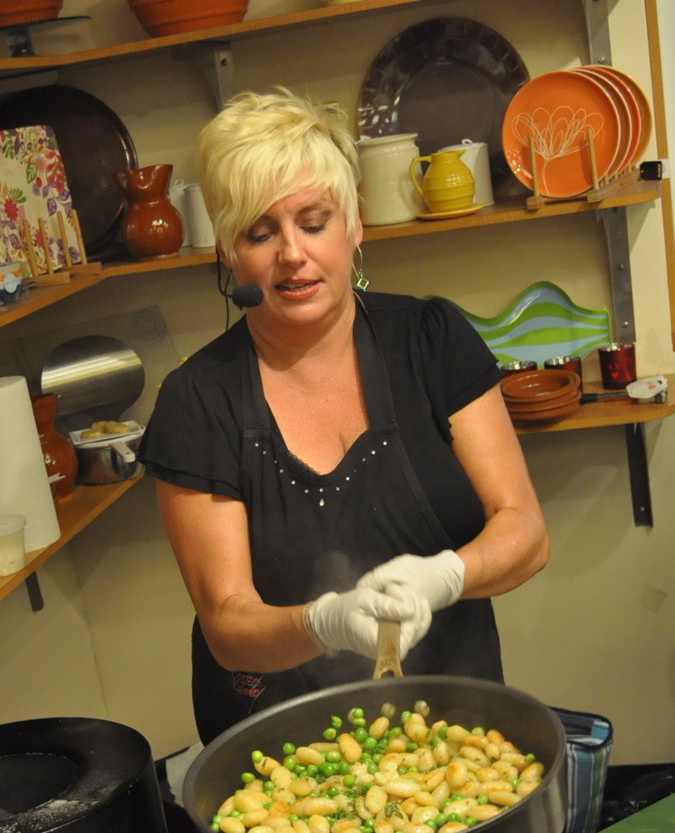 Pan frying gnocchi adds a bit of texture and uniqueness to a delicious and fresh-tasting dish.  A perfect dinner to serve your guests any time of the year!
Serves four large mains or six small ones
1 1lb. package gnocchi
1 cup ricotta cheese
1/2 lb. pancetta, small dice
2 small zucchini, cut into small batons
1 cup fresh peas, blanched
1 clove garlic, minced
1 T fresh marjoram, leaves chopped and stems removed
1/2 cup shaved parmigiano cheese
1 T butter
olive oil
salt and pepper
Method:
Bring a large pot of salted water to boil.  Once boiling, carefully add gnocchi and reduce heat to medium high.  Cook as per directions, drain and then rinse in cold water, drain again.  RESERVE ONE CUP COOKING WATER.
Meanwhile, in frypan, heat up a small amount of olive oil and add pancetta.  Cook over medium heat until completely cooked and crisped, about 5-8 minutes.  Remove from pan and set aside.  Drain off all oil but retain one tablespoon.
Blanch shelled fresh peas in boiling, salted water for three minutes.  Drain, refresh in cold water, drain and set aside.
Cut zucchini into small batons, about the same size as the gnocchi. Heat fry pan with pancetta oil and cook zucchini until golden brown but crisp tender.  Lightly salt.  Do not over cook.  Remove from pan and set aside.  Clean out pan.
Heat butter and oil in a frying pan.  When hot, add gnocchi and fry until the dumplings begin to turn golden, about five minutes.  Add garlic, peas and marjoram, stir and cook for one minute.  Add zucchini and pancetta, stir through.  Add ricotta cheese and stir through 1/3 cup cooking water to form a light sauce.  If you need more water, add it by 1/3 cup until sauce is a creamy consistency and ricotta cheese is melted.
Salt and pepper to taste, garnish with shave parmigiano cheese and serve immediately.
© La Diva Cucina Inc.
Originally posted 2013-09-12 14:40:53.