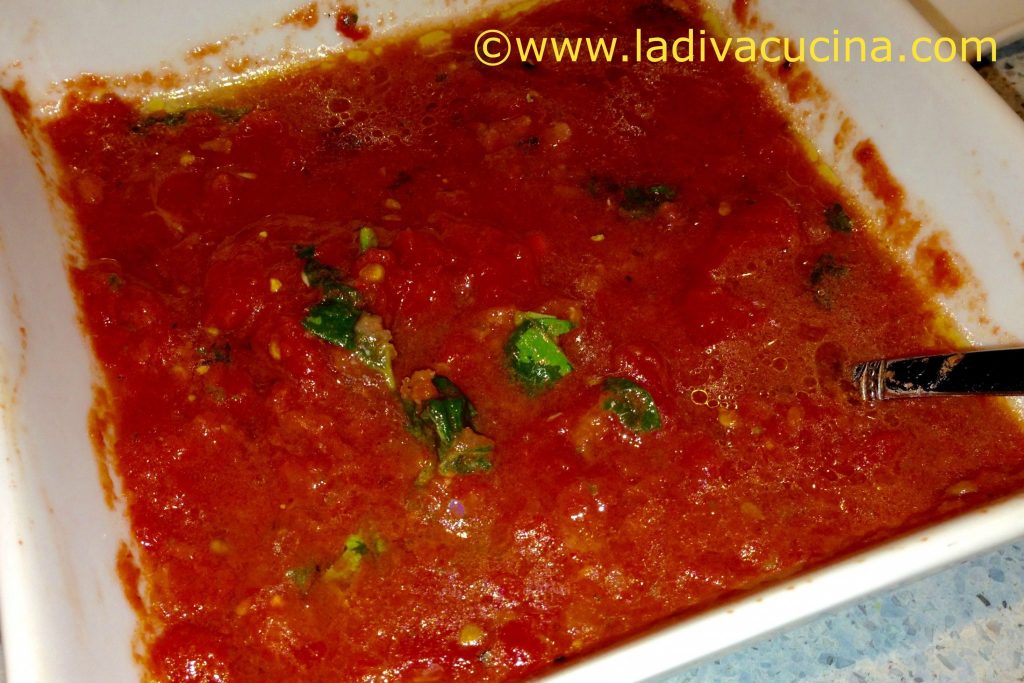 This is an Italian-American dish that originated in Sicily and then came to Detroit through Italian immigrants who settled there. It's made in numerous ways, including without tomatoes, but two aspects remain constant: It's always served at room temperature and it's served over meat, chicken or fish but most typically beef.  I grew up eating it abundantly spooned over thinly pounded round steak breaded in seasoned crumbs and broiled.   Delizioso!
I'm pretty certain that this versatile sauce could be used to add flavor for a variety of dishes like breaded chicken cutlets, grilled swordfish and eggplant. A word to the wise: Make extra, you'll want to eat this sauce again the next day! (and  next week I'll have another recipe for you on how to use it!)
Ciao for now,
La Diva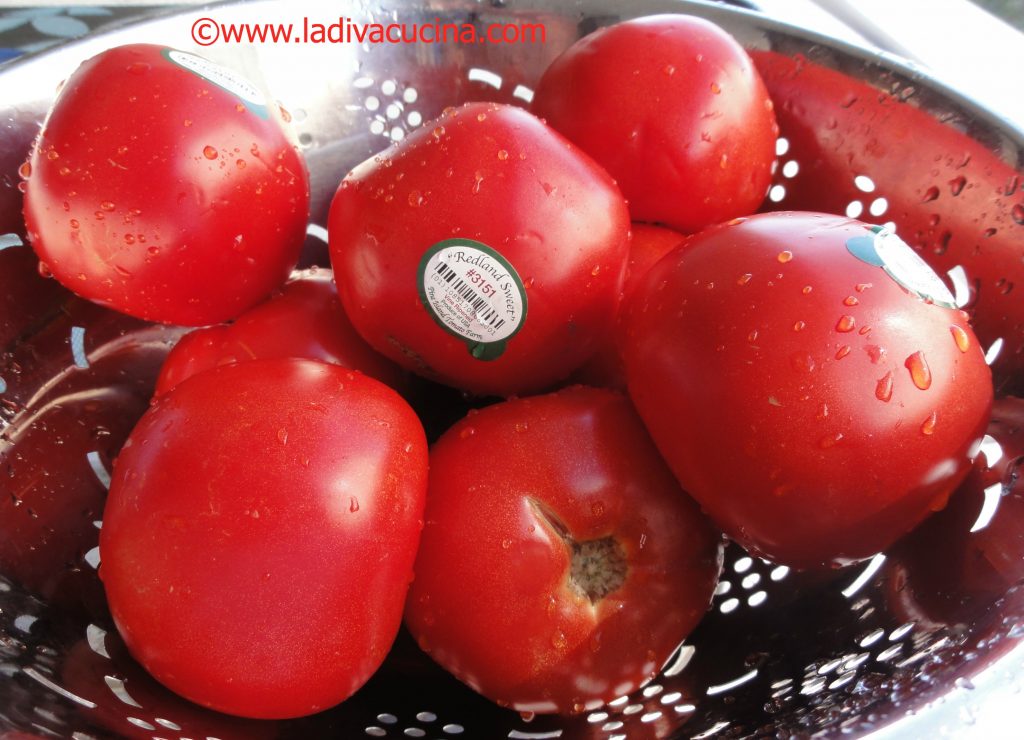 NO-COOK Tomato Dishes: Tomato Ammoglio Sauce
Author:
Prep time:
Total time:
Ammoglio or "moigu" as it's called in the Detroit area, is a summertime favorite. Simple, delicious and incredibly versatile, this sauce can enhance grilled meats, breaded steak or chicken, fish and vegetables. Make sure you use the freshest and ripest, most fragrant tomatoes you can find!
Ingredients
2-3 large ripe tomatoes
2 cloves garlic, peeled
3 tablespoons of fruity extra virgin olive oil
6 large basil leaves
Sea salt and freshly ground black pepper
Instructions
Prepare an ice bath in a large bowl.
Boil a large pot of water.
With a paring knife, cut an "x" into the bottom of each tomato.
Put the tomatoes into the boiling water for one minute.
Remove tomatoes and plunge into the ice bath.
Peel the tomatoes, set aside
In a mortar with pestle, add one tablespoon of the olive oil.
Add garlic and a bit of salt and smash together with oil into a paste.
Add the basil leaves and pound lightly to release the oils and flavor.
Cut the tomatoes in half and squeeze out the seeds into the trash.
With clean hands, crush the tomatoes over the mortar.
Add the rest of the tomatoes to the mortar and smash, leaving the tomatoes pulpy.
Add salt, pepper and the rest of the oil. Adjust seasonings as needed.
Put the sauce into a glass bowl, cover and refrigerate for two hours for flavors to meld.
Let the sauce come to room temperature before serving.
Originally posted 2015-08-10 19:31:29.