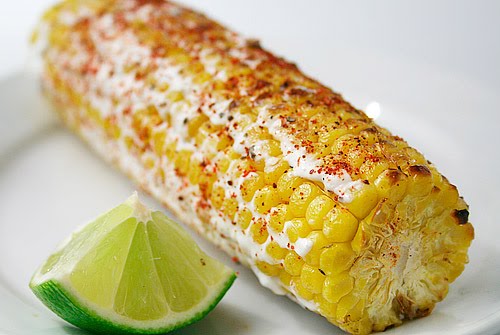 When La Diva lived in Chicago, I would remember listening to the street vendors ringing bells like the ice cream man except they would walk through the neighborhood streets with small carts hawking delicious Mexican corn slathered in mayonnaise, lime juice, salt and chile powder! Divine!
Darlings! It all started with a sandwich challenge and a gift box of corn.
Intuitive Eggplant
was lucky enough to get a lovely box of sweet and succulent Iowa corn from her sister. Inspired by a post from fellow blogger
DoggyBloggy at ChezWhat?,
Eggy decided to try her hand at making Mexican corn.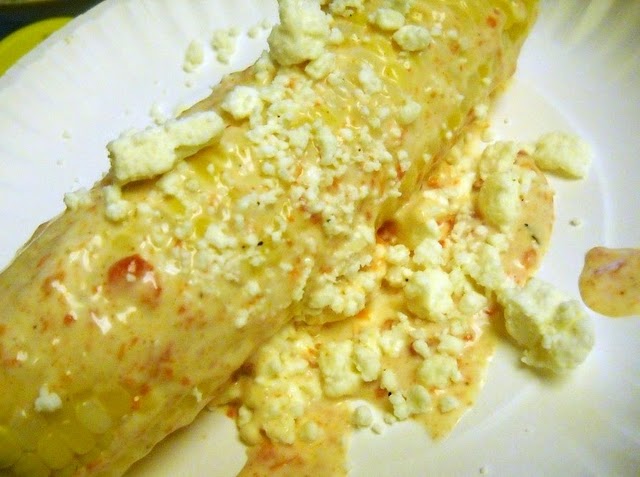 This is what she came up with: fresh Iowa corn slathered in a sauce made with mayonnaise, lime, salt and roasted red peppers. Being the thrifty and resourceful cook she is, Eggplant used the feta cheese in her refrigerator instead of the traditional Mexican cotija cheese. As you can see, the corn looks delicious.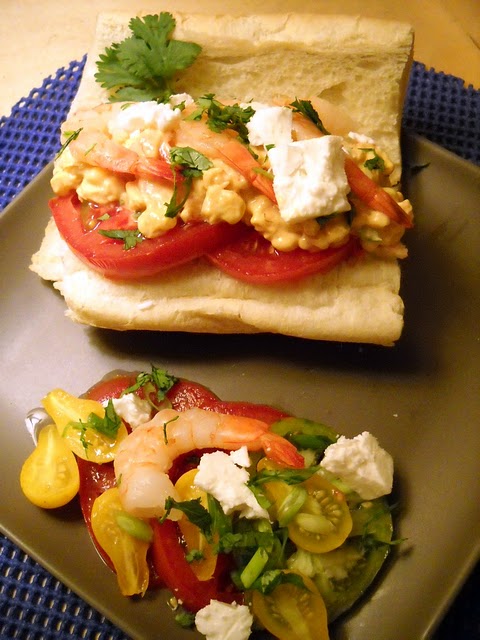 Eggy put the Mexican corn and sauce on a sandwich using shrimp, tomato and cilantro and then served an accompanying and refreshing shrimp and tomato salad.
In turn, this then inspired La Diva, DROOLING OVER THE PHOTO, to realize that I had all the ingredients for that lovely salad: Key West pink shrimp, feta cheese, cilantro, tomatoes and fresh Florida sweet corn. I would make that cooling combo for dinner that evening! Here's what I did:
La Diva's Blackened Shrimp and Corn salad with Spicy Cilantro Dressing!
Serves two main salad course with loads of shrimp!
Shrimp: Take one lb. of cleaned raw shrimp and dust with a combo of blackening seasoning and taco seasoning. (I used my own home made blend using a mix of Mexican chiles guajillo, piquin and chipotle chile powders) Heat grill and quickly sear shrimp on both sides, remove to plate.
Corn: Remove kernels from one fresh corn cob and steam. Allow to cool, set aside.
Salad: On two plates add a mix of freshly washed and cooled salad greens, one tomato de-seeded and cut into 1/8 lengthwise, sliced avocado, cooled corn and top with blackened shrimp.
Dressing:
In large, tall jug add:
1/2 cup cilantro, loosely chopped
juice of one lime
1 chopped jalapeno, seeds removed (if jalapeno is hot, use half)
1 clove garlic, chopped
3 T mayonnaise
1 T honey
salt and pepper to taste
Using an immersion blender, blend ingredients until smooth and frothy. Season to taste and drizzle over salads. Serve!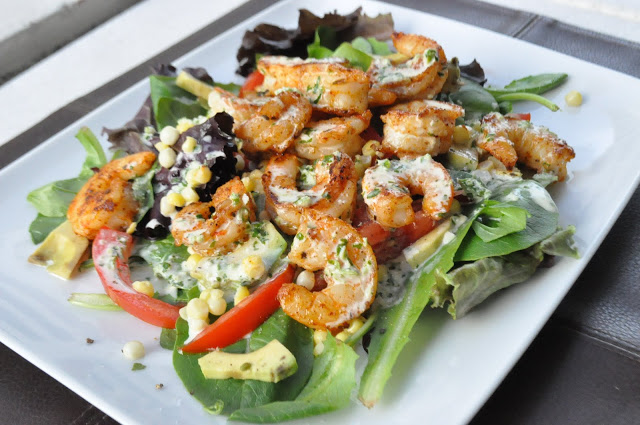 RESULT: Spicy, refreshing, filling and pretty darn delicious! Of course, I realized after DJ Nevah L8 took the photo that I forgot to add the feta cheese! It was not missed. The corn and shrimp, so very fresh, just pops in your mouth with juicy flavor and sweetness. The tomatoes and avocado counter the spicy heat of the shrimp. The dressing is bright and light, not too heavy, not too creamy and not too hot. A wonderful combination of flavors for a perfect late summer supper.
This just goes to show you how one simple ingredient (corn!) used in a dish (Mexican corn!) and one culinary challenge (Doggy's Battle Sandwich!) can go a long way to inspire La Diva and my foodie friends! What inspires YOUR dishes, darlings? Do you look longingly at food porn photos and try to recreate them at home? Do tell!
Ciao for now!
cooking class, cocktails, parties, cocktail party, Miami, coral gables, events, bartending class, cocktail class, Laura Lafata, Miami Beach, miami cooking classes, bachelorette parties, bachelorette party, personal chef, corporate events, catering, personal chef, party entertainment, www.ladivacucina.com, top chef, next food network star

Originally posted 2010-08-26 20:07:00.