Ahhhhh….darlings, it's so hot that La Diva has not been cooking hardly anything at all! In sticking with my promise of easy summer salads as main meals, here's a great recipe for a salad that
everyone
will love! Spicy barbecue chicken salad with a cool 'n' creamy avocado dressing…..mmmmmm…….
BBQ Chicken Salad with Creamy Avocado Garlic Dressing
Author:
Prep time:
Cook time:
Total time:
Tangy, spicy barbecue chicken and crisp vegetables sit atop a bed of greens and are drizzled with a decadent avocado garlic dressing. Cool, quick and delicious for hot summer nights!
Ingredients
2 boneless skinless chicken breasts
barbecue sauce
Rub spices: 1/2 cup brown sugar
1/2 cup white sugar
2 tablespoons paprika
2 tablespoons garlic powder
2 tablespoons chili powder
2 tablespoons cumin
2 tablespoons dry mustard
2 teaspoons salt
1/2 teaspoon black pepper
mixed greens
1/2 ear of fresh cooked corn, cut off the cob
jicama julienned
red pepper slices
red onion slices
celery sliced thin
carrots julienned
tomatoes
Creamy avocado garlic dressing: 1/4 ripe avocado
1 clove garlic
1 T mayo
1 T low fat or fat free Greek yogurt
1 T olive oil or canola oil
1 T white wine vinegar
1 T fresh lime juice
2-3 T milk (I used low fat)
salt and pepper to taste
Instructions
In a small bowl mix the rub spices.
Rub spices all over chicken breasts.
Grill and baste breasts with your fave sauce! (Bottle is fine, hey, it's HOT and it's SUMMER and that = convenience!)
Set aside to cool.
Go to beach.
Using two large dinner plates, add to a layer of mixed greens.
Add layers of veggies, equally divided among the two plates.
Cut chicken into slices and fan across top of salad and veggies.
Take avocado and garlic and put into jug to use with immersion blender.
Add all ingredients except for the milk and blend well.
Add milk by the teaspoonful until well blended and dressing can be easily poured.
Do not make too thin.
Drizzle dressing over salad and serve at once.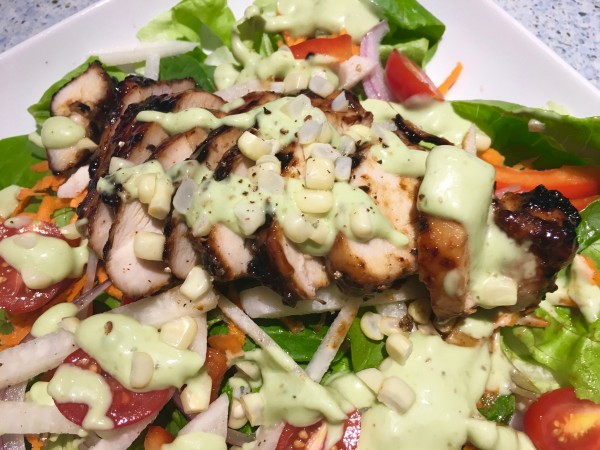 Result: Wow! One of La Diva's fave salads! The bbq chicken is slightly spicy and sweet and works great with the crunchy jicama and celery. The corn adds another texture and enhances the Southern-style flavor profile. The creamy coolness of the dressing is divine! Gotta go, the beach is callin'!!!!
 *originally published July 2009
Originally posted 2009-07-18 18:55:00.