La Diva Cucina can offer a variety of programs that are customizable and require no kitchen. Here are some enticing and engaging classes we've done recently as well as our most popular programs.
Dinner in Little Italy: Guests work in teams to prepare and eat a four course Italian-American dinner made entirely on-premise at corporate headquarters including chicken marsala, shrimp and asparagus fettuccine in a lemon cream sauce, green bean salad with pancetta and a Prosecco zabaglione with tropical fruit! The focus is on working together and then enjoying an easy but delicious meal.
Healthy Inside Healthy Outside: Attendees participated in a basic yoga class in the park and then created their own Mediterranean fish steamed in banana leaves served with quinoa with preserved lemon and basil as well as healthy wraps, fillings and spreads. Educational, healthy and tasty.
Salsa Making Competition: For a pre-dinner ice-breaker, teams are formed with guests and then a team leader picks ingredients off a table to make "the best" salsa with tomatoes, fruit or tomatillos as inspiration and served with plenty of corn chips for tasting. Bribing of the judges is highly encouraged! Fun, exciting and memorable.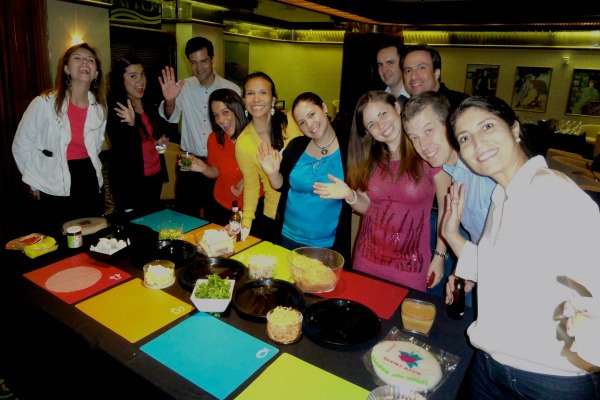 small bites, BIG DRINKS ~ Most popular!  
2 hour class
1 Specialty Cocktail
3 Appetizers
Recipes in pdf format
Guests learn how to make two cocktails paired with three scrumptious appetizers.  You may mix or match any cocktails and appetizers (some appetizers may include a surcharge, some appetizers are available only at certain venues)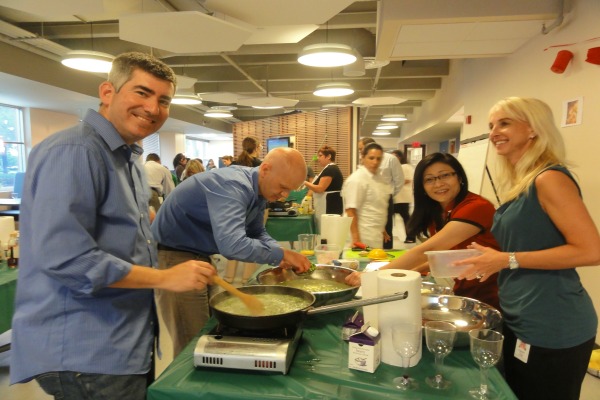 The Miami Experience ~NEW!!!
2 hour class
1 Specialty Cocktail
3 Appetizers
Recipes in pdf format
Guests will get the true taste of Miami by making classic Latin dishes including Cuban mojitos and tostones with garlic sauce (twice-fried green plantains), Peurto Rican picadillo empanadas, Brazilian strawberry caipirinha cocktails and Peruvian ceviche. Delicioso!
Mixology Team Building Class ~ Hands on and FUN * FUN * FUN *
3 hour class
3 pre-made appetizer platters
1 Cuban mojito (attendees make their own)
1 Asian orange blossom honey shrimp appetizer demonstrated by La Diva
1 Mixology demo and competition including all bar equipment, spirits and mixers
Guests start off by learning to muddle their own Cuban mojito and then enjoy a cooking demonstrations with samples. Then teams are formed and the competition begins! Attendees will learn about the four methods of cocktail building and then using a variety of ingredients, teams create the best-tasting cocktail.  There is a 15 person minimum for this class.
small bites, BIG DRINKS DELUXE~  same class, more food! YEAH!
2 hour class
1 demonstrated cocktails
1 Specialty Cocktail
3 Appetizers
2 Pre-made appetizer platters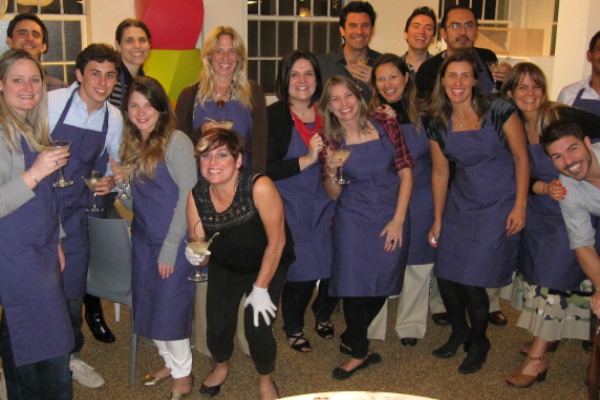 Happy Hour with La Diva~  Our most cost effective class!
1.5 hour class
1  Specialty Cocktail
2 Appetizers
Recipes in pdf format
Communications with libations class ~ A fun and friendly ice breaking event!
3 hour total
2 hour class with hands on cocktail making
1 hour networking and socializing (after class)
1 Specialty Cocktail
2 Appetizers
1 Pre-made appetizer platter
Recipes in pdf format
For all menu options, CLICK HERE.