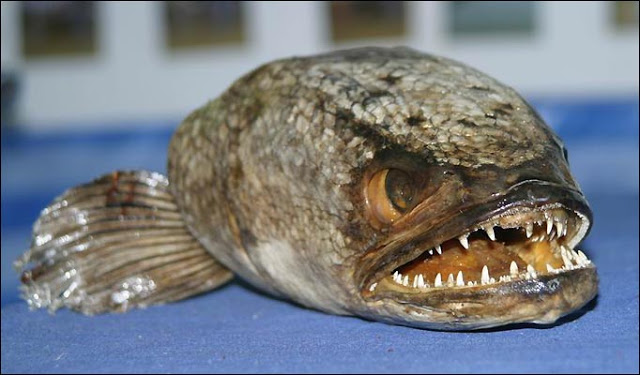 Darlings, do you have a fear of fish? La Diva isn't talking about the
literal
fear of fish or
ichthyophobia,
but actually the fear of COOKING fish, particularly WHOLE fish?
I think you do. Admit it. Ok, then, when was the last time you bought and cooked a whole fish, huh, HUH?!
Yeah, I thought so.
I think many people avoid buying whole fish because they are just plain ol' scared and unsure of what to do with it. How do you clean it? How do you buy it? WhaddyameanIgottatouchit?! IT'S ALL TOO HARD!!
!
Chill. "There, there, darling." (pats head comfortingly) La Diva will help EASE you out of your FEAR OF FISH once and for all.
And why whole fish anyway? Well, why not? It's about as silly as saying to yourself, why roast a whole chicken? The whole fish is so flavorful and opens up so many more opportunities for cooking techniques you couldn't do with just a fillet.
When La Diva called Australia her home, I was exposed to so many types of fish and most of them were sold as whole fish. To ask the fishmonger to fillet a whole fish for just a few pieces to sell is, well, wasteful. You either buy the whole fish and he will clean them or you buy a fillet of something else. So, really, I had much more choice and variety when I bought fish whole. It's also usually fresher and certainly is cheaper by the pound as the more food is processed, the more costly it becomes.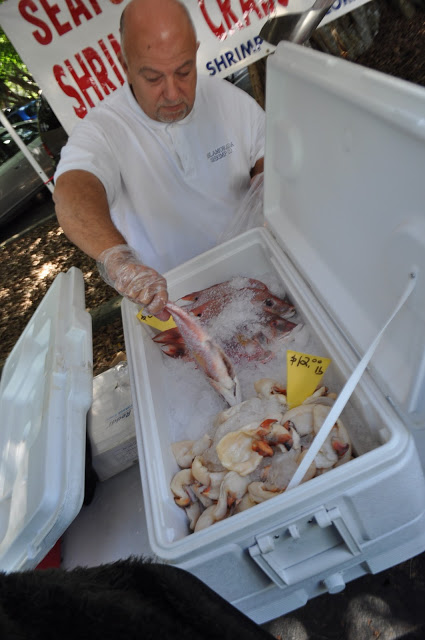 That strange "stuff" in the front of the cooler is actually local conch from the Florida Keys!
Sunday was the opening of Southern Florida's farmer's market season and you know La Diva HAD to be there. I found this gentleman from the Islamorada Shrimp Company had several coolers of local seafood and when I saw he had hognose snapper, I jumped at the chance to buy it. Why? Because its local, I NEVER see it at the grocery store and it looked fresh, smelled like the sea (and I love the delicate flavor and texture of snapper!)
Now, what to do with it? Well, I just bought the most gorgeous fennel from Redland Organics so…….La Diva is going to braise the fennel and BAKE IT!
La Diva's Baked Hognose Snapper with Braised Fennel and Tomato
Dat hognose sho' has a big mouth! Wonder how many little fishies he can take at once?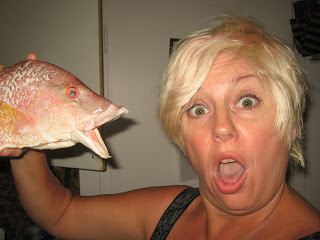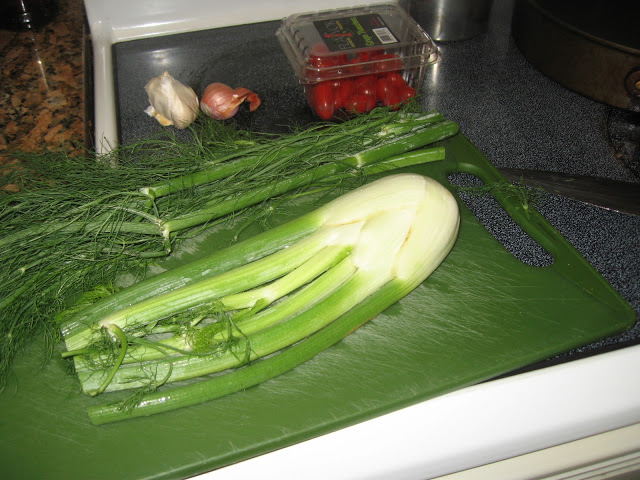 Fresh from the farm fennel along with a shallot, a handful of grape tomatoes and a clove of garlic will flavor the fish.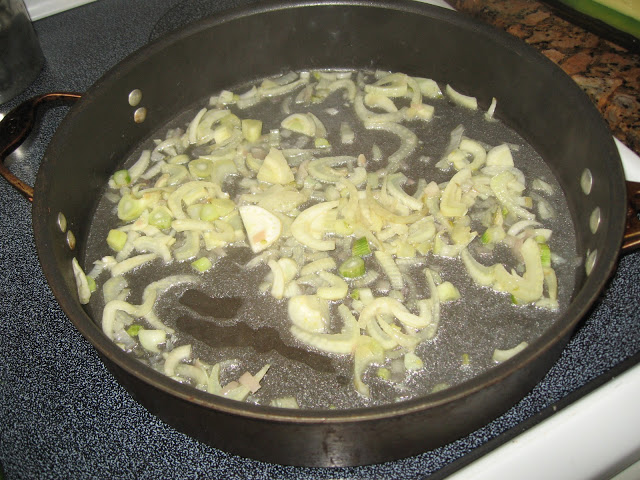 Sweat the sliced fennel, garlic and shallot in a bit of olive oil, then add a dash of white wine and a 1/2 cup chicken broth. Braise on low heat for about 15 minutes or until fennel is fork tender. Add more broth if it gets too dry, but don't add salt if you are using regular broth as reducing will make it salty enough.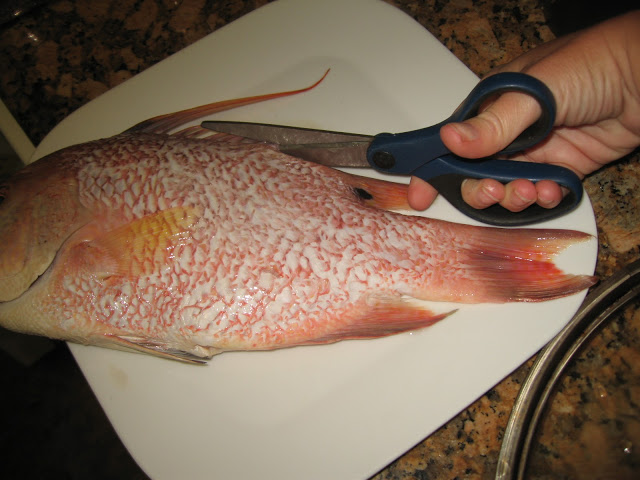 Cut all the top and bottom fins off, and the gills too. Be careful, they can be pretty spiny and tough! This fish was already scaled and gutted, but I gave it a good rinse anyway. I scored the surface on both sides and salted the inside.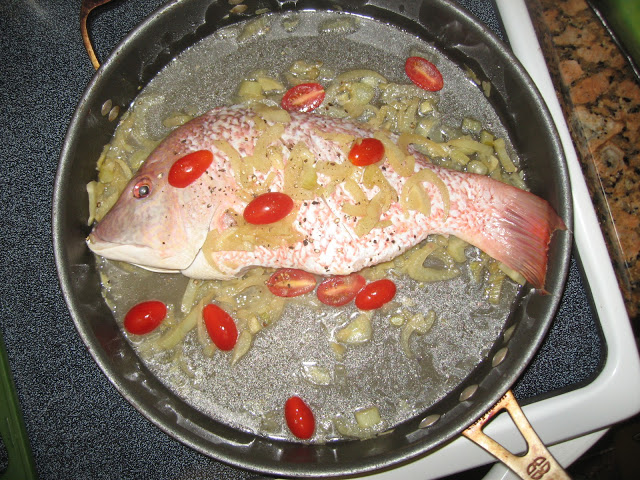 Push fennel to the side, add a few halved grape tomatoes and put the fish into the pan. Drizzle with a bit of olive oil, add salt and pepper and then spoon some of the fennel mixture over the top, add another 1/2 cup of chicken broth. Bake in a 375 degree pre-heated oven. This fish was 1.5 lbs. and it came out beautifully after 20 minutes.
Carefully remove the top layer of fish onto a plate, making sure to get all pieces and taking off any visible bones. Carefully remove the spine, head, tail and throw away, and put remaining piece of fish on plate. This fish was very soft and fell into pieces. That's ok! Garnish with fennel fronds and spoon over fennel and tomato sauce.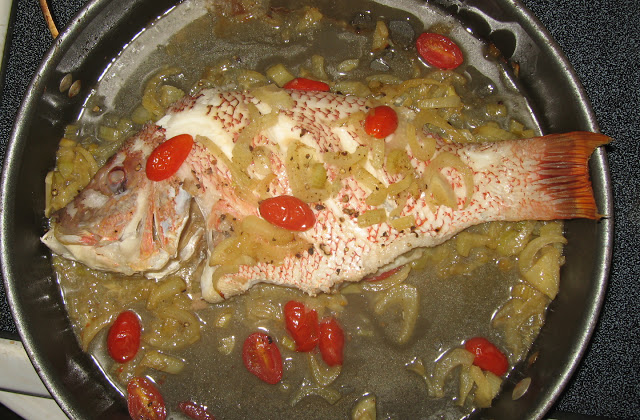 RESULT: I was pretty darn happy with the result. I always love the concentrated anise flavor of braised fennel and it suits the mild, sweetness of this fish and does not over power its delicacy. The skin was hardly an issue, very fine and offered no fishy taste. I served this fish with buttered fingerling potatoes and honey glazed carrots but it would go great with a bit of rice or a wild rice mixture for more texture.
Now see, wasn't that EASY? Sure it's a bit fiddly but so is eating chicken wings, ribs, oysters and crab legs, all stuff well worth the effort! La Diva will be heading to the market again next Sunday and if there is some good pickin's from the sea, I'll see what technique I'll favor next time to help you get over your FEAR OF FISH!!!!
For more hints on how to buy fish and other fish information, click
HERE.
ONLY A FEW MORE CHANCES TO LEARN SOME FABULOUS COCKTAILS AND CANAPES FOR THE UPCOMING HOLIDAYS! CLICK
HERE
TO FIND OUT MORE INFO!
Originally posted 2010-11-09 02:16:00.