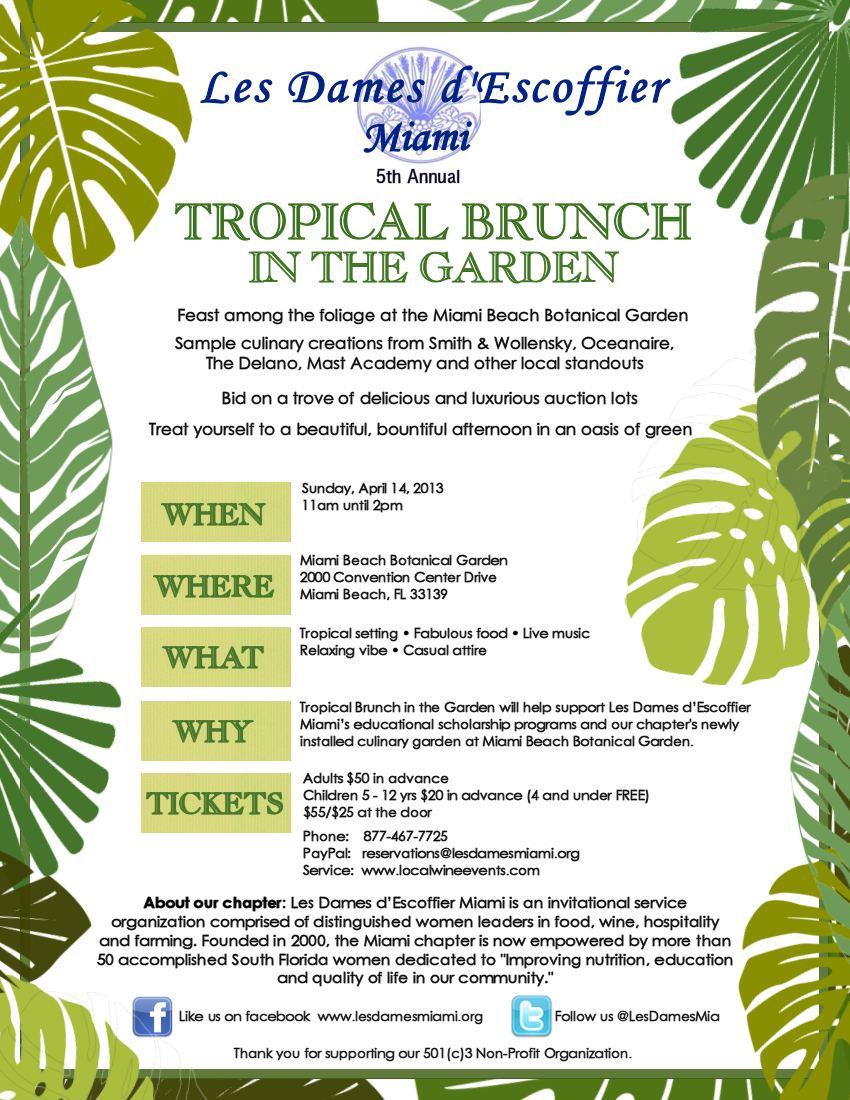 Darling, I am on the committee to organize the Les Dames d'Escoffier 5th Annual Tropical Brunch at the Miami Beach Botanical Garden and have been working hard to make this a wonderful, tasty and beautiful charity event and I'd love to invite YOU.
I can honestly say that we are going to have some very stellar offerings for the brunch!  We have secured Hakkasan at the Fontainebleau, The Front Porch Cafe, The Oceanaire Seafood Room, Bianca at The Delano, Smith and Wollensky, Terrazza at Shore Club and Serafina Dream Hotel South Beach and MORE!  Their creative and talented chefs are cooking up some enticing dishes like:
Tuscan Bread toasted with Garlic and Tomatoes featuring a Basil Topping, Eggplant, Whipped Lemon Zest Buffalo Ricotta and Tomato Jam
Tomato Gazpacho with Tequila Shrimp Ceviche and Crispy Tortilla
Asparagus Mushroom Strata with Pastrami Salmon and Spring Greens
Waldorf Chicken Salad, Gluten-free Quinoa Salad with Artichokes, Roasted Pepper and Olives and Green Salad with Roasted Tomato Dressing
Build your own Omelet Station
Tropical cupcake bar featuring coconut, orange, guava, lemon and gluten-free vanilla rum
Asian-style Shrimp and Grits with Chorizo and Red Pepper over Wasabi Grits with Cilantro-Green Onion Garnish
Sweet, savory and Gluten-free Crepe Station
Pan-fried foie gras Shanghai Dumplings and Steamed Crystal Shrimp Dumplings
Chicken Mango Salad with Lemon Emulsion and Watermelon and Mint Salad with Micro Mint and Feta
Cabot cheese and creamy yogurt with Laurie's Pantry Gourmet Foods artisanal granola, tropical fruits and Figs from California Fig Council
Latin Specialty Sweets:  Alfajorcitos, Coconut Macaroons and Tres Leches Shooters 

and more!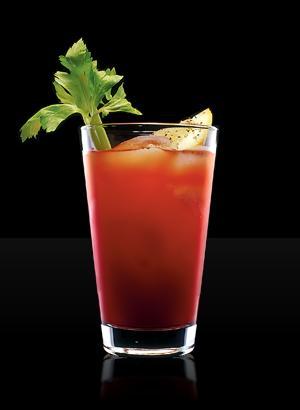 Come and check out the Bloody Mary Bar sponsored by Smirnoff and Ultimat by Patron!
Farm fresh samples from Southern Florida farmers Teena's Pride and Miami Grow!  
Gluten-free, vegetarian and vegan options will be available.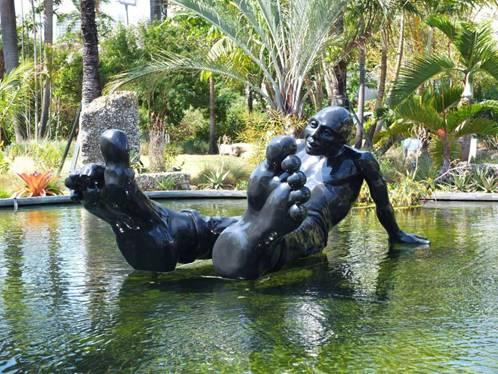 Educational demonstrations from Chef Adri, Chef Ana, Claire Tomlin, Mary Lang of Nespresso and La Diva Cucina.  Also, authors Ellen Kanner and Melissa Contreras will be signing their new books!
Guests will also have the opportunity to bid on some fantastic auction items to help raise funds for Les Dames d'Escoffier Miami including some of Miami's hottest restaurants!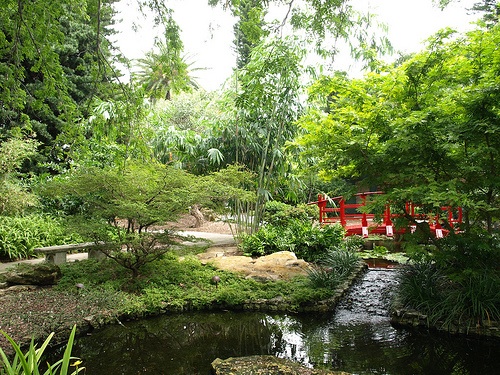 COME AND SPEND a relaxing few hours in this lush garden and enjoy the wonderful food, drinks and demos with La Diva Cucina!  Thank you!  

*  About our brunch: Brunch proceeds support Les Dames d'Escoffier Miami's educational and scholarship programs and will help maintain the chapter's recently installed culinary garden at MBBG. Les Dames d'Escoffier is an international, invitational service organization comprised of professional women in food, beverage, farming and hospitality whose goals are education, advocacy and philanthropy. Every LDEI chapter is committed to performing charitable work within their respective communities, and members benefit from the experience of networking, camaraderie and mutual support. The Miami chapter's dynamic membership includes bakers, caterers, chefs, consultants, cooking teachers, farmers, food stylists, home economists, journalists, publicists, restaurateurs, retailers, specialty purveyors and winemakers.